Midwinter Chicken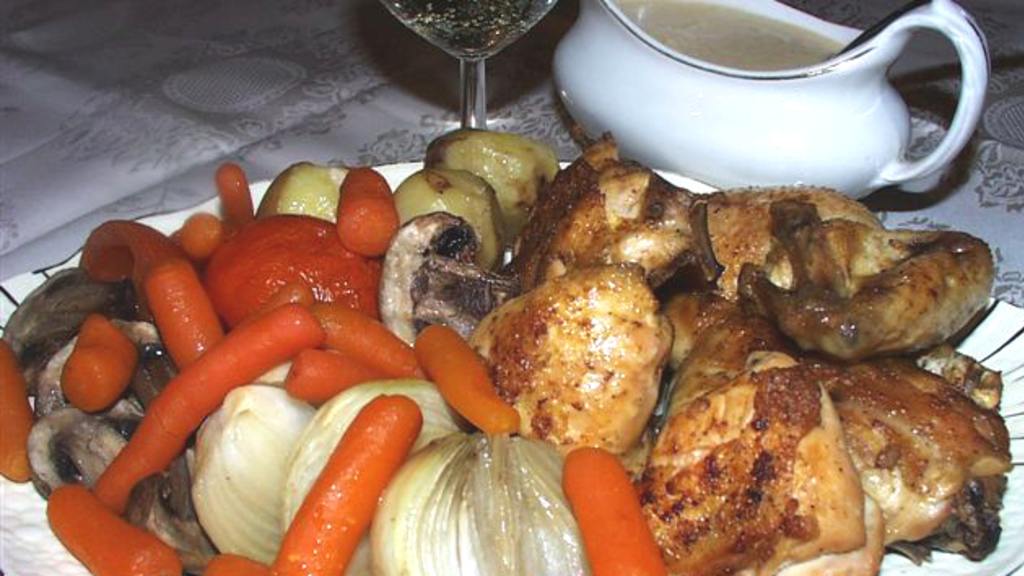 Ready In:

3hrs

Serves:

Units:
Nutrition Information
directions
Cut chicken into serving pieces. Tip--if you divide the breast in 3 pieces lengthwise instead of just 2 the portions will be more even. A very large roaster or stew hen might be big enough to cut the breast crosswise as well into 4 or even 6 pieces.
Wash and trim the mushrooms.
Wash, trim, and peel the carrots, onions, celariac and potatoes. Potatoes may be scrubbed and left unpeeled if preferred.
Cut carrots into 3-inch lengths and cut the celariac into chunks about the size of golf balls. If using celery scrub, trim, and cut into 4-inch chunks.
Drain tomatoes. Reserve juice for another purpose if desired.
Heat olive oil in a large, heavy skillet and brown the chicken pieces thoroughly. Drain on paper to absorb excess fat.
Place vegetables and garlic clove into a large, tightly-lidded roasting pan.
Arrange chicken pieces on top of the vegetables with the herbs on top of the chicken.
Pour 1 cup chicken stock into the dutch oven.
Drizzle 1 tbs sherry evenly over the chicken pieces.
Roast covered at 250°F for 3-4 hours or until chicken is cooked through and vegetables are tender.
Remove chicken to a warmed serving platter and keep hot.
Remove vegetables to a warmed serving bowl, discarding the thyme, parsley, garlic and celery. Keep hot.
Pour out the pan juices into a bowl and skim away any excess fat.
Return one cup of the defatted pan juices to the dutch oven along with the cream and the other 2 tbs sherry. Add the celery seed, salt, and pepper. Cook on medium-low heat on the stove top until just simmering.
Whisk the cornstarch into the milk then add this mixture to the pan. Stir constantly until the gravy simmers. Continue to simmer 2-3 minutes, stirring constantly with the whisk until the gravy thickens. If more gravy is desired there should be plenty of pan juices to make it--just keep the proportions the same to retain the richness.
Serve each person chicken and vegetables then pass the gravy boat.
I'd suggest a salad of romaine or butterhead lettuce or buttered green beans as sides and would recommend hearty, crusty bread or rolls to help mop up the gravy.
If you have a very large platter it would make a pretty presentation to arrange the chicken in the middle surrounded by vegetables, drizzled with the gravy, and garnished with a bit of fresh parsley.
Submit a Recipe Correction
Join The Conversation
The whole family liked this recipe. It is the type of recipe I like, I can put it all together and go about my day on the farm and have a nice meal that is flavorful and filling. Wished that I could get the celeriac bulb but, not able to, so used celery. Followed directions directly excelt added more garlic than called for, since we enjoy garlic here and a mix of mushrooms instead of only white buttons. I am sure I will make this recipe again. Thank you for sharing.

I followed this recipe at first. I wondered about roasting at 250* F, I've always roasted all meat at 325*. I changed this around a bit, but I should tell you why it is a 5 star recipe after a little adjusting: the recipe didn't call for seasoning, as in salt & pepper until step 15, so I used seasoning salt, (Johnny's Dock is our favorite), on both sides of the chicken before browning. I did cut my chicken breasts in half with poultry shears, as suggested. I can't get celery root here in my little town, so I used 4 small stalks of celery, leaves and all, because we LOVE cooked celery, so I didn't discard it later, either. Also, what the heck, used the whole 14.5 OZ can of chicken broth. After 3 hours at 250* the broth still was not simmering, and the vegies were still very hard. So for 1 hour I took it up to 350*. Then I removed the chicken to an uncovered ovenproof dish, the vegies to another oven-proof dish, kept them warm in the oven, and didn't strain the juices because hubby was champing at the bit! Instead I added 4 tablespoons of dry sherry wine, a whole pint of heavy cream, and the 1 cup of milk with a total of 5 tablespoons of cornstarch, (only because we like our sauce a little thicker.) I Let this thicken, poured it over the vegies in the oven, so they could soak some up. Then I just ladled everything together, and had some good bread to sop. Aside from my fiddling around with this recipe, which was only to make it more to my family's likes, the cooking time was the only problem I ran into. I WILL make this again and again, at 325 for 3 hours. Definitely 5 stars for taste! Real comfort food! Thanks for posting!

Of the 114 recipes for the RSC#9 contest, I cooked and reviewed only two.. and this one is one of them. Being single, I cut the recipe in half and also remove the skin on the chicken prior to cooking. I do not have a dutch oven, so use a pot and cooked on my stovetop. The veggies came out to soft... no fault of the chef. I liked this dish a lot, so decided to try making it a second time. This time I used my toaster oven and set the temperature to 300 degrees. The corningware pot was covered with aluminum foil and when done (after 2 hours) the pot was to full of to much liquid and the veggies not cooked enough. Again, this is no fault of the chef.. because I had did not follow the instructions to the "letter." The outstanding part of the dish was the sauce/gravy and it was excellent! I give this recipe a 5 star rating and will try it again for the third time, in the near future.. and improve on it to my liking.