Middle Eastern Semolina and Saffron Bread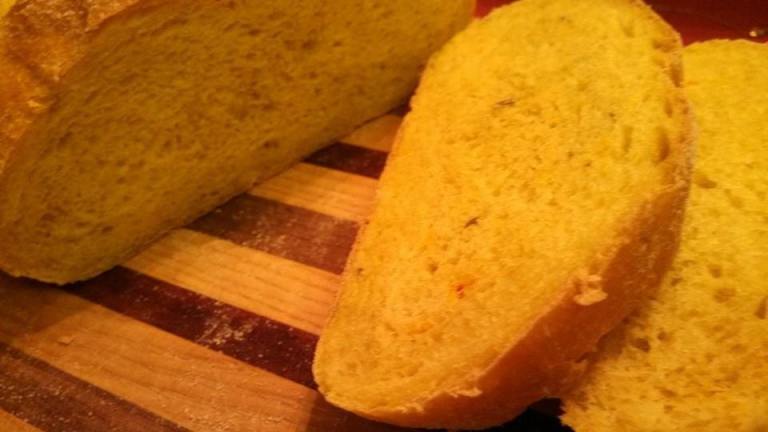 Saffron, turmeric and semolina flour give a lovely golden color to this crusty, dip-ready bread. Prep time includes rising
Ready In:

2hrs 25mins

Yields:

Units:
directions
Crush the saffron and mix it in 1 teaspoon of boiling water, set aside.
In a large bowl whisk together the 1/2 cup warm water, the yeast, and sugar. Let stand about 5 minutes or until frothy.
Stir in the 1 cup water and 2 tablespoons of the olive oil saffron mix. Add 2 cups of the bread flour, the 1-2/3 cups semolina flour, the turmeric, caraway seed and salt. Beat with an electric mixer on low speed until combined, scraping sides of bowl occasionally.
Turn dough out onto a lightly floured surface. Knead in enough of the remaining bread flour to make a moderately stiff dough that is smooth and elastic (6 to 8 minutes total). Shape dough into a ball. Grease a large bowl with the remaining 1 tablespoon olive oil. Place dough in greased bowl; turn once to grease surface of dough. Cover and let rise in a warm place until double in size (about 1 hour).
Punch dough down. Turn out onto a lightly floured surface. Divide dough in half. Cover and let rest for 10 minutes. Line a large baking sheet with parchment paper; sprinkle parchment with the 1 tablespoon semolina flour. Set aside. Shape each dough half into a 6-inch round loaf. Place dough rounds on the prepared baking sheet. Cover and let rise in a warm place until nearly double in size (about 30 minutes).
Adjust one oven rack to the lowest position and another oven rack to the lower-middle position. Set a shallow baking pan on the bottom rack. Preheat the oven to 450 degrees F.
Using a sharp knife, cut an X into the top of each loaf. Place baking sheet with dough rounds on the middle rack. Place the ice cubes in the shallow baking pan on the lower (as they melt, they'll create steam, which helps the dough rise and develop a crisp crust). Bake rounds about 25 minutes or until deep golden and rounds sound hollow when tapped. If necessary to prevent overbrowning, cover rounds with foil for the last 10 minutes of baking.
Transfer to a wire rack; cool completely.
Submit a Recipe Correction
RECIPE MADE WITH LOVE BY
"Saffron, turmeric and semolina flour give a lovely golden color to this crusty, dip-ready bread. Prep time includes rising"
I did it! I did it!! Absolutely stunning & delicious!! I used fennel seeds instead of caraway. I had no bread flour so used AP flour. Only had 1/2c semolina so filled in with AP flour. I did add 4tsp gluten as directed by the box to make up for the flours I used. I *know* this would have better texture with the correct amounts of the correct flours but the bread I made was amazing! dh thought it was a bit 'white bready' because it was soft. This is not difficult, just a bit time consuming. I need to find a better way to prep the saffron, lol. I ended up sloshing it all over the place! The first shocker was that the yeast bubbled & frothed. Understand that I don't LIKE to bake. I dislike making bread even more - there's little room for error & I like to dump, stir & be done. My mom & grandmother were excellent bakers & think nothing of throwing together flour & water, shoving it into the oven and have something marvelous come out. I just don't GET it. But I CAN do it when so inclined. And I've been looking at this recipe for a long time. I am so happy I made it. And amazed, lol, considering the alterations I made. I have lots of pics to add later, Annacia! Made for NA/ME Tag Fall '13. :)

The color and smell had me drooling before the first bite and oh what a yummy bite it was. Enjoyed the first with butter this morning it was ear marked for our dinner but by dinner time it was missing two pieces because I just had to have another with my lunch lol. I made using the fennel option and would like to try the caraway option next time. Thanks for wonderful post.