Middle Eastern Baked Kufta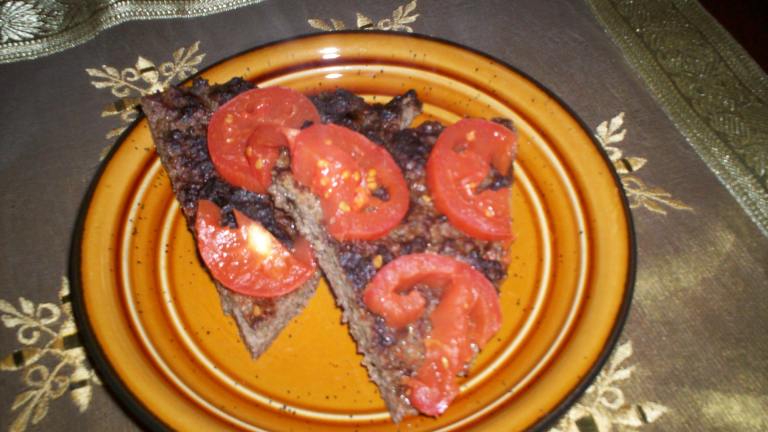 This recipe is quick and easy. Its one of my favorite dishes. Serve with a side of rice and a great salad. 7/12/06 - recipe has been amended.
Ready In:

1hr

Serves:

Units:
directions
What you can do is start by chopping up your parsley in a food chopper until fine.
Do not use dried parsley.
Then put the parsley in a large mixing bowl.
Then cut onion up into pieces-- doesn't matter how small just so you can fit it into the chopper and combine the garlic and chop away until fine-- not pasty though.
Put the onion garlic mixture in the bowl with the parsley and add ground meat and spices.
Mix with hands until everything is well blended.
Pat the meat mixture down in the bottom of a 9x13 baking pan and broil in oven until top is browned, this will enhance the flavor, then take out of the oven.
Peel potatoes.
Slice tomatoes and potatoes into quarter of an inch in size and layer-- potatoes first and then tomatoes will be top layer.
Sprinkle with a little salt-- and bake in oven about 425°F covered with foil for approximately 45 minutes to and hour-- enjoy.
Submit a Recipe Correction
RECIPE MADE WITH LOVE BY
"This recipe is quick and easy. Its one of my favorite dishes. Serve with a side of rice and a great salad. 7/12/06 - recipe has been amended."
4 3/4 stars with many changes. Here is what I did. For 2 adults I used 1 lb. regular ground beef, a medium onion, lots of fresh parsley and some fresh mint, and 3 cloves of garlic. I fried the chopped onions in a cast iron pan in some olive oil then seasoned them with sea salt, freshly ground black pepper, cinnamon, allspice, some of my own Recipe #79179 but did not use garlic powder. I added the chopped fresh garlic and cooked a minute longer. I then added the ground meat, parsley, mint, and 1/4 cup pine nuts which was a very good addition, and more salt to taste into the frying pan and lightly cooked the meat (some red still showing). Then I mixed this meat mixture with 1/4 cup quick cooking oats and pressed it 3/4 in thin into a oiled pan. I wisked together 3 tbls tomato paste with some of my homemade chicken stock, and poured a little over the meat. I put this into a 400F oven for 15 minutes. I partly boiled a bunch of pealed yellow potatoes and then sliced them to about 1/4 in. each. Placed them on top of the meat along with some tomatoes without the skin and the rest of the tomato paste mixture. Then sprinkled it all with sea salt and a dribble of olive oil and put it back in the oven covered with aluminum foil. When almost done I removed the foil to dry up some of the liquid. I cut this in large squares and served it with Recipe #206772. DH commented on the good flavour my only problem was that it fell apart easily maybe because I precooked the meat. I will make this again without cooking the meat before baking.

We made this dish with ground turkey, and our Saudi Arabian exchange student told us that it was very authentic, and just right. My family and I found it OK, but not extremely flavorful. a little on the bland side. I think next time we make it, if we do, I will add more spices. Because no amounts were listed, I threw in about one and a half to two teaspoons each of allspice, black pepper and garlic powder, and it just wasn't enough. I think next time I will use more fresh garlic and some of the other middle eastern flavors, like coriander, cumin, cinnamon, and cardamom in addition to allspice and black pepper. We served it with cous cous cooked with dried fruits (raisins, currants, dates, and apricots) and our family's favorite mixture of yogurt with cilantro, parsley, cucumber, mint and pepper.

I made this recipe and followed it right until the end then I added a little dash over with pomegrante syrup , and Worchester sauce, baked for 45 min and took it out to add thinned tomate paste with garlic power over the top of the tomatoes. Had 5 guests over for dinner and they all loved it.