Melting Pot Bananas Foster Fondue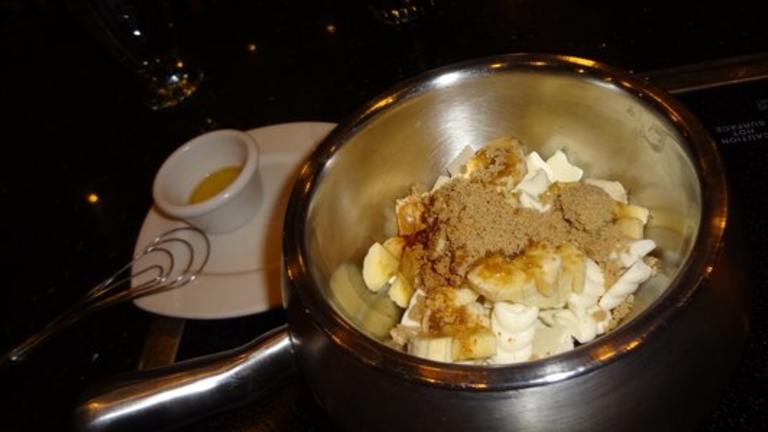 I loved this when we visited the Melting Pot so I tracked it down and placed it on here
Ready In:

10mins

Serves:

Units:
Nutrition Information
directions
Melt butter over low heat. Add brown sugar, cinnamon & vanilla extract, mix until sugar dissolves. Remove from heat; add banana liqueur and Capt. Morgan's Spiced Rum.
Transfer to 2 quart container. Refrigerate. Slurry Shelf Life: 7 Days.
Set aside in a dressing boat 1 ounce of slurry and banana. Turn burner to high. Place 4 ounces white chocolate into fondue pot liner. Heat to 125 degrees. When hot, add slurry to white chocolate. Flambé with 151 proof Rum, allow sugar to begin to caramelize. Sprinkle cinnamon into flames to create sparkle effect, mix chocolate mixture well, turn burner to low and enjoy!
Submit a Recipe Correction
Join The Conversation
Hi! I reviewed this yesterday (5 stars) since I've made it several times using the Melting Pot's BF Fondue recipe which I happened to misplace & printed this one out (same name, ingreds.). However, last night I made it again using this recipe & realized why "luvtocook" gave it a 1 star! This recipe says to use 1 oz of slurry w/4 oz of white choc...which I did & it was just solid/hard! Then I remembered that's not what my original recipe said to do! Since I couldn't remember exactly how much slurry it said to pour in, I just warmed it back up & kept pouring it in until it seemed "dip-able." I ended up just pouring the whole thing into the chocolate & it was just like my other recipe...absolutely delicious!! We always have a choc. fondue & this one & last night we decided to just have this one from now on!

This worked out amazing! It was so easy to make,and so delicious... I had this at a chain called Simply Fondue a few weeks ago, and I had to make it for everyone!!! And I am so glad that it came out so well! The only issue we had was we couldn't flambé because we didn't have the right proof of rum to do it. Con: The Slurry make way more than you need! We did 8 servings... and we have a tub of slurry left over... I know it's good for 7 days, but this is sweet... you don't want to eat this for the next 7 days!!! And its such a waste of all the ingredients to make so much slurry to toss out... groceries are expensive !!! We dipped... marshmellows, pound cake, rice crispies, banana, and strawberries... the strawberries were one of the best!