Mediterranean Spaghetti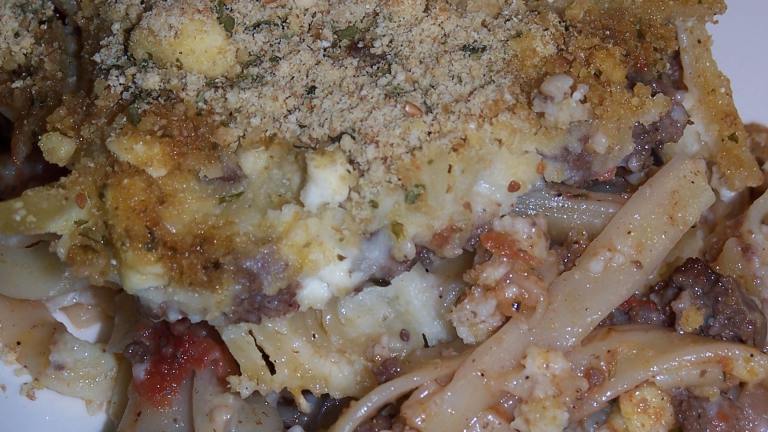 directions
Preheat oven to 375 degrees.
Heat large nonstick skillet over medium high heat. Brown beef until no longer pink.
Drain.
Saute onions, oregano and garlic for 5 minutes.
Add wine through tomatoes (7 ingredients), and bring to a boil.
Reduce heat, and simmer 10 minutes or until thick.
Combine flour, milk, and 1/4 tsp. nutmeg in medium saucepan and bring to boil.
Reduce heat, and cook for 7 minutes or until thick, stirring constantly.
Remove milk mixture from heat. Stir in feta cheese, half of Parmesan cheese and eggs.
Sprinkle half the bread crumbs into a 2 large professional-size baking pans coated with cooking spray.
Place half of the cooked spaghetti into the 2 pans, top with half th e beef mixture and then half of the cheese sauce. Repeat layers.
Combine other half of Parmesan cheese and bread crumbs and sprinkle over the top of pans.
Bake at 375 for 30 minutes or until golden brown (about 1 hour if recipe is made ahead). Let stand for 10 minutes before serving.
I found it cuts well into squares for serving. Wonderful aroma, very tasty. This recipe was used successfully by a church group.
Submit a Recipe Correction