Meatball Sub Casserole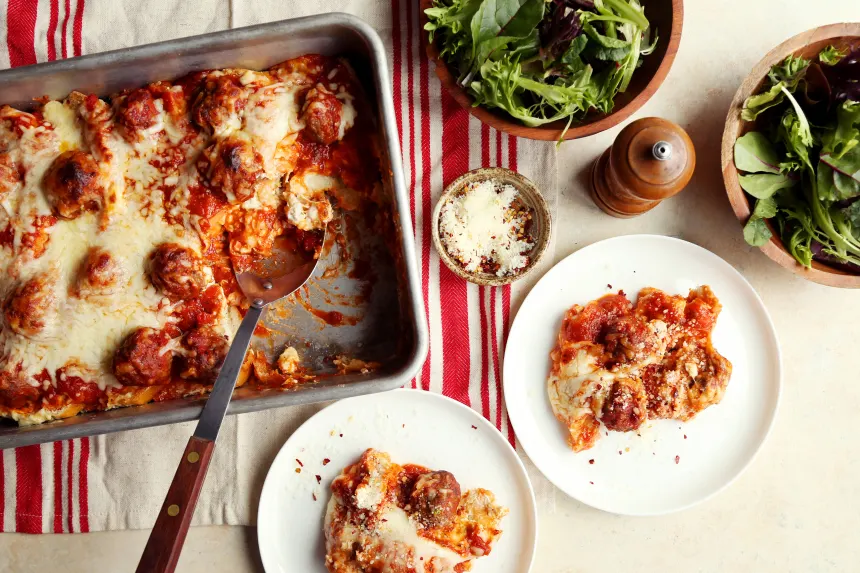 photo by Jonathan Melendez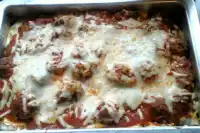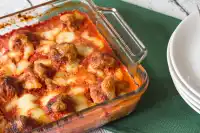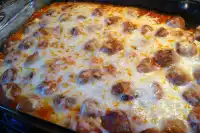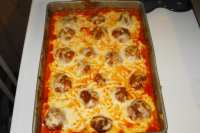 Ready In:

1hr

Ingredients:

13
directions
Preheat oven to 400.
In a bowl, combine onions, bread crumbs and Parmesan cheese.
Add beef and mix well.
shape into 1-inch balls; place on a rack.
In a shallow baking pan, bake for 15-20 minutes or until no longer pink. (Or cook in a skillet on medium heat.).
Reduce oven temperature to 350.
Meanwhile, arrange bread in a single layer in an ungreased 13x9x2" baking dish.
(All of the bread might not be used.).
Combine cream cheese, mayo, Italian seasoning and pepper; spread over the bread.
Sprinkle with 1/2 cup mozzarella.
Combine sauce, water and garlic; add meatballs.
Pour over cheese mixture; sprinkle with remaining mozzarella.
Bake, uncovered at 350 for 30 minutes or until heated through.
Questions & Replies

Got a question?
Share it with the community!
Reviews
My step-daughter picked this out as the weekly meal that her and I cook together and I'm glad that she did! I made the meatballs as instructed but cut them in half when I put them on the casserole so we had more. I followed everything else as written. The spaghetti sauce that I used was a very thick and hearty sauce so it needed the extra water but I would suggest using less (or none at all) if you have a thinner sauce to avoid the bread getting soggy. I used an Italian loaf that I cubed and let sit out overnight and the next day until dinnertime and the bread on the bottom actually got pretty crispy. I also made sure that I completely covered all of the bread with the cream cheese/mayo mixture to keep the sauce from dripping down onto the bread. Everyone really enjoyed this meal and it is now in our "Make Again" file. The only thing that got complaints was that my husband said when he heated it the next day for lunch, the bread had soaked up the spaghetti sauce and gotten soggy and doughy. It was great the night of but I would suggest making only as much as your family is going to eat because the leftovers were less than stellar.

 

I doubled the meatball part and used Bertoli roasted garlic and onion spaghetti sauce. It tasted good but the bread on the bottom was mostly soggy. If you can get past the soggy bread then you should like this recipe. Don't think I'd make this again. One thing I did learn from this is that meatballs with green onions instead of regular onions tastes better. No egg required for your meatballs too.

 

Pretty good as written, but I did a few things different. First, I skipped the cream cheese and mayo and used Ricotta cheese instead with one egg mixed in. I also lightly toasted my bread before adding to the casserole so it wouldn't get overly soggy, and last, I added my herbs (I use fresh garlic, basil and a bit of oregano) right to the meat mixture before shaping into meatballs. Oh, and I also use lean ground turkey since I don't eat much red meat. So delicious!!! My family asks for this dish at least three times a month! Yum!!

 

i followed the recipe (mostly) and it turned out really good! as for all the other reviews on the soggy bread... it's supposed to be like that i think...<br/>what i changed was: <br/>-regular onion instead of green onions (i don't keep green onions on hand)<br/>-light miracle whip (even though the recipe says not to, mine still turned out fine)<br/>-i used whole wheat bread and toasted it<br/>-instead of leaving the bread whole, i cut it into cubes.