Mean Chef's Chocolate Sugar Cookies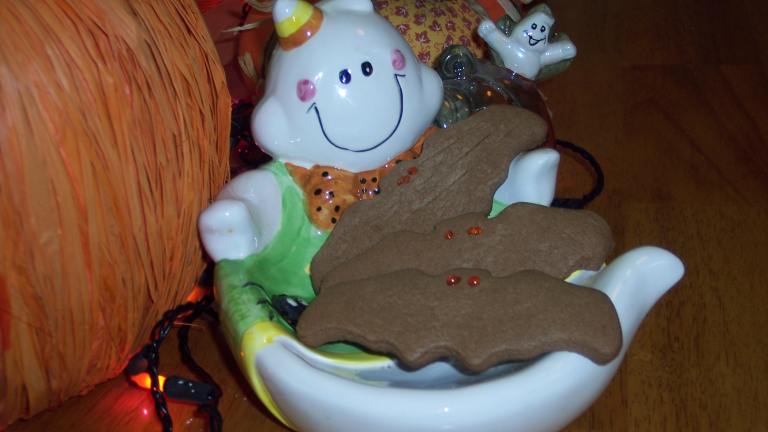 This is an adopted recipe originally posted by MeanChef. I haven't made this yet but I plan to soon.
Ready In:

38mins

Yields:

Units:
Nutrition Information
directions
Sift the flour, cocoa, baking soda and cream of tartar together in a medium bowl and with a wire whisk, stir to combine.
In a large bowl, using a hand-held mixer at medium speed, beat the butter for 30 seconds, or until creamy.
Add the sugar and continue beating for 2 to 3 minutes until the mixture is light in texture and color.
Scrape down the sides of the bowl with a rubber spatula.
Add the egg and vanilla extract and beat well.
At low speed beat in the flour mixture, in two additions, scraping down the sides of the bowl after each addition.
Wrap the dough in plastic wrap and refrigerate.
Position a rack in the center of the oven and preheat to 375°F.
On a well-floured surface, roll out half of dough at a time to 1/4-inch thickness.
Using a cookie cutter cut into shapes and sprinkle with granulated sugar.
Bake on an ungreased baking sheet for 5-8 minutes or until lightly browned at edges.
Cool. Decorate as desired.
Submit a Recipe Correction
RECIPE MADE WITH LOVE BY
"This is an adopted recipe originally posted by MeanChef. I haven't made this yet but I plan to soon."
Join The Conversation
I'm giving these cookies 4/5 solely based on their taste. I am surprised every time I take a bit how tasty they really are! Usually I like cookie dough more than the baked result, but these are one of the exceptions; they taste just as great. There's a great deep, rich (not overload, though; maybe vivid, or full-flavored?), almost creamy taste to them. The sweetness is just right. My only issue with them is that the dough behaved horribly when I tried to roll it out. I sprinkled confectioner's sugar on my rolling surface, rolling pin, and hands, and the dough still stuck. It was simultaneously too hard and too soft, it seemed. I had cooled it all night and let it come down in temperature a bit. I did have to work the first batch of dough a bit as it was too cold to be rolled, but even after that both batches seemed to fall apart on me. I found pressing the dough down with my hands to minimize the use of the rolling pin worked alright. I will confess that I forgot to mix the dry and wet ingredients seperately. I realize that could have been the source of my problems, but the dough was fully incorporated as evidenced by the even taste of the cookies. I would appreciate any constructive criticism! I also agree that cookies (at least mine) were not very aesthetically pleasing. For me, this was due to the excess confectioner's sugar on the cookies. It comes out looking like dried, crackled glaze. I also found the end product to be rather fragile and prone to easy breakage or crumbling. The same was true when I was rolling out the dough; the cookies were *very* fragile; I needed a dough scraper to lift them off the rolling surface as well. Aside from these mechanical problems, they do taste great, which genuinely surprised and pleased me. I would make these again for that reason alone, but I would probably try to fix the breakage problems.

I was looking for a chocolate roll out cookie recipe to make chocolate bunny cookies for Easter. This cookie was just okay. It didn't have enough of a chocolate flavor for my tastes and I don't think that the color of the cookie is especially appealing. I'll probably have to frost them with a chocolate icing. I don't know if I would make this again.

These cookies had great flavor!I made these for a halloween cake.I made these is shapes of gravestones and then I wrote RIP and stuff like that on them with frosting (<a href="/80118">Really Easy and Good Buttercream Icing</a>) and then I stuck them in a chocolate cake with chocolate icing (<a href="/2496">Dark Chocolate Cake</a> with <a href="/51912">Chocolate Frosting</a>) The only problem I had was alittle bit of trouble rolling the dough out it seems like I was one of the only ones so it was probaly my doing(not leaving it in the frsige to much probaly) Oh well all is all a great recipe!

I found this dough difficult to work with it needed constant rechilling, even to the point of having to chill the dough on the rolling board with the cutouts before I could move them to the cookie sheet (the first few would lift then start to tear). This was despite working with smaller amounts of dough at a time then the recipe called for, The dough tasted good, the baked cookies were average tasting, though frosting helped; and after two days, rather tasteless.