Maui Steak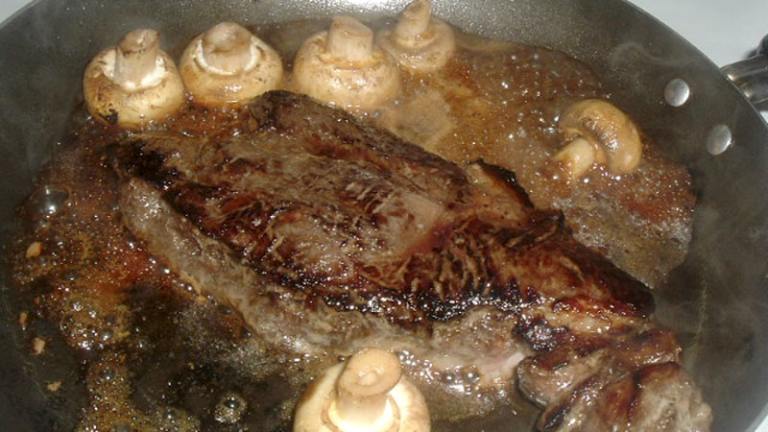 When I cooked this for the first time I thought I was manufacturing shoe leather - not so the steak turned out tender and very tasty. We can buy "Maui Ribs" already in the marinade but I prefer this recipe. Although there is sugar & vinegar in the marinade it does not come through as sweet & sour. Brown Sugar substitute worked well. I don't know why it's called Maui Steak! So I had a wing steak in the freezer made the marinade and let the steak sit in it for 2 days in the fridge - result lovely tasty tender steak
Ready In:

2hrs 40mins

Serves:

Units:
directions
Salt& Pepper the steaks ,( what I refer to as a steak here is the 3/4" cut of the boneless short ribs), place on a rack over a baking sheet and roast in a 350F oven for 45 minutes.
Combine the marinade ingredients Soy, oil, sugar, vinegar, ginger in a zip lock bag.
Allow steaks to cool and then place them in the marinade.
Place in fridge and allow then to marinate overnight or for 24 hours.
Heat oven to 275°F.
Place steaks and marinade in an oven proof dish, seal with foil and bake for 1 1/2 hours they should be fall apart tender.
NOTE: if there is no marinade left add a bit of sherry or water before you seal the dish so there is some moisture in the dish with the steaks.
Submit a Recipe Correction
RECIPE MADE WITH LOVE BY
"When I cooked this for the first time I thought I was manufacturing shoe leather - not so the steak turned out tender and very tasty. We can buy "Maui Ribs" already in the marinade but I prefer this recipe. Although there is sugar & vinegar in the marinade it does not come through as sweet & sour. Brown Sugar substitute worked well. I don't know why it's called Maui Steak! So I had a wing steak in the freezer made the marinade and let the steak sit in it for 2 days in the fridge - result lovely tasty tender steak"
When I cooked this for the first time I thought I was manufacturing shoe leather - not so the steak turned out tender and very tasty. We can buy "Maui Ribs" already in the marinade but I prefer this recipe. Although there is sugar & vinegar in the marinade it does not come through as sweet & sour. Brown Sugar substitute worked well. I don't know why it's called Maui Steak! So I had a wing steak in the freezer made the marinade and let the steak sit in it for 2 days in the fridge - result lovely tasty tender steak