Mashed Potato Pancakes Southern Style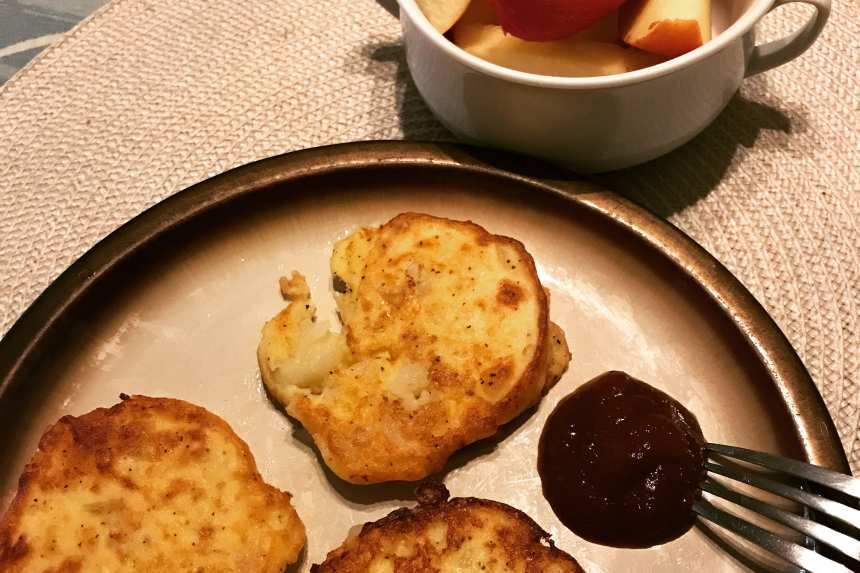 photo by arlenya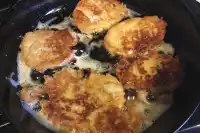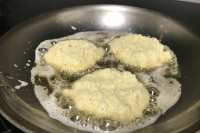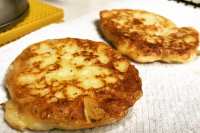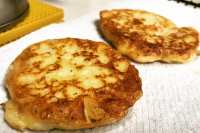 Ready In:

25mins

Ingredients:

9
directions
In medium bowl combine all ingredients.
Whisk together until combined well.
Consistency should be similar to cornbread mixture.
Heat skillet with a light layer of oil on medium-high heat.
(Cast iron skillet browns beautifully).
Spoon batter to form 3 1/2 to 4 inch rounds.
Brown each side to a rich dark golden brown.
Potato Pancakes should look like a thick regular pancake.
Place on paper towel to drain excess oil.
Don't stack on top of each other or the bottom pancakes will become soggy.
Questions & Replies

HELP!!! I don't know what happened! I cook all the time and was so excited to cook these for my Mom and Dad. They tasted great! They looked like they had been shot out of a canon! HAHA! What did I do wrong? I followed the recipe to a tee! I have a very seasoned cast iron skillet also. PLEASE HELP! (crying in my ugly potatoes!)

 
Reviews
Yum! I hardly ever have mashed potatoes in my house, but we had some leftovers today so I decided to make this recipe. Let's just say I am stuffed.... I enjoyed these a little too much, lol. :) I cut the recipe in half and it worked well, was hard to flip for me too like another reviewer said, and got a little messy, but it tasted so good I didn't care. Thanks so much for sharing!

 
Tweaks
YUMMY! Made this with leftover scalloped potatoes and ham -- used mixer to "mash" the potatoes. They already had onion but added garlic, eggs sour cream and Tabasco sauce as directed. Added the last bit of a box of Pancake mix instead of flour and needed to add some milk to get the right consistency to the batter. Turned out Great!! My daughter said it smelled like French fries! She and I ate it with additional sour cream but my husband put pancake syrup on his and enjoyed it. Great recipe!

 

Delish! I halved the recipe and added green onion instead of white and Franks Hot Sauce. Followed the rest of the recipe. I used a non-stick frying pan and they turned a pretty brown and are so tasty. Nice change, will serve for breakfast with eggs tomorrow to use up the mixture. Thanks for posting!

 

I love mashed potato pancakes! I always make extra mashed potatoes so that I can make these the next day. This is very similar to the recipe that my grandma uses except she doesn't add tabasco sauce and she uses milk instead of sour cream. I must confess that I like mine with salted ketchup like fries or tater tots.

 
RECIPE SUBMITTED BY
<p>I live with my husband of 20 years and two high school teenagers in the rolling hills of East Texas. We have 22 acres outside several small farming/ranching/oil communities, with 1-1/2 acre pond, 5 big dogs that swim the waters (and 1 who's old and sleeps all day inside), and a mama doe who has a set of twins each year. I'm a movie enthusiast and my passion is writing (novels and screenplays). Over the past 2 years I've picked up painting and love it. When my kids are out of college in 6 years, my husband and I plan to travel extensively. I'd love to relocate temporarily to different ares of the USA and world, just so I can absorb the culture (and write about them). My whole life has been centered around food to show love and to socialize, so when I travel I'll search for the best foods and absorb the richness of the people. In the book Beach Music by Pat Conroy, you can taste the foods and drinks of the piazzas in Rome down to the detail of the Southern cuisine in S. Carolina. When I grow up, I want to write as beautifully as Mr. Conroy. My favorite cookbooks are those put together as church or other fundraisers. There's nothing better than a church potluck dinner, so you're almost gauranteed excellent recipes. I love cooking but hate the clean up, so my plans are when I earn the publishing $$big bucks$$, I'll hire a full-time housekeeper so I may cook to my heart's delight and not get frustrated over a messy kitchen. I love experimenting and trying new recipes, but my DH is a meat &amp; potatoes man, thus prefers the basics. One of my children has been a self-professed vegetarian for 11 years, making dinner time a real treat to prepare. I've read somewhere that your pet peeve is usually something of which you're frequently guilty, so I'm a little hesitant to say; however, mine would be inconsiderate people. So, I try on a daily basis to put a smile on someone's face by doing the right thing and setting a good example for children.</p>
View Full Profile