Masala Mustard Greens Patties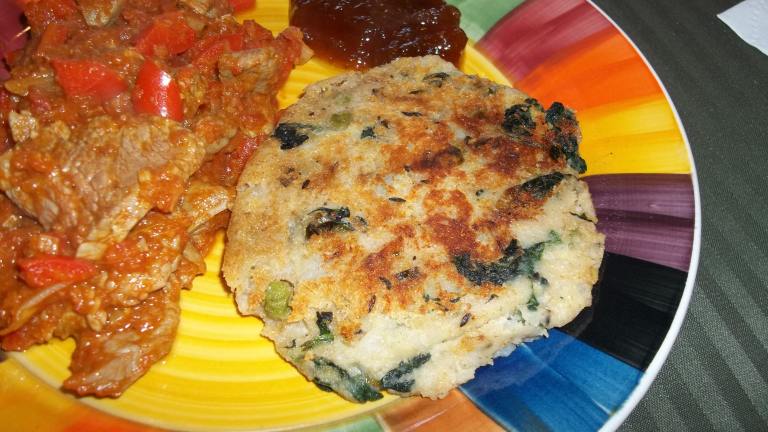 Ready In:

1hr

Serves:

Units:
directions
Steam the mustard greens or spinach until wilted. Set aside.
Boil the potatoes until cooked through. Mash and set aside.
Heat the oil until it is sizzle-hot. Add the cumin seeds. When they darken a few shades, add the green onions, garlic and jalapeno slices. Now add the masala. Sauté until the garlic is golden-brown.
Add the peas, ginger powder, mango powder and salt and pepper. Cook until the peas are heated through.
Dump the pan's contents into a large bowl and combine with the mashed potatoes, chickpea flour and wilted greens.
Form this batter into 2-inch size balls. (A little larger than a golf ball). Smash it into a patty. Put the breadcrumbs or white poppy seeds in a small bowl and hold the patty over the bowl while sprinkling both sides of it for a coating.
Spray a skillet with oil (or use a dab of oil). Place the patties in pan (we do ours one at a time) and spray more oil on the top of the patty. Alternately you can use dabs of oil. Fry each side until golden brown. Done.
Submit a Recipe Correction
Yummy - these flavors are definitely up our alley. I sautéed and removed the mustard greens in the same pan before cooking the other things, and it lent a nice "browning" flavor to the patties. I was thankful for Sandi's tip about the last 3 spices being the masala. These are a bit of work, but are tasty. Tamarind sauce complemented them well and made them more like a chaat. ETA: I had the leftovers with a generous sprinkling of turmeric, homemade curry powder and coriander seeds (I like my Indian food highly spiced) and they were even better like that!

I liked these far more than I thought I would. SO much flavor inside what's basically just a mashed potato patty! These taste like samosa filling, but without being unhealthy & fried- always a plus. I used spinach, and had to use tamarind concentrate instead of mango powder as I've never seen that in a store. I wish I would've found those white poppy seeds, but alas I did not... so I just didn't cover the patties with anything at all, and I liked the crispy crust that formed (almost like hash browns). [Made & Reviewed for PAC Spring 2013]

I liked these far more than I thought I would. SO much flavor inside what's basically just a mashed potato patty! These taste like samosa filling, but without being unhealthy and fried- always a plus. I used spinach, and had to use tamarind concentrate instead of mango powder as I've never seen that in a store. I wish I would've found those white poppy seeds, but alas I did not... so I just didn't cover the patties with anything at all, and I liked the crispy crust that formed (almost like hash browns). [Made and Reviewed for PAC Spring 2013]