Marzipan Snowball Truffles (Vegan)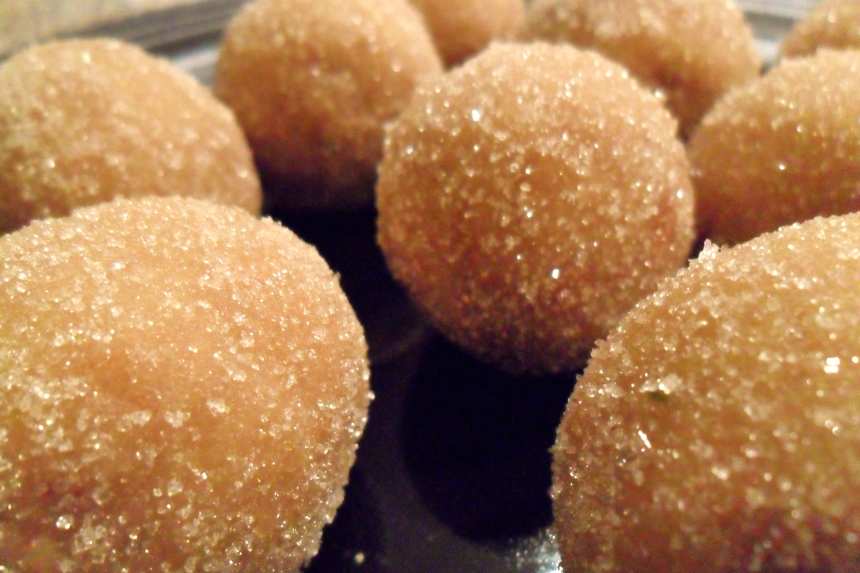 photo by Wish I Could Cook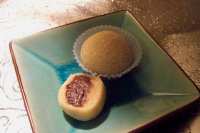 Ready In:

5hrs

Ingredients:

15

Serves:

36
ingredients
Ganache

8

ounces bittersweet chocolate (or dark chocolate, at least 60% cacao)

1

cup minus two tablespoons soy coffee creamer (Silk brand)

2

tablespoons margarine (Earth Balance)

1

tablespoon vanilla extract (or your favorite liqueur)

1

tiny pinch salt
1⁄2 teaspoon instant espresso powder (or instant coffee powder)

1

tablespoon maple syrup (or honey)

Marzipan

3

cups skinned slivered almonds

2

cups sugar (organic raw cane sugar)
2⁄3 cup water

1

teaspoon orange blossom water (or rose water)

1⁄4

teaspoon almond extract

1

tablespoon lemon juice

1

tiny pinch salt
1⁄4

cup almonds (extra, in case you need to grind up some more almond flour)
directions
For the ganache:.
Cut the chocolate fine with a serrated knife. If it's not fine, it will not melt. Make sure it's at room temperature.
If the butter is not at room temperature, cut it fine as well. Place everything except the soy creamer in a wide bowl with a lid.
Heat the creamer and just when it comes to a boil, pour it over the remaining ingredients. Stir it gently until everything melts and it's smooth and glossy. Let it sit open until the steam evaporates and it's warm, not hot. Then cover with cling wrap, put the lid, and refrigerate for 2 to 4 hours.
Scoop out with a melon baller or teaspoon. Place the parchment on a metal pan and freeze (there's no need to cover) for an hour until they turn rock solid.
For the marzipan:.
Keep a saucer (or two) in the freezer to chill.
Grind 3 cups of the almonds in a food processor (or in a spice grinder in 1/4 cup batches at a time) until it is a fine powder. It may turn a little pasty with the released oils, but that's fine. Feel through the powder/paste with your fingers to make sure there are no pieces. If there are, remove the pieces and add them to the next grinding batch. Be patient 'cos this takes a while.
Heat the water in a wide, heavy-bottomed pan. When it begins to simmer, add the sugar.
On medium heat, stir until all the sugar dissolves. Add the powdered almonds, orange blossom water/rose water, almond extract, salt and lemon juice.
Stir on medium heat and cook for a few minutes. Please do not leave the stove unattended, or it may burn. Cook it until it thickens and starts coming together into a paste.
Test a tiny bit on the chilled saucer. If it forms a soft ball that holds it shape, take it off the fire (about 240 F). Let it cool a bit uncovered and knead it into a soft, glossy ball.
Cover with cling wrap and refrigerate for a couple of hours if you have the time. Else, let it cool completely. If it's too loose, grind up the reserved almonds and add a couple tablespoons of the powder to the marzipan. Knead it in and leave it alone for half an hour. If it's too dry, a bit of kneading will make it more pliable, or use a drop of water.
Assembling the truffles:.
Make sure the marzipan is at room temperature and soft at all times. If you think it's drying up, knead it a bit until it becomes soft and glossy with slightly moist fingers. Else, the balls will crack while shaping.
Make sure the ganache balls are very cold. Else, they will ooze as you are folding the marzipan over them. If you sense them softening, stick them back in the freezer for five minutes.
Pinch out small pieces of the marzipan and roll them into balls slightly larger than the ganache balls. The softer and more pliable the marzipan is, the less you will need. So roll each ball between your palms until it is soft and shiny before spreading it with your fingertips into a round big enough to fit the chocolate centre.
Place the ganache ball in it, tuck up and seal the edges, and roll the whole thing between your palms until you have a smooth truffle.
Dip it in a bowl of sugar on all sides and place it in a box or mini-muffin paper liner. When they are all done, place them back in the refrigerator.
Questions & Replies

Got a question?
Share it with the community!
Reviews
So good and rich! I think I made the ganache a little too thin and the marzipan a little too thick, but all worked out in the end. I didn't add any flavored liquer in the ganache, but I think I will next time. It would really make the soft chocolate center seem more exotic. Made for October 2010 veg*n recipe swap.

 
RECIPE SUBMITTED BY
http://www.recipezaar.com/members/home/451456/Paula+Grad+18.JPG I'm a grad student and also teach at two different schools, so I need some fast/easy recipes. I try to eat vegan, and most of my creations are also gluten-free because my husband is Diabetic/Celiac. I don't post any recipes I have not personally tried and liked.
View Full Profile