Maple Sugar Glazed Pork With Baked Apples and Thyme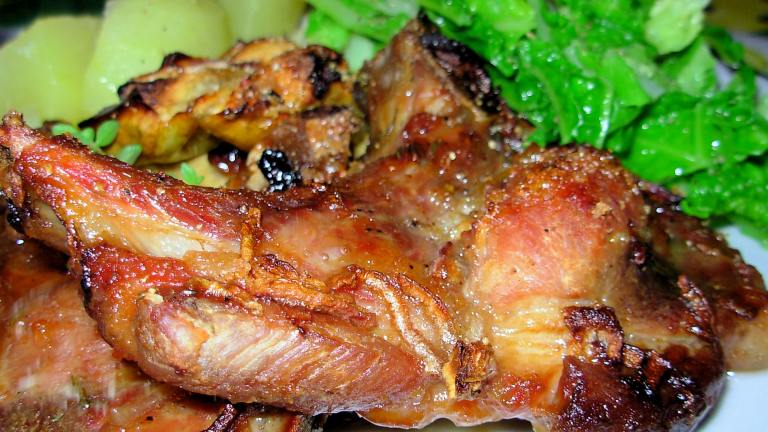 A delicious and sticky combination of lean pork chops, maple syrup, brown sugar, apples and cider. An easy to assemble meal for company that needs very little last minute attention. Serve with mashed potato and steamed seasonal vegetables during the cooler months and lightly steamed greens during the warmer months. This dish would also be wonderful with baked red cabbage and crusty bread. Edited (30/08/07) to say: This was my RSC10 entry - and as everyone discovered, I copied and pasted the wrong version! I made it three times, cutting back on fluids each time and also increasing the oven temperature and the maple syrup! This recipe has now been edited to the correct version - thanks to all who made this, and sorry for my mistake! I hope you will try it again! FT:-)
Ready In:

1hr 30mins

Serves:

Units:
directions
Put the chops & apple halves into a large buttered ovenproof dish – along side each other, it does not matter if they fit snugly.
Mix the maple syrup, sugar, mustard and cider together to make a thickish, sludgy syrupy, paste and spread over the top of the chops & apples.
Allow to rest/marinade at room temperature for about 30 minutes.
Preheat the oven to 2250C/450F/Gas 6.
Sprinkle the chopped onion over the top of the chops and apples, and place several sprigs of fresh thyme on top.
Season well with freshly ground pepper and sea salt.
Bake for about 45 to 60 minutes, or until chops are and apples are cooked, soft and golden brown and glazed. (Cooking time depends on the thickness ans size of the chops).
You can flash the chops and apples under a grill to achieve a deeper and stickier glaze.
Serve each person with one chop, one-half of apple and some of the juices and the glaze. Garnish with some fresh thyme.
Submit a Recipe Correction
RECIPE MADE WITH LOVE BY
"A delicious and sticky combination of lean pork chops, maple syrup, brown sugar, apples and cider. An easy to assemble meal for company that needs very little last minute attention. Serve with mashed potato and steamed seasonal vegetables during the cooler months and lightly steamed greens during the warmer months. This dish would also be wonderful with baked red cabbage and crusty bread. Edited (30/08/07) to say: This was my RSC10 entry - and as everyone discovered, I copied and pasted the wrong version! I made it three times, cutting back on fluids each time and also increasing the oven temperature and the maple syrup! This recipe has now been edited to the correct version - thanks to all who made this, and sorry for my mistake! I hope you will try it again! FT:-)"
This is a different, tasty way to prepare pork chops. The sweet and savory flavors of this dish compliment one another well. The pork chops turned out juicy and flavorful with a sweet, sticky glaze. We enjoyed eating each bite of pork with a bit of roasted apple as well. We did think the glaze was a bit too sweet for our preference, but overall the dish was beautiful and delicious. Thank you for sharing! (Made for Aus/NZ Recipe Swap #30)

I decided to try something totally different for my style of cooking. I usually bread and fry my pork chops. The only change that I made was to reduce the apple cider to 1/4 cup. My sauce was nice and sticky. I also ensured my chops and apples were thoroughly coated with the sauce. The only issue I had was my apple skins baked really dark. But they also slipped right off and the apple underneath was delicious. I served these with mashed sweet potatoes, which was a wonderful accompaniment to the dish. Thanks for posting, FT...you've expanded my pallate a little. Sue

This recipe has nice flavors. I had to do step 2 twice. The first time I followed step 2 exactly and the result yielded a very liquid sauce. Since there is no way to make a "thickish paste" to "spread over the tops of the chops" using 1/2 a pint of cider I threw that out and started over. The second attempt I added a couple tablespoons of the cider. After it marinated for 40 minutes, I poured the rest of the 1/2 pint into the pan. The recipe, as I said above, had very nice flavors and everyone liked it but, it was not very attractive as the cider did not allow for the glaze to brown and there was nothing sticky about the sauce (which was the result we really wanted). I was not disappointed, but either I did something very wrong, or the recipe is written wrong or the description is not accurate. I would be happy to try this one again. Good Luck Chef!