Maori (New Zealand) Fry Bread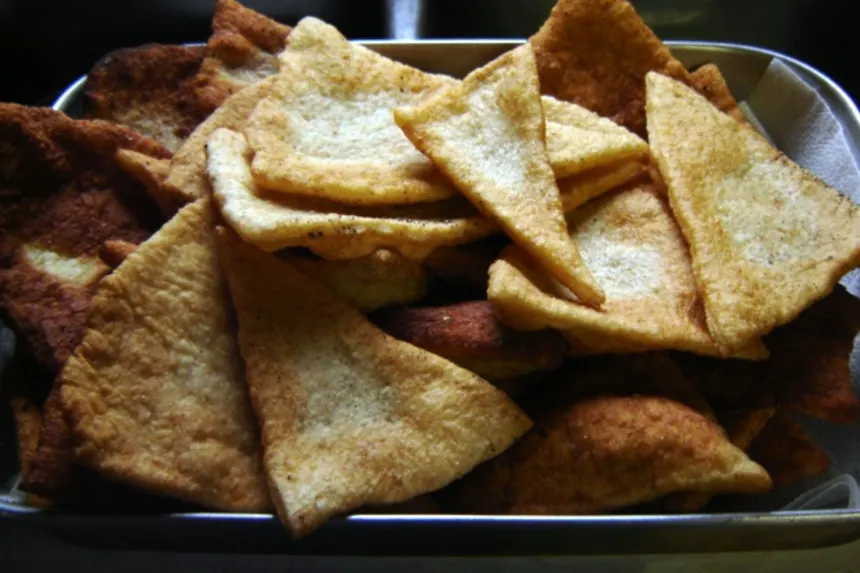 photo by Saturn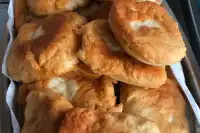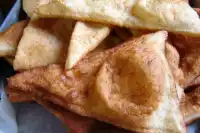 Ready In:

1hr 10mins

Ingredients:

7
ingredients
4

cups water, 110 degrees (as written -4 Breakfast Cups a bit hotter than warm, but not too hot to kill the yeast)

2

tablespoons yeast (as written - 2 dessert spoons yeast)

2

tablespoons sugar (as written - 2 dessert spoons sugar)

2

tablespoons all-purpose flour (as written, use plain flour, definitely not self-rising flour)

8 -10

cups all-purpose flour

1

pinch salt

1

quart cooking oil
directions
Stir together water, yeast, sugar and 2 tablespoons flour.
Leave to stand for 15 minutes in a warm position. At the end of 15 minutes this should have about 2 inches of froth on top.
In a large bowl put in 8-10 cups plain flour.
Add a pinch of salt and stir.
Make a well in centre and add the yeast mixture. Gradually stir in flour but don't add too much flour at once - a light hand is the story.
When the liquid has absorbed as much flour as necessary for it to be kneaded place on a floured board (in my case on1y plain paper) and knead until you can sit the dough in the palm of hand.
Spread some plain flour on a baking board. Let this stand for 15 minutes -- this is the working time for the yeast and the dough should be nice and spongy and fluffy.
As soon as I have let the dough stand for 15 minutes I prepare my cooking pot. Sufficient lard, dripping, cooking oil or tallow to cover at least 1/3 of cooking utensil. Heat until blue smoke rises (for us in NZ on electric store this takes 15 minutes).
Cooking tip: If the fat does not smoke at end of 15 minutes add a wee bit of used fat -- new fat takes forever to reach the required temperature.
Again! Don't worry overly much about the dough. If it fluffs up nice and spongy and fat is not ready to fry bread, then just knead the dough again and let stand, but perhaps for only 10 minutes this time.
All things being equal, the dough and the fat should be ready together by this time.
So press the dough out (add flour if the board is sticky).
Cut into required (triangles, squares, etc) shaped, pressing to about 1/4 inch thick.
Fry one side, then brown fry other side and there is your bread.
Well, hope you enjoy your cooking and eating.
Signed -- Ngati Tarwhai Cooks.
Reviews
BE VERY CAREFUL - SERIOUS BODILY HARM OR FIRE DAMAGE CAN OCCUR<br/><br/>I was trying to surprise my wife by cooking a Waitangi Day themed meal and followed the instructions on this website precisely.<br/>Where things went terribly wrong was the point the recipe instructed to cook oil until blue smoke came of the pan. At this point I had a 4 foot (1.5m) flame reach out to the ceiling and our kitchen nearly burnt down.<br/><br/>I was lucky enough I was able to fetch the pan and toss it out of the kitchen into the backyard but I could have seriously hurt myself with burning oil had it splashed or in case I had tripped.<br/><br/>I would recommend putting a warning at the top of this recipe.<br/><br/>Unfortunately I didn't get to try the fry bread :-(

 
RECIPE SUBMITTED BY
"Life is not a journey to the grave with the intention of arriving safely in a pretty and well preserved body, but rather to skid in broadside . . . Chardonnay in one hand . . .chocolate in the other; the body thoroughly used up, totally worn out and screaming "WOO-HOO, what a ride!!"
View Full Profile