Malai Kofta (Stuffed potato balls in cream)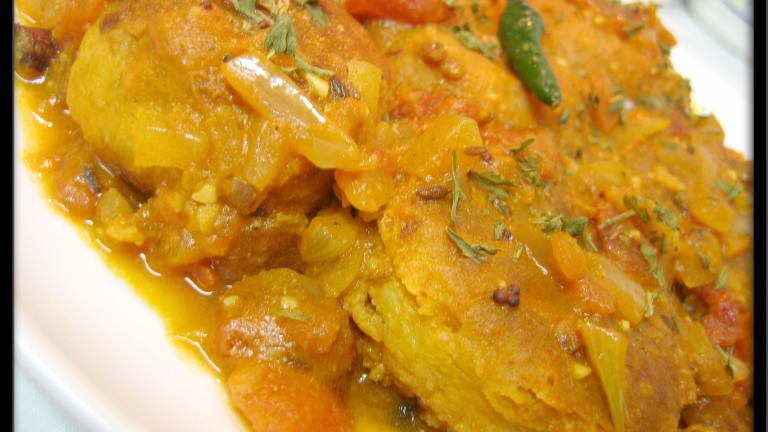 This sinfully good recipe is from the Foodcourt column by Anjali Vellody from the Weekend magazine for this week. She is a Food Writer with 15 years of experience and has written 3 cookbooks for 'Khaleej Times'. Coming to this recipe, did you know that the word 'kofta' originates from the Persian word "koofteh" meaning "pounded"? Although today we have several vegetarian versions of koftas, they were originally made of the meat of goat, lamb, buffalo or chicken. Basically, koftas are meatballs(grinning mischievously- hint for someone ultra-special to me!) served with special gravies. I truly hope you enjoy this lovely dish which is very common at parties/potlucks. The koftas can be served without the gravy as you would serve appetisers. Enjoy! ;-)
Ready In:

1hr 50mins

Serves:

Units:
ingredients
Koftas

200

g potatoes, boiled and grated

100

g panir, crumbled (cottage cheese)

1

tablespoon cornflour

1

teaspoon cumin powder

oil, to deep fry

Stuffing

1

tablespoon raisins, chopped

1

tablespoon cashews, chopped

Gravy

1

tablespoon oil

2

medium onions, peeled,washed and chopped

1

inch fresh ginger, peeled,washed and ground to a paste

2

cloves garlic, ground to a paste

1

teaspoon red chili powder
1⁄2 teaspoon turmeric powder

1

tablespoon coriander powder

1

cup water

1

tablespoon cream

Garnish

1

tablespoon sliced almonds

1

tablespoon fresh coriander leaves, washed and finely chopped

1

tablespoon mango powder (amchoor powder)

2

tablespoons oil
directions
Mix all the ingredients for the Koftas together.
Divide the mixture into equal portions.
Shape into balls.
Flatten each ball.
Place 1/2 tsp.
of chopped nuts and raisins in the center of each ball.
Close the ball (you may use a little water to seal the ball with your fingertips).
Prepare all koftas in this way.
Heat oil in a wok and deep fry the koftas till golden brown on either side.
Remove onto clean paper napkins, allow the excess oil to drain and keep aside till you prepare the wonderful gravy.
Now for the gravy.
For that, heat 1 tbsp.
of oil in a pot.
Add the ginger-garlic paste.
Saute for 4 minutes, stirring it continuously till it is golden in colour and the raw smell is gone.
Add onions and fry till golden in colour.
Add 2 tbsps.
of water.
Mix well.
Add chilli, turmeric and corriander powders.
Add 1/2 cup of water.
Cook for 5 minutes, stirring occasionally.
Add salt to taste.
Add 1-2 tbsps.
of cream and cook for a minute.
Remove from heat.
Place koftas in a serving dish.
Pour the gravy over them.
Garnish with mango powder, cream, almond flakes and corriander leaves.
Serve hot.
Submit a Recipe Correction
RECIPE MADE WITH LOVE BY
"This sinfully good recipe is from the Foodcourt column by Anjali Vellody from the Weekend magazine for this week. She is a Food Writer with 15 years of experience and has written 3 cookbooks for 'Khaleej Times'. Coming to this recipe, did you know that the word 'kofta' originates from the Persian word "koofteh" meaning "pounded"? Although today we have several vegetarian versions of koftas, they were originally made of the meat of goat, lamb, buffalo or chicken. Basically, koftas are meatballs(grinning mischievously- hint for someone ultra-special to me!) served with special gravies. I truly hope you enjoy this lovely dish which is very common at parties/potlucks. The koftas can be served without the gravy as you would serve appetisers. Enjoy! ;-)"
i usually make malai kofta using my own recipe, but decided to try this one for a change, and it was pretty good. i added 2 green chillies to the kofta mixture and i also roasted and ground some coriander and cumin seeds and added those, which added an incredible flavor to the koftas. however, the sauce was what was slightly 'unbalanced' to me. i think i would have preferred some tomato in it, or even yoghurt for water, as it was far too watery and thin with just water and only 1tbsp cream in it. in the end, i had to some tomatoes for 'body'. i would give this 3.5* if i could for that reason, but i have to settle for 3* unfortunately as it's not quite upto par with 4*, but i still think with some tweaking around the sauce, it has great potential. another thing is, this is REALLY a time-consuming recipe (it took me over 2hrs), so i would suggest making all the adjustments according to your preferences before embarking on it.

This sinfully good recipe is from the Foodcourt column by Anjali Vellody from the Weekend magazine for this week. She is a Food Writer with 15 years of experience and has written 3 cookbooks for 'Khaleej Times'. Coming to this recipe, did you know that the word 'kofta' originates from the Persian word "koofteh" meaning "pounded"? Although today we have several vegetarian versions of koftas, they were originally made of the meat of goat, lamb, buffalo or chicken. Basically, koftas are meatballs(grinning mischievously- hint for someone ultra-special to me!) served with special gravies. I truly hope you enjoy this lovely dish which is very common at parties/potlucks. The koftas can be served without the gravy as you would serve appetisers. Enjoy! ;-)