Magic Microwave Muffin - Sinless Chocolate Banana (Gluten Free)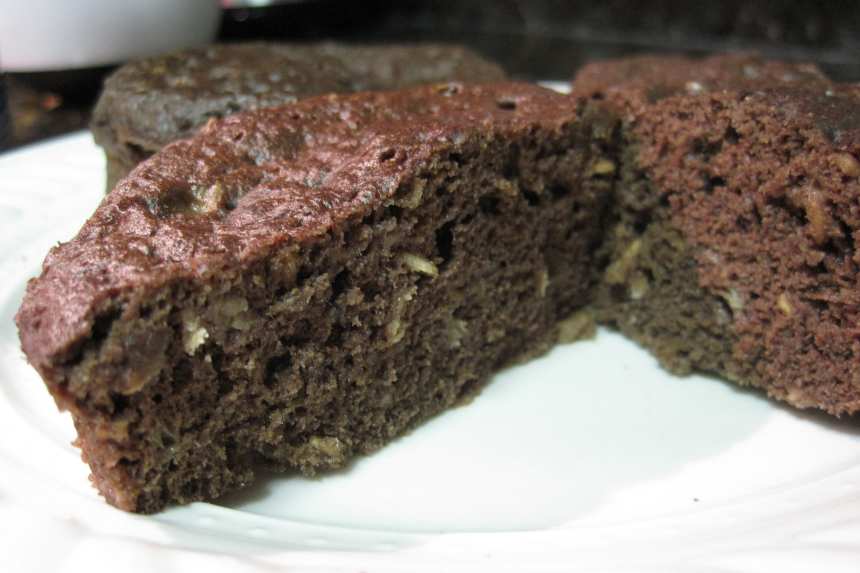 photo by Emily Elizabeth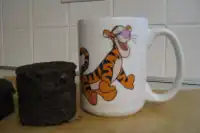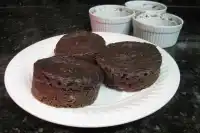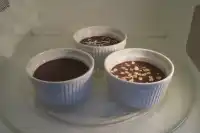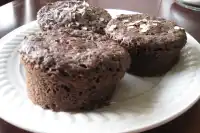 Ready In:

14mins

Ingredients:

16

Serves:

3
ingredients
Soften the oats (soak overnight or microwave)

1⁄4 cup oats (gluten free)
1⁄2 cup skim milk

1

teaspoon vanilla extract

Dry Mix (make ahead if desired)

3

tablespoons brown rice flour

2

tablespoons garbanzo bean flour (with fava if available)

2

tablespoons cocoa powder (Hershey's Special Dark is good if available)

2

tablespoons flax seed meal

1

tablespoon sweet white sorghum flour
1 1⁄2 teaspoons tapioca flour (tapioca starch is the same thing)
1 1⁄2 teaspoons cornstarch
1⁄2 teaspoon baking powder
1⁄4 teaspoon baking soda
1⁄4 teaspoon salt, scant

Wet ingredients

1⁄2 cup mashed overripe banana (1 large overripe banana)

2

egg whites (or 1 egg)

Optional Mix-Ins or Topping Ideas (directions given below)

sliced almonds or other chopped nuts (optional)
directions
Choose one of the following options to soften the oats. OVERNIGHT OPTION: In a small container, combine the oats, milk and vanilla. Cover and let soak overnight in the refrigerator. QUICK OPTION: In a 1.5 cup or larger microwave safe container, combine oats, milk and vanilla and microwave on high for 1 minute to soften the oats.
Combine dry ingredients in a small bowl and blend together with a wire whisk.
Mash the overripe banana (more brown than yellow) in a medium bowl with a fork until it is almost like a liquid with very few small clumps and make sure it measures at least a 1/2 cup (a little more is okay). Add 2 egg whites (or 1 egg) and the softened oats mixture and whisk with the fork until well blended. (If the oats are hot from the microwave, stir quickly so they don't cook the eggs).
Pour the dry mix on top of the banana mixture and stir with a fork until powder is mixed in completely.
Divide the batter evenly into three 8 oz ramekins or large coffee mugs so each has about a 1/2 cup of batter. (Batter should never fill its container more than half full or it will bubble over while cooking). Check below for optional toppings and mix-ins you can add here.
Put all 3 containers in the microwave together with at 1-2" space in between them and microwave on high for 3 to 4 minutes or just until center is dry to the touch (see microwave tips below to determine cook time).
Carefully remove containers from microwave using oven mitts. Flip over with the serving plate or your hand underneath (ready to catch) and shake muffins lightly side to side and up and down and the muffin should drop right out! Flip so it is right side up and let cool on a paper towel on top of a cooling rack (to prevent soggy bottoms).
Serve warm, or store in covered containers in the fridge for up to a week (cool muffin completely before storing to prevent soggy bottoms).
OPTIONAL TOPPINGS: Sprinkle uncooked muffin top with dry rolled oats, flaked coconut, sliced almonds or your favorite chopped nuts. (Since the batter has already been separated you can experiment with a different mix-in or topping for each one!).
OPTIONAL MIX-INS (add a little sin back in!): Chocolate Whey Coconut - stir in 1 tsp vanilla whey protein powder and 1 tbsp of coconut per muffin and then sprinkle a little more coconut on top. Chocolate Chocolate Chip: Stir in an additional tsp of cocoa powder and 1 packet truvia (omit truvia if you already added sweetener to the main mix) and then sprinkle a rounded tsp of chocolate chips on top of the batter of each muffin (do not stir in chips, they will sink into the muffin while it bakes).
ALSO TRY: A great treat is to pour about a 1/4 cup (or more) of milk over a leftover muffin from the fridge, heat in the microwave for 45 seconds and eat it with a fork like a bread pudding.
MICROWAVING TIPS: After 3 minutes of baking in the microwave, the muffins should have doubled in height and should be bubbling at the center and possibly the edges. When bubbling stops and centers look dry, stop the microwave and quickly tap the center with your finger. If the batter sticks to your finger, put them back in microwave for another 15-30 seconds and then check again. Repeat until the batter is dry and doesn't stick. NOTE: Cook time will be reduced if the oats and milk were already hot from the microwave when you mixed the batter.
OTHER COOKING OPTIONS: ONE AT A TIME - If you prefer to cook them 1 at a time, try 2 minutes in the microwave watching after 1.5 minutes and checking for a dry center like recommended above. BAKING IN THE OVEN - If you prefer to bake in the oven, pour batter into greased muffin pan (they will stick to paper cups) so each muffin only fills the pan 1/2-2/3 of the way so it has room to rise up while baking. Bake in a preheated oven at 350 degrees for 25-35 minutes until the center is dry to the touch.
Questions & Replies

Got a question?
Share it with the community!
Reviews
Oh my goodness....these really are "Magic"! I was skeptical about how they would work and totally expected them to need coaxing out of the containers. I just trusted the recipe, put them in for 3 minutes, quickly took them out when done, turned them over on a large plate, and "magic" - I lifted off the baking container and there sat a steaming hot wonderful muffin! <br/>Just a few notes: <br/>1. I really appreciated that Emily told me how much banana I should have once I mashed it. Today when I did it, my bananas were so small that it actually took two bananas to make 1/2 cup. <br/>2. The containers are VERY hot when they are done. Either make sure you have protection for your hands when removing from the microwave & lifting off the plate, OR you can bake them in a large coffee cup and the handle serves as an easy way to take them out and flip them over without burning yourself.<br/>3. Immediately after you dump the muffin out of the baking container, put hot water in the container to soak. Clean up is a breeze when you do this. If you leave the container to clean up later in the day and have not soaked it, it is much harder.<br/>Give these Magic Microwave Muffins a try. I made them without any sugar or sweetner and they were great. My favorite is to add just a sprinkle of raisins to the top before baking! Of course the ultimate is to add chocolate chips to them before baking. However, I am doing a September No-Sugar Challenge, so raisins had to be it today!

 
RECIPE SUBMITTED BY
Growing up, my mom didn't keep any junk food in the house so if I wanted something sweet I had to find a way to make it (or go to a friend's house)! I loved looking through my mom's recipe books and trying to find recipes that I could make. I baked a lot of home made bread from Betty Crocker's Big Red Book, and every holiday, my mom and I would make pies together from scratch. I didn't actually get interested in cooking main courses until I got married and realized that I had to actually put dinner on the table every night. Just as I was starting to get the hang of it, I was diagnosed with Celiac Disease in May of 2007. This meant that I had to learn a whole new way of cooking - gluten free. I have accepted this as a new challenge and have fallen even more in love with cooking and baking. There is nothing like the feeling I get when I have success with creating a new recipe! My inspiration usually comes from a craving for something that I can't have because it is not gluten free. I immediately go back to my kitchen and learn how to make it myself! I also focus on creating recipes with all natural ingredients and avoiding artificial or added sugars.
View Full Profile