Magic Fresh Tomato Spaghetti, Pasta or Pizza Sauce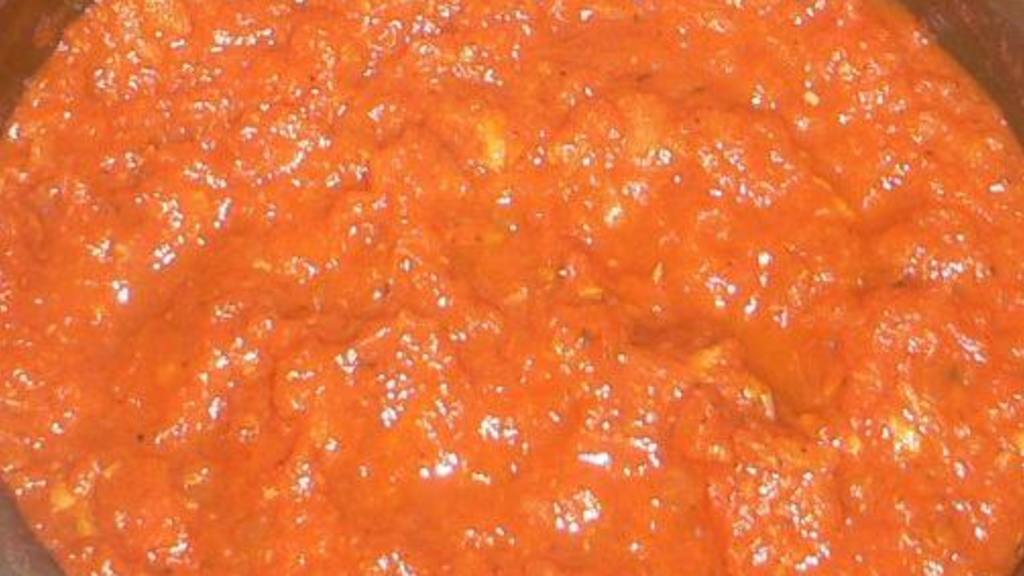 Ready In:

2hrs 20mins

Serves:

Yields:

Units:
Nutrition Information
ingredients
1⁄3 cup olive oil

1

large onion, peeled and coarsely chopped

5

fresh garlic cloves, peeled and slightly crushed (may substitute jarred)

1

(10 ounce) can condensed beef broth (may substitute chicken or vegetable)
3⁄4 cup red wine (may substitute white, or extra broth)

20

whole fresh tomatoes (exact quantity varies based on size)

2

(6 ounce) cans tomato paste (may need more depending on thickness desired)
herbs, to taste (I recommend basil and oregano, fresh or dried)

salt and pepper, to taste

meat (optional)

vegetables (optional)
directions
Heat olive oil in a large pot over medium heat. Add chopped onions and garlic, and cook until onions are slightly soft and golden, stirring occasionally.
Pour in broth and wine, increase heat to high, and bring to a boil.
Meanwhile, wash tomatoes. Cut off tops and any damaged parts. Add whole tomatoes to the pot as you go (reserve extra tomatoes to peel, dice and add later if you want a chunky sauce). Note: when I make this, I add however many tomatoes will fit in my 6-quart pot - you will adjust other ingredients later so the exact quantity doesn't matter.
You may add extra uncooked veggies you wish to "hide" in the sauce now. Some ideas - peas, carrots, broccoli, cauliflower, even a little spinach. Be aware that it may slightly alter the color of the sauce - it can make it a little more orangey - but the tomatoes and seasonings will completely mask the flavor as long as you don't go overboard and add too much.
When all the tomatoes have been added and the broth is boiling, reduce heat to low and cover. Simmer for about an hour, and then turn off heat.
Ladle sauce into a blender or food processor until about 2/3 full - you will need to work in batches. It will be soupy and very hot, so be careful. Process until smooth (there will still be some seeds visible).
Pass sauce through a fine mesh strainer into a large bowl. Use a spoon to scrape the sides of the strainer if it clogs, and press all the liquid out. Discard the seeds and pulp from the peels that are left in the strainer. Carefully return sauce to the pot, and place back on medium-high heat.
Add tomato paste until sauce is of desired thickness. Add seasonings to taste. Add any additional ingredients you want - diced tomatoes, browned beef or chicken, mushrooms, etc.
Return sauce to a boil, reduce heat to low, cover and simmer for another 30-60 minutes. Taste and adjust seasonings as necessary. If sauce is too tangy, you can add a little sugar to balance it. It will be done when it tastes just right!
Submit a Recipe Correction
Join The Conversation
I reduced the recipe a little (I thought) because I didn't want to end up with four quarts. I used about 15 average size tomatoes, though some were smaller. My immersion blender was having none of it but the food processor made quick work of it. I added 1 can of tomato paste, 1 tsp each of dried oregano, basil and Italian seasoning, a packet of sweetener and a bay leaf. I also added a half teaspoon of red pepper flakes since I like it spicy. After doing the strainer thing I was surprised to find that my yield was just under a quart! I was careful to squeeze all the juice I could out of the strainer, so I don't understand why it came to such a small amount of sauce - it's hard to imagine the full recipe making four quarts; maybe my tomatoes were too small or I needed more of them. It's very tasty, thought, and I'lll guess I'll be making it next time my husband plants too many tomatoes! :-) Cheers, Addiebam

We had a ton of tomatoes & this was the perfect use for them. My first time making my own sauce & I couldn't be happier. I had read other recipes but the thought of having to cook, peel & deseed seemed to be so much work. This method was so easy, with cutting the stems off the tomatoes the most work and that was nothing. I must say that the easiest way to blend the sauce after the initial boiling was with a hand-held immersion blender. I tried in the regular blender but it was too powerful & I ended up with sauce all over the kitchen & myself. I had no problem getting it through the strainer, I just pulled it out of the pan with a 2-cup measuring cup & strained it a bit at a time. I put in 1 tsp of oregano & 1 tsp of basil & maybe a half teaspoon of Italian seasonings. I will definitely be making this again. Planning on just freezing in bags for the rest of the year.

Oh my goodness! How could something so easy be so good? I used a variety of tomatoes from my garden - Tiny Tim, red cherry, yellow pear, and roma. Just enough to fill a regular size colander. I followed the directions, but I was unable to run my sauce through a mesh strainer. It was just too thick. The peels and seeds were hardly noticeable, so I didn't care anyway. I added 1/3 c. sugar and oregano, basil, pepper, bay leaves, and garlic salt to taste. I skipped the tomato paste and just cooked it until it was the consistency I wanted. It was THE BEST tomato sauce I've ever had. It was wonderful as a soup as well. I processed it 40 minutes in a hot water bath and canned it for later. Thanks!