Maggie's Lethal Kumquat Liqueur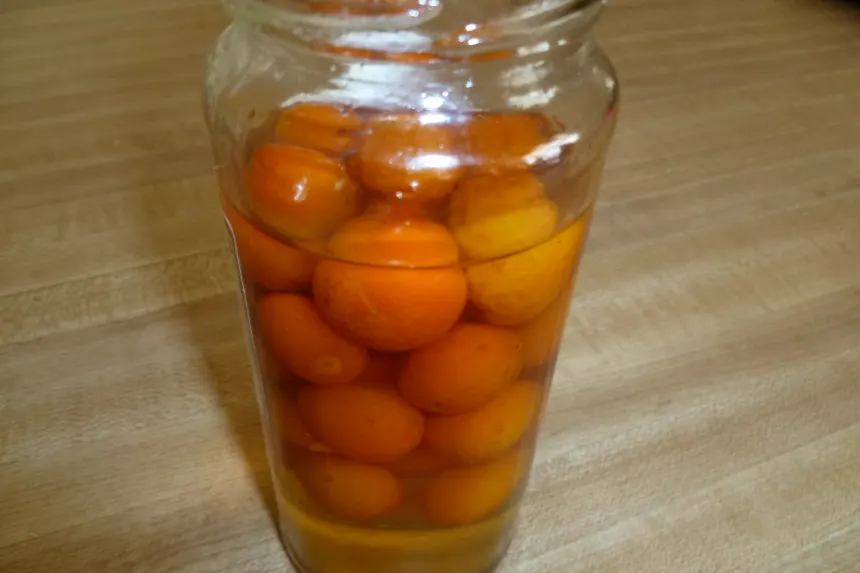 photo by Ambervim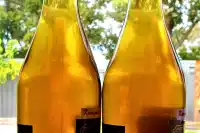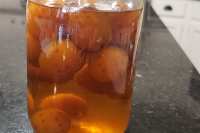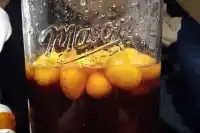 Ready In:

10mins

Ingredients:

4
directions
Put the pricked kumquats, sugar and brandy in a jar that can be tightly sealed (should hold at least a litre). Store jar away from sunlight.
Every day for the next 14 days, turn the jar over and back to distribute the sugar. You don't need to shake the jar.
After the 14 days are up, keep turning the jar over and back at least once a week until the sugar has completely dissolved.
When the sugar has dissolved, use tongs or a slotted spoon to gently remove the kumquats. Leave the liqueur to age in the jar.
Dip these boozy kumquats in melted chocolate for a delicious treat with after-dinner coffee. Store in the freezer.
Six months later, the liqueur is ready to be bottled and enjoyed. Maggie saves interesting-looking smaller bottles to use for gifts.
Note: You can bottle the liqueur at three months (to give as a gift), but tell the recipient it is worth waiting the extra three months before tasting. The well-aged liqueur is thicker, sweeter and more syrupy.
Questions & Replies

I made the kumquat liquor 3 months ago and have just bottled it into another empty liquor bottle It looks and smells divine. I also dipped the kumquats in a dark chocolate and have hidden them in freezer for a special time. My husband and I tried one each( I did 33) and WOW the hit of brandy is perfect. My tree is still laden so will do another batch. Thankyou for recipe my friend is also making this recipe

 
Reviews
I made this liqueur (double quantity) and found the sugar had completely dissolved well within the initial 14 days. However, I did wait until the 14 days were up before removing the (60) Kumquats. I actually tested the liqueur at 11 weeks and found it was maturing well, so filtered (as there was slight sediment) and then used a funnel to decant into the reserved brandy bottles. The recipe produced just under two litres so the excess was drunk that evening. It already has a very good flavour and is quite syrupy, so should be well matured in time for Christmas, New Year and Australia Day.

 

I gave this recipe to a friend last year when she had a glut of kumquats and she has just informed me they are devine dipped in the chocolate and the liqueur is to die for and is hoping for another glut of kumquats this year and will be making more (and just maybe I'll get a taste this time). So my friend says a big thank you to Leggy Peggy and Maggie for a great recipe.

 
RECIPE SUBMITTED BY
<p>Thanks so much for visiting my page.</p> <p>&nbsp;</p> <p>I love to cook and travel.</p> <p>&nbsp;</p> <p>I'm originally from Nebraksa and now live in Australia. Have also been lucky enough to live in Egypt, Syria, Jordan, Lebanon and Burma.</p> <p>&nbsp;</p> <p>Since the beginning of 2009, hubby and I have visited all seven continents. We've cooked and travelled in Africa and Antarctica, from London across Asia to Sydney, around Australia, around South America, and across India, Europe, Canada and the USA. Most of our travels have been by road and we've covered more than 150,000 kilometres. It's been fun to learn about food and recipes from all over the globe, and most of the souvenirs I bring home are cookbooks.</p> <p>&nbsp;</p> <p>If you're interested in seeing some of our trip and menu highlights, please visit my travel blog at http://leggypeggy.com or my food blog at http://cookingonpage32.wordpress.com</p> <p>&nbsp;</p> <p>Thanks also to everyone who has made, reviewed and/or photographed any of my recipes. Most appreciated.</p>
View Full Profile