Madhur Jaffrey's Naan Bread
photo by Charles M.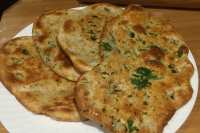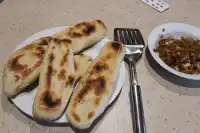 Ready In:

1hr 33mins

Ingredients:

9
directions
Put the milk in a bowl. Add 1tsp of sugar and the yeast. Stir to mix. Set aside for 15-20 minutes or until the yeast has dissolved and the mixture is frothy.
Sift the flour, salt and baking powder into a bowl. Add the remaining 1tsp sugar, the yeast mixture, 2tblsp vegetable oil and yogurt and egg. Mix to form a ball of dough.
Knead for 10 minutes until smooth and satiny (I did this in a stand mixer). Form into a ball. Pour 1/4tsp oil into a large bowl and roll the ball of dough in it. Cover the bowl with clingfilm and set aside for 1 hour until doubled in size.
Preheat the oven to it's hottest temperature. Put your heaviest baking tray to heat in the oven. Preheat your grill.
Punch down the dough and knead again. Divide into six equal balls. Keep covered when not working with the balls of dough. Roll the ball of dough into a tear-shaped naan, about 25cm long and 13cm wide at it's widest point.
Remove the tray from the oven and slap a naan on it. Put in the oven for 3 minutes, it will puff up. Now place the tray under the grill for about 30 seconds to brown slightly (I didn't bother with this as my naan browned in the oven). Wrap the naans in a tea towel or foil. Make all the naans this way. Serve hot.
I kept them warm wrapped in foil in a turned off warm oven, you can reheat them in the microwave for 40 seconds or so.
Questions & Replies

Reviews
I usually have a lot of trouble with breads, but this one works perfectly if you follow it! The dough is a dream to work with, and really nice to knead. I made this for dinner tonight (T-minus a few hours) for my boyfriend's family. I left my Jaffrey cookbook at home so I was really happy to find this recipe online! As a city girl I like to make these mid-westerners try something new once in awhile. :)<br/>A note: My oven here does not work simultaneously with the broiler. I find that 4 minutes at 500 F cooks and browns the breads up well.

 

I don't normally do reviews BUT this naan bread deserves one! I normally buy naan bread from Coles for about $5 for 2 pathetic pieces but decided to try this recipe. I made it in my bread machine on the dough cycle and when I finished rolling them out, added some sesame seeds to the top and they are just.....well, what can I say.......FANTASTIC! Next time I will make garlic and chives and see how they turn out! ??????

 

Just a suggestion to put the measurements either in weight or volume. Flour, milk and yogurt in millilitres and everything else in teaspoons and tablespoons. PLEASE make it easier and put them in cups. I live in Canada and I had no idea how many mls in a cup of sugar or am I supposed to weigh my flour??