Lynn's Luscious Chocolate Cake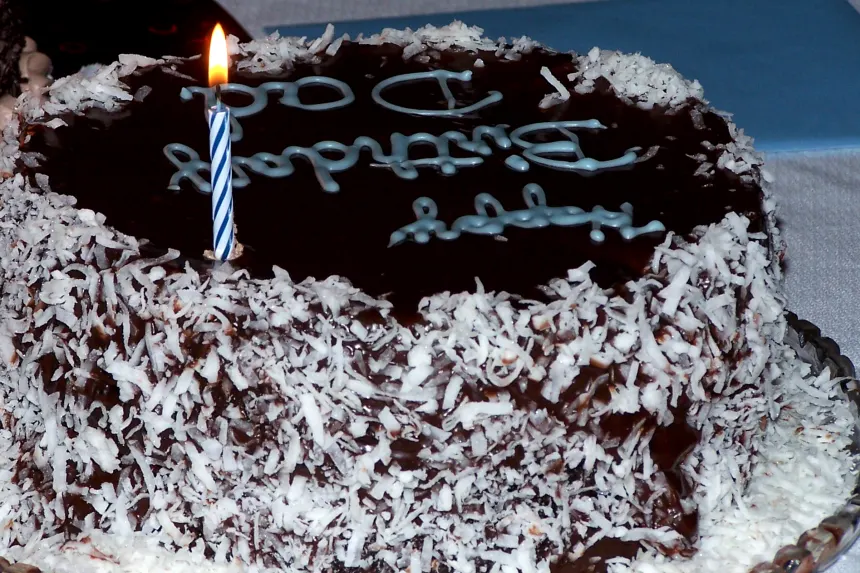 photo by Rita1652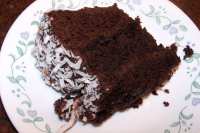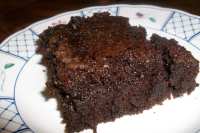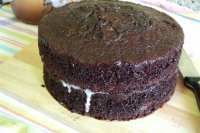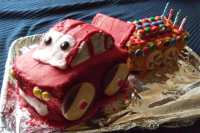 Ready In:

55mins

Ingredients:

11
directions
Combine all dry ingredients.
Put into large mixing bowl with the rest of ingredients except for water.
Add boiling water and stir. (Don't worry, your batter will not be thick.
Put into greased 9 x 13, or 2 8inch cake pans that have been greased and floured.
Bake at 350 degreesF.
Bake layers for 30-35 minutes.
Bake 9 x 13 for 35 to 40 minutes.
Questions & Replies

Got a question?
Share it with the community!
Reviews
I made this twice! For some reason the first batch didn`t come out as the reviews stated! So I put together an other batch and was so much more airy and light and rich. If you check the photo of mine the top layer is the first mix, you can see it is drier. I messed up and didn`t flour the pans after spraying them!! Please do remember to flour. I filled and topped with Recipe #174315. Thanks!

 

After seeing Kiwidutch's photos in the PRMR game, we had to make this ourselves (ok, I begged Buddha to make it for us, lol). All the ingredients were at hand, so we made this up pretty fast which is great when you have a chocolate craving. When Buddha had the batter ready, he showed me and said "Look, there's no way this is gonna be a cake, it's more like a soup!" I replied "Four reviews can't be wrong, just have a little faith." Well, Buddha was enlightened as the 9x13 cake was done up in no time. Nice, light, and very moist, we enjoyed this cake warm right out of the oven! Thanks Lynn, for a great recipe. :)

 

50 stars ! This has to be one of my all time favourite Zaar recipes :) I cook and review a LOT but have *never* had success with cakes, until *NOW*. In fact, I've become rather too well known for my cake making disasters. Then, in a rash fit of optimism I said yes when DS asked for a home-made " Cars Lightening Mac Queen Birthday Cake.. after all who can possibly say "No" to the " please please Mama" of the upturned pleading face of a soon to be 4 year old? I used the two pan option and got the two tallest cakes I have *ever* made in my life. Just one point: I would highly recommend that you not just grease the pans but also line them with baking paper as I did because these cakes are very soft and moist and I probably would not have managed to get them out of the pans intact had I not done that. Finally ! a cake that is idiot proof (and with my long and disastrous cake baking history I am just the idiot to try this out on LOL) These cake are the sort that you start drooling over just *thinking* about them. Once tasted you will be hooked for life. I even managed to decorate them.. ok, a few issues with having a gas heater in an insanely cold Dutch kitchen and the icing going soft and slipping off in places, but DS was delighted to bits and the Birthday guests were ecstatic. The " trailer" behind the car is actually a shop bought back-up cake since I fully expected my own efforts to fall short.. I did use it but the taste was FAR FAR less than Lynn's cake. So.. Please see my Rating System: Non bakers Unite, heat up your ovens, grab your aprons and RUN to make this recipe and like me, put your " I-don't-really-bake-cake" days into the distant past. Do you have to ask more about my rating? Naturally: 5 excellent, wonderful, brilliant, amazing stars for this recipe all the way!!! Thank You Thank You Thanks You Lynn for changing my Cake Baking Life forever!

 

This is delicious. With 3 teaspoons of leavening agent, it is light and airy not a dense cake. I had one rather big problem, only because I did not follow directions on pan size. I put it in a bundt pan. I baked it 45 minutes and that was perfect. The problem was getting it out of the pan. Sadly, only half the cake came out. I used Baker Joy spray release and maybe I should have floured it too. Or maybe I should have let it cool a little longer. But no matter, it sure tastes great, weather it be the half left in the pan or the half on the plate. I will make this again. Made for Please Review My Recipe 2012