Low Carb Pizza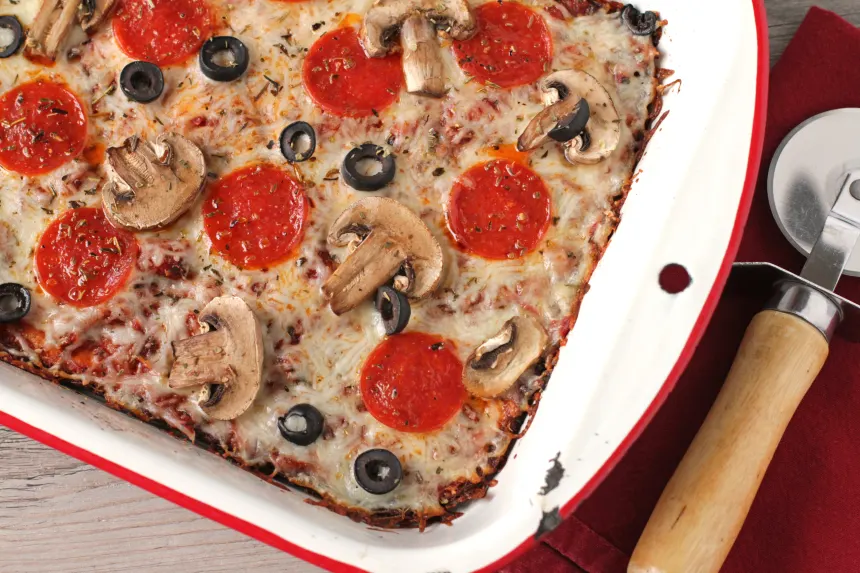 photo by DeliciousAsItLooks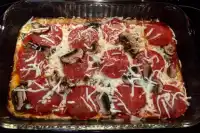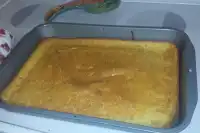 Ready In:

50mins

Ingredients:

11
directions
Preheat oven to 375 degrees F.
Beat together cream cheese and eggs until smooth.
Add cream, parmesan, chives, Italian seasoning and garlic.
Spray 9X13 pan with cooking spray or oil.
Place 2 cups mozzarella cheese in bottom of pan.
Pour egg mixture over cheese.
Bake for 30 minutes.
Remove from oven and spread sauce over baked mixture.
Add toppings of choice.
Cover with remaining mozzerella cheese.
Bake until bubbly and brown.
Let stand for 5 minutes.
Questions & Replies

Reviews
This is AWESOME! I have made it about 4 times now, but last night's was the best yet. I did make a bunch of alterations to find the perfect version and here it is. First, I added oregano, minced garlic, chives & red pepper flakes to the egg mixture to give it some more flavor. Next, after I spread the mozzerella cheese onto the bottom of the pan, I stuck that in the oven for about 5 minutes. By doing this, I found that at the end of everything, the bottom came out to be a PERFECT crust!!! Next, I used Contadina marinara sauce (very low in sugar and carbs) and added plenty of oregano, garlic powder, minced garlic, red pepper flakes, and parsley, and let it simmer for the entire time that the pizza was cooking. This is the absolute essential step - use a large round pan!! I've done it all different ways, and by spreading the "dough" out on such a large surface, it was the perfect texture and had a great crunch to it, just like real pizza! To the top, I added mozzerella cheese and made half of the pizza with peppers and onions, and the other half with bacon bits. My hubby LOVED it - and he's a true skeptic of low carb "mock" dishes!!

 

If you read no other review, read this one. I'm writing this after a long week and, really, all I wanted was an adult beverage and pizza. I'm going to bed happy; before I do, however, I'm writing my first online recipe review, ever. The pizza was that good. You need to know 3 things:<br/><br/>1. This recipe is amazing; trust the reviews. I'm not a great cook and the final product turned out better than I anticipated. Quite frankly, low carb or not, this was one of the best pizzas that I've ever had (and I'm a foodie!). I made a primal guttural sound when I took my first bite.<br/><br/>2. The "dough" will be soupy before you cook it. I was doubtful, but see above :)<br/><br/>3. Follow the advice of "Chef #464581": (1) add extra spices to the dough," including red pepper flakes, (2) put the "bottom-of-the-pan mozzarella" in the pan and place the pan in the oven for a few minutes before baking the egg/cream cheese/spice mixture on top of the cheese, (3) use a round pizza pan, it works wonders, and (4) spice up the tomato sauce!<br/><br/>I'm not kidding. DO IT!

 

I've been making this for awhile now and it's very good and easy to make. Think of it as a pizza quiche. The only things I do differently are to add 1 Tble. dried oregano(more pizza taste) and use a deep, round pyrex pie plate. It's also good for low carb eaters who don't want meat. I make it during lent on Thursday, remove meat on Friday and it microwaves great for my husband's lunch at work.

 
Tweaks
I don't know if this has been tried, but in an effort to add more fiber, I added two tablespoons of ground psyllium husks. Placed cheese in bowl, added pizza spice and ground husks, tossed to evenly distribute the husks and spices throughout the cheese. If you add it directly to the liquid it will clump. Then mixed the rest of the stuff in a second bowl, and mixed it with an immersion blender, added the liquid to the dry in this case, mixed well and followed the rest of the directions as written. it produced a thicker crust, with a softer texture, that was very filling. Well that is my two-cents, maybe it will help inspire someone.

 

This was fantastic, I tweaked a bit....here's what I did: First, after spraying PAM on a 16" pizza pan, I sprinkled about 4 T of Bob's Red Mill coarse ground corn meal before the Mozzarella. This makes more of a 'pizza hut' type crispy crust in the end. Then I added 2 T of soy flour and 2 T of golden flax meal (golden flax has a milder taste) and 1/2 tsp of xanthan gum (to bind so it wouldn't be crumbly). These elements added a 'crust' effect I felt was missing the first time I tried the recipe. I used a 16" pizza pan and put the cheese in for 5 minutes (before adding egg mixture) as previous reviewers have. To understand low carb baking, you must know that you have to replace gluten when cooking with low carb flours (flax, soy, almond, etc). You may do this by any number of methods, the lowest carb being eggs or xanthan gum. You need an extremely small amount of xanthan gum (1/4-1/2 tsp) to achieve this, or eggs, or a combination of the two. I used all the eggs called for in this recipe PLUS 1/4 tsp of xanthan gum with the additional flours. Next time I'm using almond flour and soy flour and I'll let y'all know how it goes! THANK YOU for this recipe!!!