Lori's Kale Slaw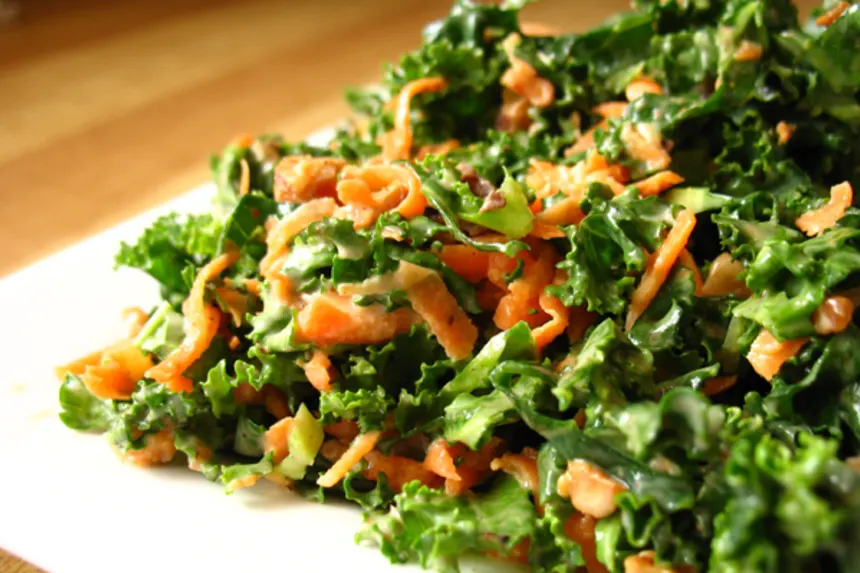 photo by LUv 2 BaKE

Ready In:

1hr 15mins

Ingredients:

18
directions
Combine the kale, carrots and walnuts.
Whisk together the mayonnaise, vinegar, sugar and spices.
Toss with mix.
Cover. Chill 1 hour.
Questions & Replies

Got a question?
Share it with the community!
Reviews
I had the bright idea to make this slaw a day ahead, and it was horrible! The kale was really bitter and we had to eventually throw it all out. I hope that others will not make the same mistake I did. No stars given because I did not follow the directions of chilling for only 1 hour. The taste test right after making it was good, and I bet after the 1 hour of chilling time it would have been really good. I am sorry I let mine sit overnight.

 

UH-mazing! I am so happy to find a recipe that makes raw kale delicious. I made exactly as written except for...now that I think about it I did change a few things. First of all, cut way back on cayenne (just a pinch and I still could taste it. And I like spicy!), swapping almonds for the walnuts because I prefer them, and cranberries and chopped apple. YUM! Husband and I agreed adding some salty chunks of broiled chicken would make this a delicious meal on it's own. And how else could you make these uber healthy greens taste like a treat?

 

I thought this was really good! I followed the recipe exactly, except I also added some spinach leaves to the mix. While I was eating it, I thought that apple would go well, so I am going to try that with the leftovers. Next time I will cut back a little bit on the cayenne. UPDATE: The leftovers were really good with some apple!!!

 

I like lots of spice - the hotter the better, so I loved Lori's Kale Slaw. I quadrupled the spices, blended together in a ziplock baggie and dipped out approx. 5 teaspoons of the spice blend for each two servings of the slaw. It was a little too sweet for my taste so I cut back and amount if sugar in half.

 
Tweaks
Inadequate this with light miracle whip and added cranberries at the suggestion of the other reviewers. I do think apple would add a lot to this as well. It is very spicy, but I love the blend so well, I think I will just add more kale. I think there is enough dressing to accommodate that. I also think I will try almonds instead of walnuts as another reviewer suggested, as a way to change it up next time I make it. I love this way to eat kale in a whole new way. Thank you Lori!

 

This is just so amazingly delicious!!!!! I used raw beet in place of the carrot because I had a single beet in the fridge that needed to be used. I did find the heat in this recipe to be out of balance, so next time I will reduce the cayenne. It is delicious as is, but it is also delicious with some chopped apple. I will definitely add this to my regular repertoire!

 

this is fantastic! I too multiplied the recipe to get the porportions to make a spice blend, then just measured it out and wrote a note on the container so I would know how much of the blend to use for each batch. I used plain yogurt instead of mayo, and I used honey instead of sugar (omited the sweetner out of the spice blend all together) For visual purposes you will want to grate the carrot on a course grate. Tonight I am making it again and omitting the walnuts and adding diced cooked chicken breast! Last night I used a tiny bit of the dressing on my hamburger bun! GREAT stuff

 

OMG this is SO yummy! This is the first time I have eaten kale because we don't really get it in south australia but I bought a bunch at my organic grocer to try. When researching what to do with it I stoked to see it could be eaten raw-no need to destroy all those green nutrients! I would recommend adding 1-2 tbls of lemon juice which is nice w the curry spices. I also used agave nectar instead of sugar and as I had seen in similar recipes I massaged the kale for a couple of minutes to help soften it before refrigerating it. Quite a few other things like tomatoes and red onion would also be nice in this. Also agree with the other reviewer that it is best enjoyed in small doses. Thank you for taking the time to add this recipe.