Light and Easy Dinner Rolls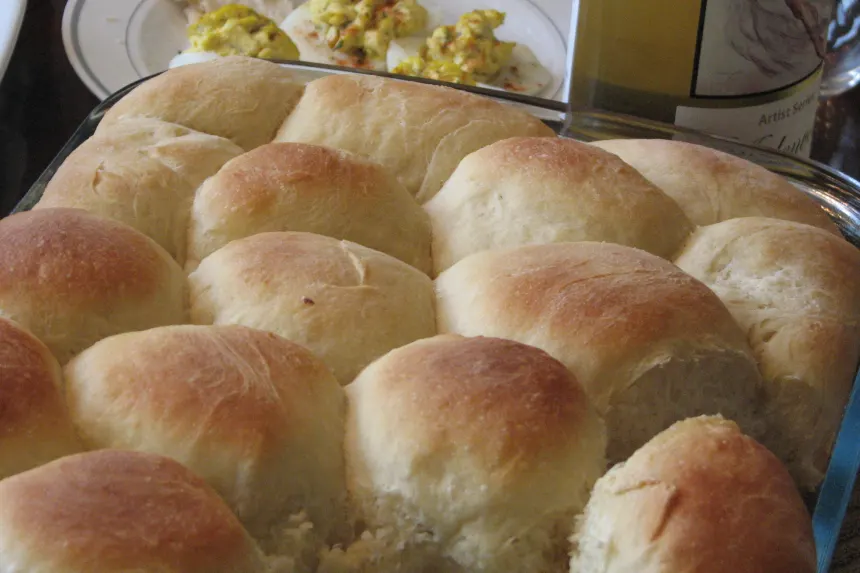 photo by Bonnie G #2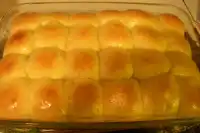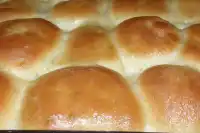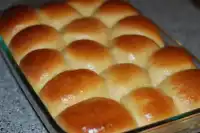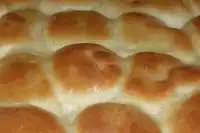 Ready In:

1hr 50mins

Ingredients:

7

Serves:

24
directions
Combine the warm water and yeast in a large bowl and let it stand for about 10 minutes.
Stir in oil, sugar, eggs and salt.
Beat in flour, 1 cup at a time, until dough is too stiff to mix ( some flour may not be needed).
Cover and refrigerate 2 hours or up to 4 days.
Grease a 13X9-inch baking pan. Turn the chilled dough out onto a lightly floured surface. Divide dough into 24 equal-size pieces. Roll each piece into a ball; place balls in the prepared pan.
Cover and let dough balls rise for 1 - 1 1/2 hours.
Preheat oven to 350º F.
Bake until rolls are golden brown, 20 to 25 minutes.
Break rolls apart to serve.
Reviews
I've been using recipezaar.com for months, but i've never felt like making an account. I personally thought this recipe was so good that I made an account just so I could write a review. Thank You so much for adding such a great recipe! My mother has a silly life's goal of finding the perfect dinner roll recipe, this recipe wasn't exactly what she was looking for but she said it was the closest one she's ever seen (You have no idea how many recipes for rolls she's tried). I've made 3 regular "batches" of this recipe. The first I let rise for 1 hour and then cooked. The result was a bit more dense than I had hoped for. Next One I let it rise for amost 2 hours and it was far lighter. The last time I made it I let it rise for about 2 and 1/2 hours and I had it set on top of the stove while the oven was preheating and the additional heat along with the lengthened time created a nice light roll. The taste of this roll did seem kinda "dry" for me at first. But in an another batch I made, I used a cinnamon butter to brush the tops, and it created a very nice flavor for a diner roll. Also I've added "stuffings" into these rolls before I let them rise and placed then in greased muffin tins. I let them rise for about an hour and a half. I made them with about a table spoon of Velveeta Cheese (Brand of Easy Melting Cheese) and maybe a teaspoon of diced coktail sausages wrapped with about 3 table spoons of dough to form a nice ball. Let rise for an hour and a half. Then baked untill golden brown. Brushed tops with butter. Created a delicious variation of "Pigs in a Blanket" served for breakfast.

 

Thank you to the chef who updated the recipe :) When I first found this one there was a slight misunderstanding with both oil and butter mentioned but found it was supposed to be oil only. I was so anxious to make them that I went ahead and I used 1/3 cup butter (in stick form) and melted it down and added it to the recipe instead of 1/3 oil. They came out fabulous and the whole family loved them. Last time I made homemade rolls from another recipe my husband thought they were too "yeasty" tasting but he loved these. I brushed (basting brush) them heavily with melted butter afterwards and they were delicious!! oh... a handy tip that helps... in step 6... if you don't mind pre-heating the oven for an hour... pre-heat the oven and set the 13x9 pan ON top of the oven itself as it pre-heats. The mild heat will help the rolls rise even more. I covered mine with a flour sack cloth (you can buy them at Target on the kitchen towel isle in a bin) and left on top of the stove for an hour and 20 min and then baked for 22 min (electric oven) they were perfect!!! Thank you so much for the yummy recipe!!!

 

Wow, this was the easiest rolls that I have ever made. I made them yesterday afternoon and refrigerated it until this morning, rolled them into balls (24) and placed them in a 9 X 13 inch pan. I let it rise for two hours and it was just beautiful, fluffy and delicious. It will be perfect for our ham dinner tonight. This is a keeper!