Lentil-Grain Burgers My Kids Will Eat!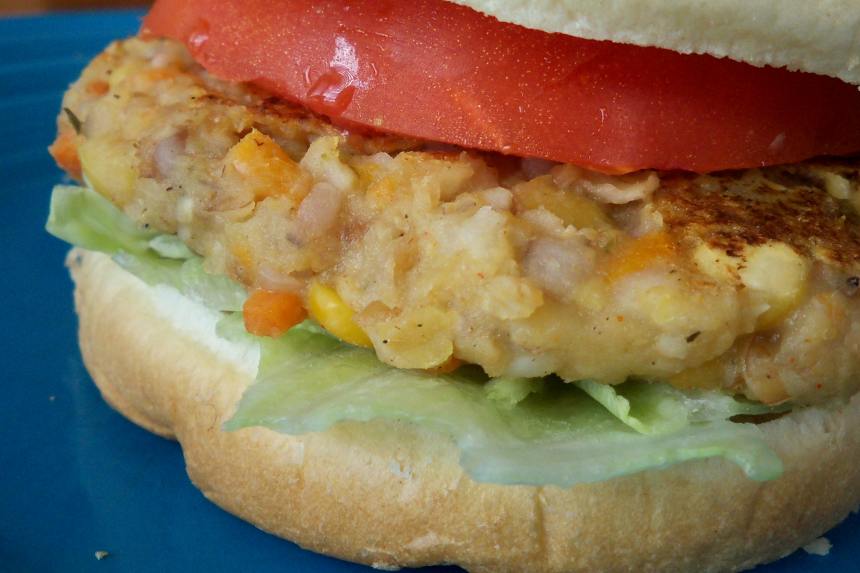 photo by Parsley

Ready In:

1hr 15mins

Ingredients:

12
directions
Combine all ingredients in heavy pan on med heat.
Bring to a boil; reduce heat to low.
Simmer uncovered 50 min, or until all liquid is gone and mixture is very sticky.
(Don't cook it too fast or it won't be sticky enough to hold together-- if liquid is gone and mixture doesn't seem to stick, add a little more water and continue simmering.) Stir periodically throughout and then frequently near end of cooking time to prevent scorching.
Remove from heat, place in covered container, and chill thoroughly, preferably overnight.
To cook burgers: Preheat skillet on medium, spray lightly with non-stick spray if desired.
Wet hands lightly and shape patties from approx 1/2 cup chilled mixture each.
Cook until browned on both sides-- turn carefully!
Questions & Replies

Got a question?
Share it with the community!
Reviews
The taste was pretty good for a meatless burger (I substituted grilling spice for the cayenne because we don't like cayenne) but the texture is lacking. I think it needs a binder. I made it according to directions, but the first time I tried to make patties they just fell apart. I put the mix back in with more water to simmer for another 45 minutes, and it got stickier which was better. After another round of chilling, I tried to fry them up again, but even after making them stickier, they were still pretty crumbly and mushed out of the bun when we tried to take a bite of them. I'll definately eat the rest of the batch, but I probably won't make them again without coming up with some sort of binder that will make them a little more solid.

 

My fiance and I enjoyed these quite a bit. They're reminiscent of the "veggie medley"-flavored Gardenburgers, which we often eat--this was a much less expensive alternative! They were also very filling--one burger was enough for each of us. The burgers went great on a bun with spicy deli mustard. Also, we didn't really have any problem getting the mix to bind together (we cooked it for 50 minutes and let it chill for a couple of days), but we did add some plain bread crumbs in before cooking, just to be sure.

 

I did not have any problems getting the patties to stick together, except for when consuming them. That worked remarkably well. However, I think I will try these again and susbtitute vegatable or chicken stock for the water. The flavor was just a tiny bit to the bland side. DH did not go for it at all. He went out for Burger King. The kiddos scarfed them down. Extreemly filling and hunger satisfying.

 

I think this mixture made a pretty tasty burger type sandwich. It did fall apart while I was eating it, but not too bad if I held on tight. After reading some of the other reviews, I decided to amp up the seasoning. I added Penzy's Mitchell Street seasoning, some worcestershire sauce, and some poultry seasoning. I LOVED the slow heat from the cayenne! This recipe made a ton, lots more than I expected and since I will be the only one in our house eating it, I cooked it all up, froze in baggies to be used in sandwiches and wraps later. Thanks for sharing the recipe.

 
Tweaks
I made these almost exactly like the recipe says except i added about a tablespoon of flaxseeds. I cooked the mix for the 50 minutes and there was still tons of water so i continued cooking it and finally stopped about 40 minutes later. I refrigerated overnight and til the next evening. I cooked them on a skillet for quite a while but they never became firm. The rest of my meal was finished so we finally just decided to eat them and maybe that was how they were supposed to be. The flavor was pretty good even my usually meat-eating husband liked the flavor, but the texture was horrible. It was like eating a rissoto put inside bread. So I thought maybe the oven would work better, dry them out maybe. And the next day I cooked the remaining four in the oven for a long long time. They just wouldn't get firm. I eventually forgot they were in there and they did get firm, just too firm! They were like rock solid. I did taste one and they probably would've been good if they were cooked maybe half an hour less. I don't know why these did not work for me? I did think maybe it was because i accidentally bought barley flour instead of just barley. Could that be it? Well, thanks for the recipe anyway, i had a burger just like this at a vegan restaurant that was amazing, so i know it can be good, i just messed up somewhere...

 

I used beef broth in place of half the water called for. I also added 2tsp Worcestershire and 1 1/2 tsp salt to mixture along with the spices, minus oregano and cayenne (personal preference). I just put my carrots and celery in food processor and made "mush" to hide from my kids. My mixture took almost 2 hours to cook down but it was the perfect texture when done. I had no problem cooking them after chilling and the taste was anything but bland. Everyone liked these, even picky one year old and they were oh so filling.

 

These is a nice recipe, that makes a good vegetarian burger pattie. I used vegetable stock instead of water, which gave them a nive flavour. It was fairly easy to shape the patties after chilling the mixture for 36 hours, and they didn't really fall apart in the pan either. I served them with hummous, and salad in pitta breads and they were very filling. Thanks for sharing!