Lemon Rice with Dals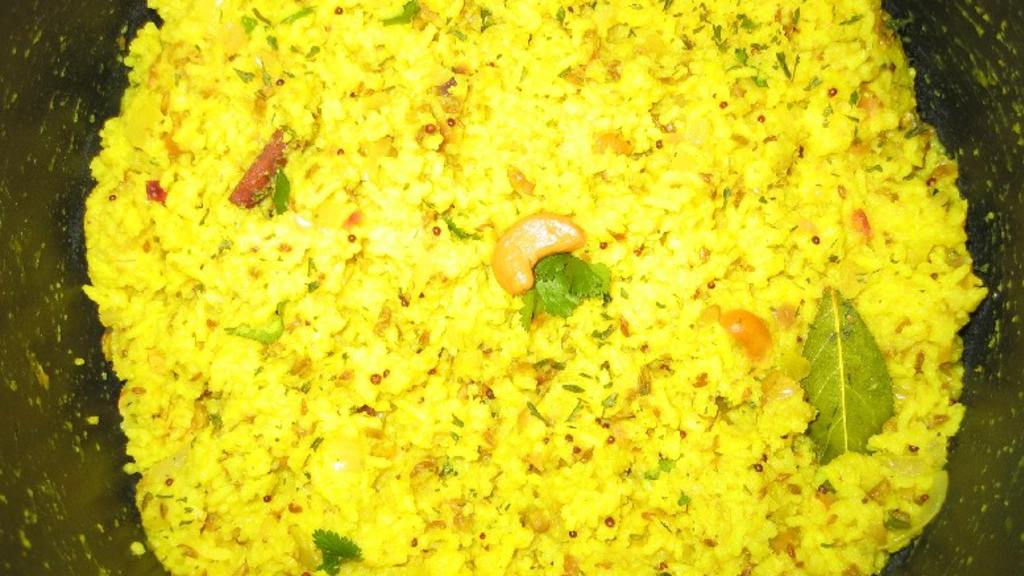 Ready In:

1hr 15mins

Ingredients:

18
directions
Soak masoor and chana dals for a few hours prior to cooking.
Boil rice with about 4-5 cups water and salt until grains are soft and firm.
Just before draining the rice, add the turmeric powder.
Stir to ensure that the color spreads evenly over the rice.
Remove from heat and drain.
In another pot, add the masoor and chana dals; cover with water and boil until the dals soften.
In a separate small saucepan, add butter on low heat until it melts.
Add mustard seeds, cumin seeds, bayleaves, cloves, cinammon, curry leaves and cashew nuts.
When the seeds begin to splutter, add the onion and allow to heat till onion becomes translucent.
Then add the boiled/softened masoor and chana dals along with the turmeric powder.
At this point you can peel the lemons and add the lemon rind to the rest of the ingredients.
Stir this mixture thoroughly to ensure a nice distribution of the butter flavor.
Transfer this mix to the already cooked rice and toss or stir well.
Squeeze two fresh lemons to obtain about half a cup of juice, add a tsp of salt to it, and then pour the liquid on the rice concoction, making sure to toss it thoroughly.
Garnish by drizzling with dry parsley, coriander and a whole cashew.
Join The Conversation
Absolutely delicious! I made a couple of slight changes: I didn't have any Masoor dal, so I substituted Moong dal. I didn't bother soaking either the Moong or the Channa dal, and found that they became soft and tender after simmering 20 to 25 minutes.I was out of cashew nuts so I tossed in some roasted flaked almonds instead. I added the finely grated zest of one of the lemons, and strips of the rind of the other. Finely, I used ghee rather than butter. This was one of the tastiest rice dishes I have ever eaten, and it won't be long before I cook it again. I served it with South Indian Vegetable Korma (which I am posting), and they complemented each other perfectly. Keep the recipes coming Varsha!
RECIPE SUBMITTED BY
<table width="133" border="0" cellspacing="0" cellpadding="3"><tr><td align="center"><a href="http://www.website-hit-counters.com" target="_blank"><img src="http://www.website-hit-counters.com/cgi-bin/image.pl?URL=305478-2685" alt="" border="0" ></a></td></tr><tr><td align="center">Get a free <a href="http://www.website-hit-counters.com/website-design.html" target="_blank" style="font-family: Geneva, Arial, Helvetica, sans-serif; font-size: 9px; color: #555556; text-decoration: none;" title="website design">website design</a> quote.</td></tr></table>
View Full Profile