Lemon Grilled Whole Tilapia With Grilled Bell Pepper Salsa #RSC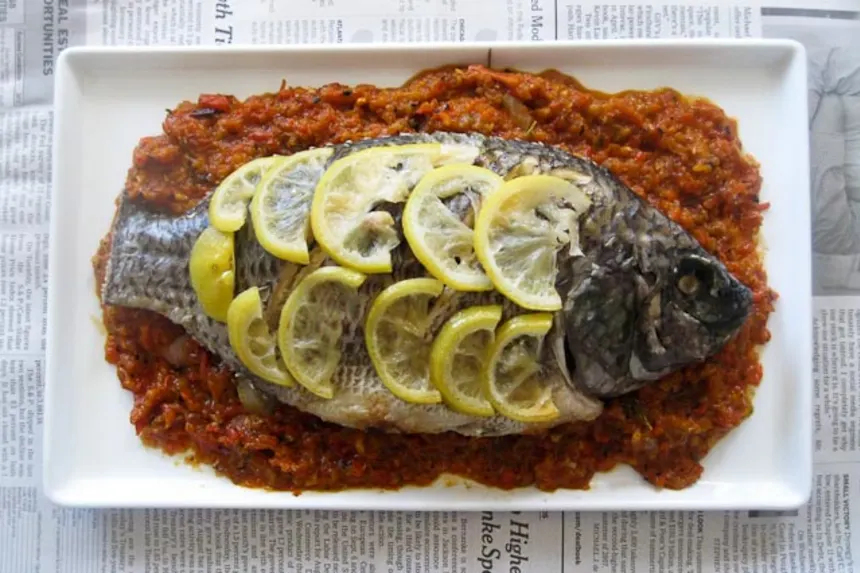 photo by Stellaaa

Ready In:

1hr

Ingredients:

12

Serves:

4
ingredients
2

whole tilapia (gutted, fins clipped and cleaned very, very well, can substitue 4 tilapia fillets)

7

garlic cloves (smash 2 cloves, finely chop 5 cloves)

1

pint cherry tomatoes (one box)

2

lemons, sliced into semicircles

1

small onion, sliced (use the yellow kind)

1

large yellow bell pepper, halved, seeds and veins removed

1

large red bell pepper, halved, seeds and veins removed
1⁄4 cup olive oil

1

tablespoon hot sauce, used for brushing, I used Sriracha in this recipe, but any will do

1

sprig fresh rosemary

salt and pepper

Reynolds Wrap Foil
directions
Clean your fish, AGAIN. Rinse well from the market, make sure that all the nasty bits are gone- gills, intestines and all.
Make 2 slits on each side, and salt your fish liberally inside and both sides outside.
STUFF EACH FISH with 5 pinched grape tomatoes (pinch with fingers so juices come out!), one clove of smashed/sliced garlic, 1/4 of sliced yellow onion and 2 lemon slices. (If using fillets, you should have the stuffing sandwiched between two fillets).
Lay out the fish on a piece of aluminum foil, and place lemon slices on each side, using half a lemon per side. (if using fillets, place lemon slices outside the "fillet sandiwich").
Wrap it in aluminum foil, sealing it shut, but don't overdo it. You need to be able to release the fish in one piece, with the lemons intact! Set aside.
Make a "tray" with sides, using aluminum foil.
Clean peppers, remove veins and seeds. Brush with hot sauce (my default is Sriracha, but use whatever you have available), place inside foil.
Put the rest of the cherry tomatoes in the foil tray, season with salt and pepper.
Preheat your grill. I use a gas grill, and this was set to medium heat. (Sorry, I don't know how to grill over charcoal.).
Place your two fish packs and "vegetable tray" on the grill. Let the onions grill directly, so just place them wherever there is space. Cover the grill.
While the fish cooks, heat up 1/4 cup of olive oil then roughly chop garlic into small pieces. Once hot, reduce fire to low and add rosemary sprig. Let it release its oils.
Then add the chopped garlic in the pot. Cook the garlic a little, but not burning. About a minute, just for the flavor to bloom. Turn it off, and keep it in the pan.
After 12-15 mins, one side of the fish is done. The onions and tomatoes will be done as the same time one side is done. You can tell because the tomatoes are oozing on the grill.
Cook the other side of the fish for another 12-15 minutes (If this is your first time grilling fish, cook the next side for 12 minutes then turn the grill off. and leave the fish for another 5-7 minutes. Don't worry, the fish wont burn/dry out. The lemon will burn before it burns the fish).
Remove onions and tomatoes from the grill. Place in blender. Once the bell peppers are properly grilled (they take a bit longer, depending on size/shape), add them in the blender too.
Pulse until you have a semi chunky texture. Turn the heat back on the garlic and olive oil and sautee the mixture in the heat, for another 2-3 minutes until all flavors are incorporated.
Plate and enjoy with pita bread/soft taco tortillas or garden salad.
Questions & Replies

Got a question?
Share it with the community!