Lemon Chicken Stew With Green Olives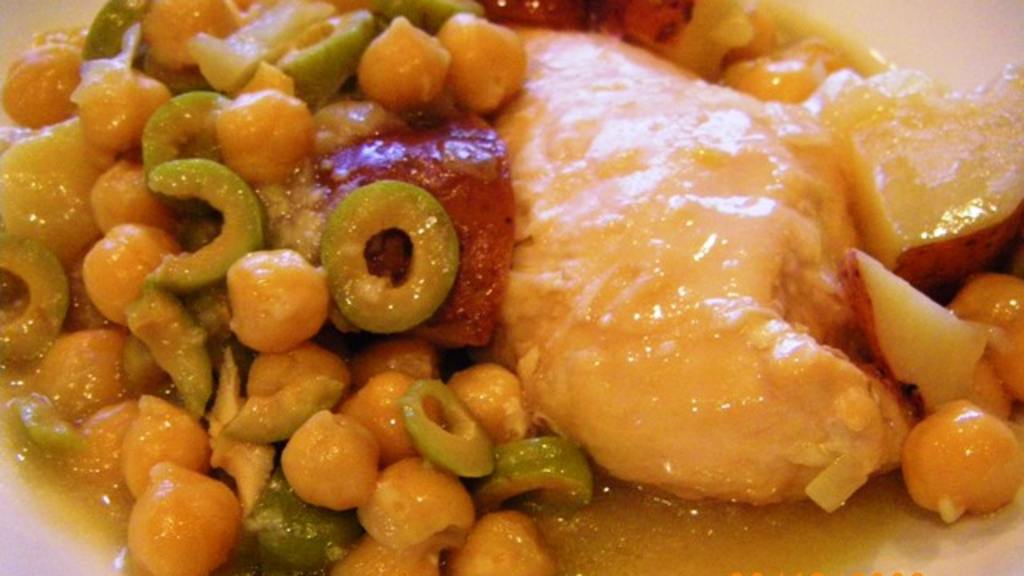 Ready In:

50mins

Ingredients:

14
directions
Combine flour with 1/4 teaspoon each salt and pepper. Dredge chicken pieces in flour, shaking of any excess. Reserve remaining flour.
Place 1/2 tablespoon oil in a large Dutch oven over medium heat. Brown 1/2 the chicken for 2 minutes until a little golden; turning and cooking another 2 minutes. Remove chicken to plate Repeat with remaining chicken.
Cook onions in the Dutch oven for 2 minutes. Add garlic and cook an additional minute until fragrant. Stir in the remaining flour, lemon juice, chicken broth and water. Bring liquids to a boil.
Add in the quartered potatoes, chickpeas and olives and stir. Nestle the chicken breasts bone side up into the stew. Reduce to a simmer, cover and cook for 15 minutes.
Taste the liquid and adjust salt and pepper as needed. Turn the chicken pieces and continue to cook 5 to 10 minutes until potatoes are tender and chicken is cooked through.
Stir in parsley and cook one minute.
Ladle into serving bowls.
(My nephews have asked me to note these are smaller "girly" portions so if you are serving teens or others with larger appetites, adjust the serving amounts accordingly).
Join The Conversation
3/11 -- made this again with bone in, skin on, "thunder" thighs ! Baked in the dutch oven instead of stove top -- 400* for 45 min., then 350* for 45 minutes. The aroma was awesome -- and all the flavors melded in a perfect stew. We ate most of the liquid, so for leftovers will likely serve with potatoes or couscous. <br/>9/10 This was tasty -- I was searching for a way to have the chicken almost "melt" -- and guess this will be as good as it gets when using sl/bl breasts. Made 1/2 recipe and let it simmer for almost 1 hour. Seemed like a more labor-intense effort for not spectacular results. Thanks for sharing, toni.

 

This was really good, easy to put together, and truly comforting for a cold night. My family didn't love it as much is I did, but I outrank them when posting reviews! :-) My 3-yr old gobbled up his chicken but didn't touch the chick peas, the 7-yr old did the opposite. I guess you can't please them all, eh? Thanks for this delicious dinner, Toni!