Lemon Blossoms (Paula Deen)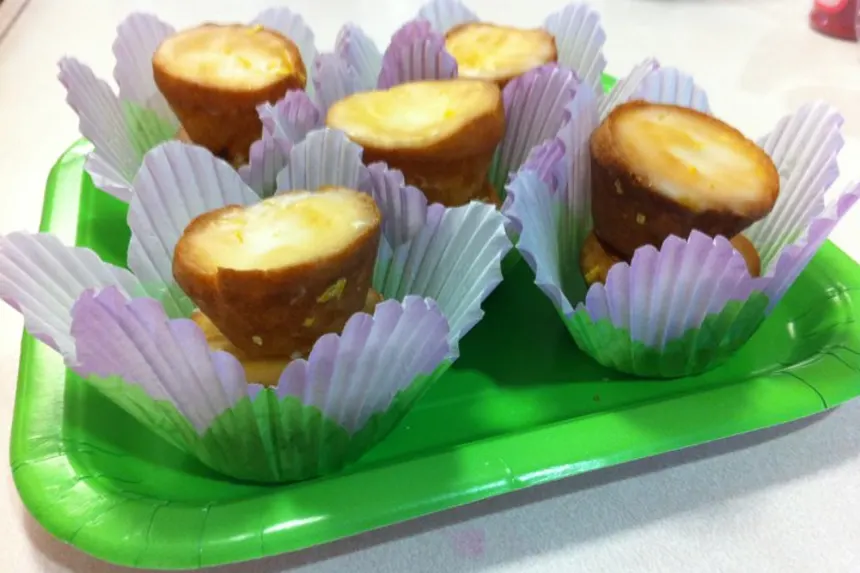 photo by Chefcrystal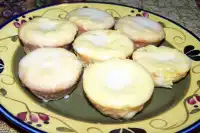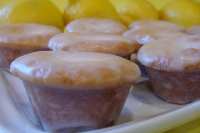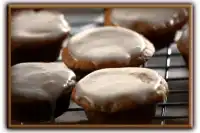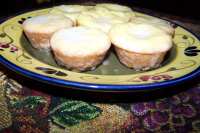 Ready In:

1hr 27mins

Ingredients:

9

Serves:

60
directions
Preheat the oven to 350°F.
Spray miniature muffin tins with vegetable oil cooking spray. Combine the cake mix, pudding mix, eggs and oil and blend well with an electric mixer until smooth, about 2 minutes. (The batter will be thick). Pour a small amount of batter, filling each muffin tin half way. (I found a small cookie scoop the perfect thing for making them a uniform size).
Bake for 12 minutes. (I baked 4 dozen at one time, so it took a little longer--be sure to reverse places in oven for even baking if you cook this many. Also, they come out of the tin better if you cook a little past the golden brown stage so the cake is more firm). Turn out onto a tea towel.
Make the glaze while the cakes are baking. Sift the sugar into a mixing bowl. Add the lemon juice, zest, oil, and 3 tablespoons water. Mix with a spoon until smooth.
With fingers, dip the cupcakes into the glaze while they're still warm, covering as much of the cake as possible, or spoon the glaze over the warm cupcakes, turning them to completely coat. Place on wire racks with waxed paper underneath to catch any drips.
Let the glaze set thoroughly, about 1 hour, before storing in containers with tight-fitting lids.
Questions & Replies

Ok so I used to make these and everyone LOVES them! But for some reason they no longer have cake mix in 18ozs! They only have 15.25oz boxes! Last time I made these they turned out horrible cuz the ratio wasn't right. Im super bummed cuz I really want to make these. So anyone know or have luck figuring out how to make these with only 15.25oz cake mix? If so please please let me know! Thank you!

 
Reviews
Oh my.........I've been making these for at least 4 years and have some in the oven right now. They are such a different and easy to eat dessert. We are going to a birthday party and I was asked to bring a dessert.....(sort of an open house affair), and I thought this would be perfect. <br/>I thought I had reviewed this recipe long ago.....but guess it disappeared. <br/>These are really easy to make.....and as far as being too sweet.....that's why everyone likes them I guess. <br/>Thanks Paula and Sharlene for posting. Donna

 

I'm pretty sure it'd be grounds for divorce if I didn't mark this as a "favorite" and save this recipe forever, lol. My husband LOVED them...and I did a decent amount of damage to the batch, too :). They have the perfect amount of tart & sweet to make them addictive. I did not have Lemon pudding mix so I subbed Vanilla 1 tsp of lemon extract. I also messed up and added the 3 T ea of oil & water to the batter (skipping rt over the oil called for in the batter)...I caught it after my 1st batch was in & added a little more oil, but I didn't notice much difference in either batch. <3 a recipe I can screw up & it still turns out great! (I did make the icing correctly, tho). I let them cool for a couple min b4 dipping them & they held together fine as long as I didn't try to submerse them. After the first layer of icing dried a bit I went back & redipped the whole batch (& I'm glad I did...super yummy!) since I had just enough icing to do so...fabulous! Thanks so much for the recipe!

 

Made for a friend's Holiday Coffee. Made exactly 60, baked at 350*, for 13-15 minutes. I did anticipate "Paula Deen Rich", but I would have made the glaze a tad less sweet. The girls all enjoyed them, and asked for the recipe. They were easy to fix. I spooned the glaze over the muffin, after the first 2 I tried to dip - crumbled in my fingers. Thanks for posting, Sharlene~W.

 
RECIPE SUBMITTED BY
I live in the San Francisco area and love it here. I discovered Recipezaar (then Food.com..Genius Kitchen) in 2001 and have been so happy to have my favorite recipes stored safely here. I am mother to 7 and grandmother to 7. I love to knit, smock, sew, etc., but my favorite hobby of the moment is traditional rug hooking. This is a sample of what I do.? It's called "November".? I dyed most of the wool myself. It is made from wool flannel, cut into strips a little less than 1/4" and then worked into a linen backing. This is my 3rd rug.
View Full Profile