Leg of Lamb with Garlic Sauce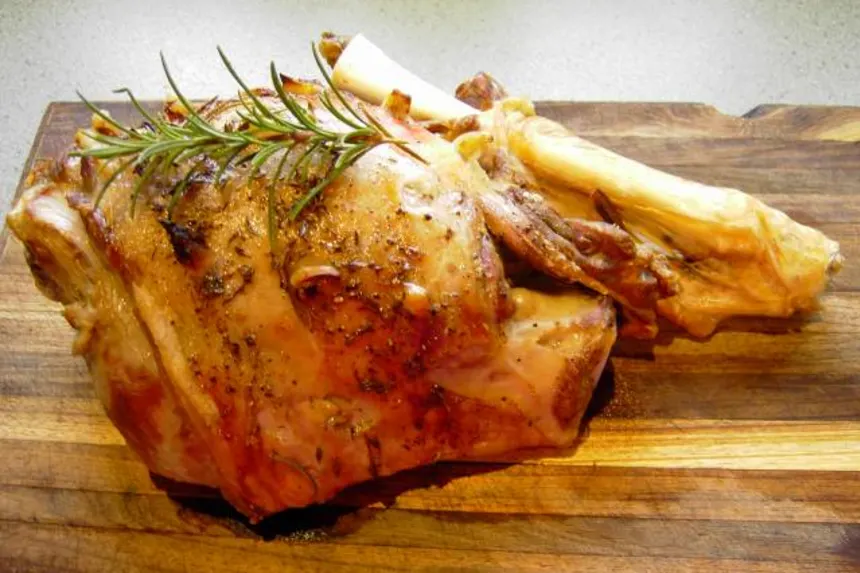 photo by JustJanS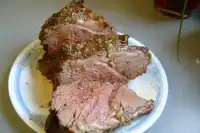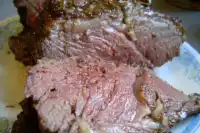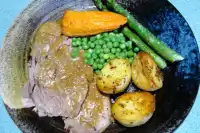 Ready In:

1hr 28mins

Ingredients:

8
directions
Preheat oven to 350 degrees.
Make shallow slits all over lamb and insert garlic slivers into slits.
Rub lamb with oil and rub with salt, pepper, thyme and rosemary.
Place lamb in roasting pan on a rack.
Roast lamb for about 1 hour and 20 minutes, or until temperature reaches 140 degrees when thermometer is inserted for medium rare, or longer if you like it more well done.
You may want to check it early to ensure not to overcook.
Remember lamb will continue to cook while it rests.
While the lamb is roasting, combine the whole garlic cloves, 1/2 cup wine and 1/2 cup broth over medium high heat.
Bring to a boil, reduce heat to medium low and simmer until garlic cloves are very soft when tested with a fork, about 15 to 20 minutes.
Transfer to a blender or food processor and puree until smooth.
When the lamb is done, remove to a platter and tent with foil.
Add the garlic puree to the juices in the roasting pan and heat on the stove top.
(If using a pan that is not stove top safe, combine the juices and the garlic puree in a small saucepan to heat).
Add additional broth if needed to thin to your liking.
Adjust the seasonings at this point if needed.
Carve the lamb and serve with garlic sauce on the side.
Reviews
I just made this for Easter Dinner for my guys who love lamb. It came out perfect. I did tweek it a little. About 1/2 hour before the roast was done, I put the potatoes and veggies (green beans, asparagas and pearl onions) in with the roast with 1/2 cup of a cabernet sauvignon for some extra liquid. Then I followed the directions, but I thickened the gravy with some corn starch. The boys loved it...

 

I think I died and went to heaven tonight. This was so good. It's not unlike the way we normally cook lamb, but the thyme adds a bit of interest, and the sauce really makes it. You would never know there was 20 cloves of garlic in it, it's just wonderful. I'm going to do all this (minus the rosemary) for a piece of beef really soon. I only used about 1 tablespoon of oil to rub the lamb with, and I cooked it on a bed of rosemary and thyme sprigs as well as rubbing them over it.

 

The sauce turned out a little disastrous for me. I should have done a rough chop of the cloves before cooking them. The prescribed amount of time was not sufficient to soften them, and the liquid ended up evaporating. I added more, but by then I think the whole thing was just off. I used the listed directions for seasoning the meat, but I put it in the oven on 250 for 4 hours while we went to church. When we came home, I bumped up the temp and cooked a little longer until done. The flavor turned out great and was exactly what I'd hoped for when I bought the meat. I'm just bummed about the sauce being a flop.