Leftover Lovers Muffins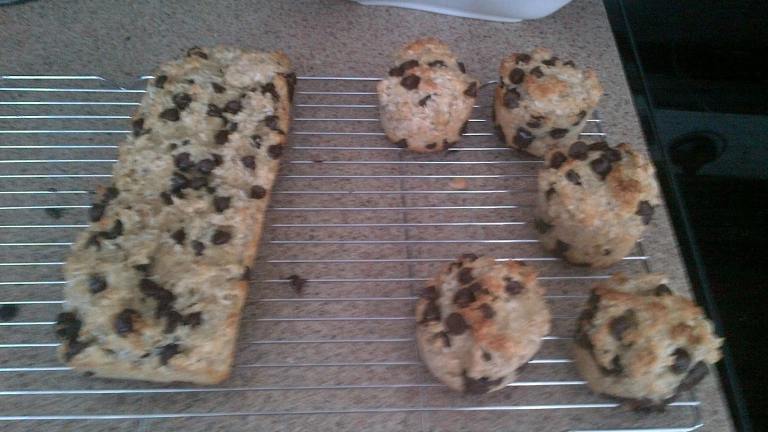 These tasty muffins are a great way to clean out the refridgerator! The recipe came from a family cookbook and has always turned out great! Be sure to write down what you put in because they might not come out the same way twice!
Ready In:

22mins

Yields:

Units:
Nutrition Information
ingredients
2 - 2 1⁄4 2 -2 1/4 cups oatmeal (or combination no more than 1/2 cup of the last two!) or 2 -2 1/4 cups cornmeal (or combination no more than 1/2 cup of the last two!)

1

1 cup soymilk (etc.) or 1 cup buttermilk (etc.)

1

eggs or 1 1/2 teaspoons soy flour
1⁄4

cup fat (oil, butter, peanutbutter...)

1⁄4 cup artificial sweetener (or less, white or brown sugar, honey or maple syrup -- if using the last two decrease liquid by 1/2)

2

teaspoons baking powder (If using more than 1 cup "extras" increase to 3 tsp)
1⁄4 teaspoon salt

extras

1 - 1 1⁄2 1 -1 1/2 cup zucchini (or other flavor chips...) or 1 -1 1/2 cup chocolate chips (or other flavor chips...)
directions
Combine all ingredients except extras in a large bowl.
Fold in extras.
Spoon into paper-lined or lightly greased muffin tins.
(makes about 12 regular sized muffins) The original recipe did not have a cooking time, but I usually put them in at 350 for about 12 minutes.
Keep an eye on them just in case!
Submit a Recipe Correction
Join The Conversation
I used 1.25 oatmeal 1.25 bread flour. I used yogurt and canola oil... And i added 1 cup each: chocolate chips and shredded coconut I've never heard of mixing yogurt in... Certainly i was baking longer then suggested (about 25min) But these are soooooo good! New family favourite! Thanks for sharing this.

I used leftover oatmeal in these. I also added a tablespoon of beet juice so they would be pink...this was for the little girl who was not enjoying the big or the little brother today. For oil I use coconut, and added chocolate chips, trader joes orange cranberries, raisins, and pecans....just the last bit in the bags because I was organizing the cupboards...they smell yummy. The kids loved them, and since all are grumpy today I think that is a compliment. I think the recipe is pretty easy to read if you decide what you are going to do and do it. I often change recipes to make them healthier, but if you think a recipe is there to follow with no thought...this may not be for you. Great recipe, thanks for sharing. I am printing this off as a emergency recipe...options are great when you don't want to get groceries in the middle of a snowstorm with three kids under five years.

I will keep this recipe around ALWAYS! Easily made gluten-free...and those brown bananas are gone! For the first try, I went with crunchy peanut butter for the fat, 1 C. mashed bananas and 1/2 C. mini bittersweet chocolate bits for add-ins, and needed to use some almond milk.....with the oats, they were DIVINE! A great grab-and-go breakfast for the college kid, too! Not that he got more than three! My bad! SO GLAD I stumbled across this recipe! THANKS!