Lavender Cookies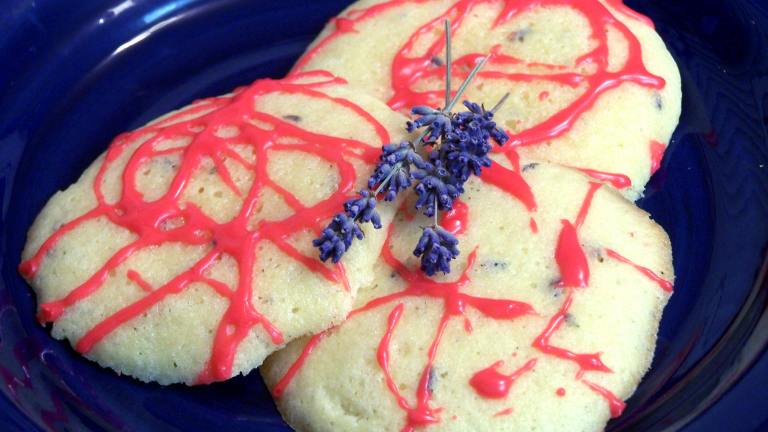 Ready In:

18mins

Yields:

Units:
Nutrition Information
directions
Preheat the oven to 375°F.
Put eggs, butter, sugar, vanilla, and lavender into blender and run on low until well mixed.
Sift flour, baking powder and salt into a mixing bowl.
Add other ingredients and stir until well blended.
Drop dough a teaspoon at a time onto ungreased cookie sheets.
Bake until lightly browned for 8 minutes.
Blend enough rosewater, red food coloring into the confectioners' sugar to make a smooth frosting.
Ice the cookies and let them set until frosting is firm.
Submit a Recipe Correction
Join The Conversation
Very light and airy cookie. I used a melon baller to measure the size of the cookie, rolled into balls and placed on parchment on a cookie sheet. I put the cookie sheet into the freezer for about 20 minutes before baking (a trick I use for scones to keep the cookies a bit more moist) and ended up baking for 12-14 minutes. I live in Denver so I'm at altitude and things take a bit longer to bake. I made a glaze of lavender sugar (1 cup sugar put in blender with 1-2 tbsp lavender) that is mixed with just enough water to be a paste. I personally liked the cookies without any glaze but the lavender glaze makes the cookies a bit prettier and a lavender color. I halved the recipe and got about 25 small cookies. Very elegant cookie!

This was an odd experience for us, I have a lavender massage oil I frequently use (not to cook with LOL) so it was a bit of a mental shift to go from using it for massage to eating it. However once we got past that we thought these cookies were VERY good. They're light, actually ARE rather soothing, very good with tea, and are not overly sweet. Unfortunately I had a lot of trouble getting them to lightly brown on the top and not burn on the bottom. I turned the oven down to 365 and baked them for 10 minutes that seemed to fix the problem. I also noticed they spread out an awful lot, I am new to baking so I wasn't sure how far to space them, the first pan was more of a "cookie cake" as they all ran together LOL I spaced them about 2 inches apart on the second pan, that worked well. Thank you so much for sharing this unique and interesting recipe! The only ingredient I left out was the food coloring, I had rose water and confectioners sugar in the house but no food coloring since it's more of an aesthetic ingredient I didn't feel to bad leaving it out :-)

Very delicate, chewy, great to eat while drinking English tea. I made it without the frosting as I was short on ingredients, and I used just under a teaspoon of lavender and it was delicious! Not a good cookie if you like sugary, gooey, overly sweet cookies. It is more like a simple sugar cookie- which is perfect in my opinion!