Kringle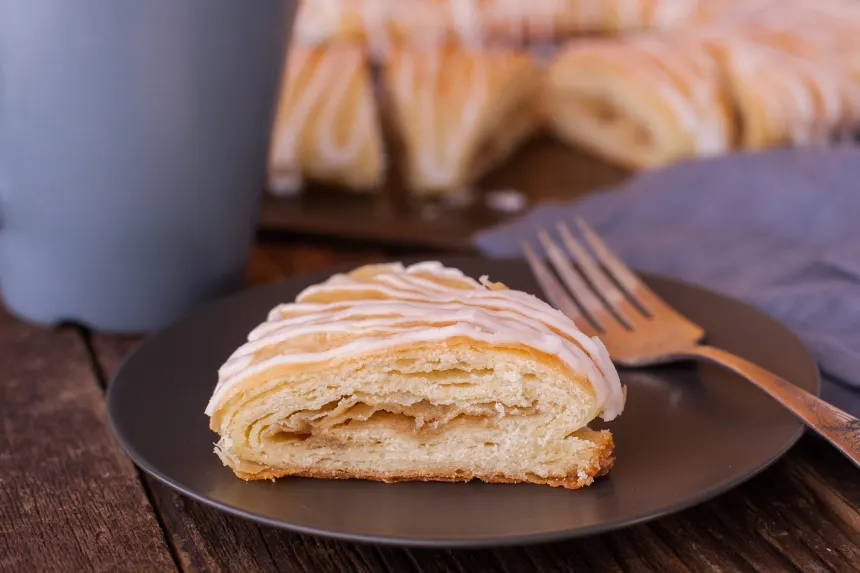 photo by DianaEatingRichly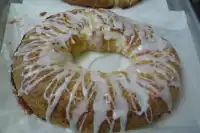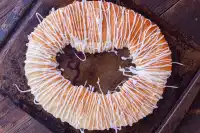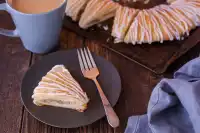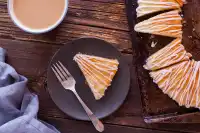 Ready In:

4hrs 30mins

Ingredients:

14
directions
Divide butter in half and spread each half on waxed paper to an 8x8 inch square.
Chill.
Dissolve yeast in warm water.
Add lukewarm milk, sugar, salt, lemon extract and egg, mixing well.
Add flour and mix until smooth.
Roll dough on well floured board to an 12x8 inch rectangle.
Place one piece of chilled butter on two thirds of dough.
Fold uncovered third of dough over the middle third, then fold the remaining third over top.
Again fold one end over middle third, and fold remaining third over top, making a square of nine layers.
Wrap in waxed paper and refrigerate 30 minutes.
Roll dough again to an 8x12 inch rectangle.
Add chilled butter and fold the same way.
This makes 18 layers.
Refrigerate 2 hours.
Cut dough into 2 equal pieces.
Lightly roll one piece at a time, until piece is about 20x6 inches.
Spread center third of dough with butterscotch filling, then add fruit, nuts, raisins and so on-- or top with jam.
Fold one of the long edges to the middle, moisten other edge and fold over top to cover filling.
Seal well.
Put kringle on a greased baking sheet and form into an oval shape, pressing ends of kringle together to form a continuous circle.
Flatten dough with hands.
Cover kringle for 1 hour at 70 degrees.
Bake at 350 degrees for 25-30 minutes or until golden brown.
Cool, then ice with a mixture of powdered sugar and water.
Reviews
This was fabulous! We lived in Racine for a while and we miss our Kringle- this was excellent. It is time consuming to make. I had doubled the dough recipe. I made an apple one using finely chopped apples and the other ingredients I usually use to fill apple pie. I then made a "turtle" one using melted chocolate mixed with the butterscotch filling. I put the butterscotch first, then smeared it with the chocolate mix then sprinkled it with chopped pecans before sealing. I used another square of chocolate, about a TB of butter and a squeeze of chocolate syrup mixed together to top it off. Seedless raspberry jam filled the third. Buttersotch filling mixed with almond extract was the base for number 4, with chppoed or sliced almonds inside too. I had some dough left( on purpose) and rolled it as directed then cut into skinny strips, wound them around my finger and made mini danishes! I topped those with some of the jam and apple pie stuff before rising. All of this was sssoooooo good. * note* I did have half the dough in the fridge for a couple of days wrapped tightly in waxed paper and things still turned out great. THANK YOU!

 

Wow! This is amazing. I have fond memories of the Kringles we got from Racine when I was growing up. This recipe takes me right back to my childhood. I used quick yeast and margarine, but those were the only deviations I made. It's a bit of work, but I really enjoyed the process. I made 2 pecan kringles. Do make sure the dough is sealed at the seam (I had one ooze out a little), but it still tastes great! I can't wait to make more...maybe a raspberry and homemade apple butter next time! Thanks for posting this recipe! UPDATE: I couldn't help myself...I had to make more! This time I used blueberries in one and homemade apple butter in the other. I lost some of the filling in the cooking process, but simply scooped it up and spooned it over the top as a glaze. Yummy! Rave reviews for both flavors. I still prefer the pecan.

 

Worked out great! When we moved to San Antonio from Milwaukee, no more kringle, until now! (My wonderful step-daughter did ship some to us once, bless her heart) I used a packet of instant yeast rather than cake yeast 'cause I didn't have cake yeast. Instead of leaving kringle in fridge for two hours, I left it overnight so as to bake it in the morning right away. I filled one with a pear preserve, and the other with blackberry blueberry preserves. (The preserves on top of the other filling). Note: Be sure to 'seal' the kringle well, or the brown sugar/butter filling oozes out all over and may even drip off the baking sheet like it did for me ! THANKS FOR THIS RECIPE!!!