Korean Roast Chicken Thighs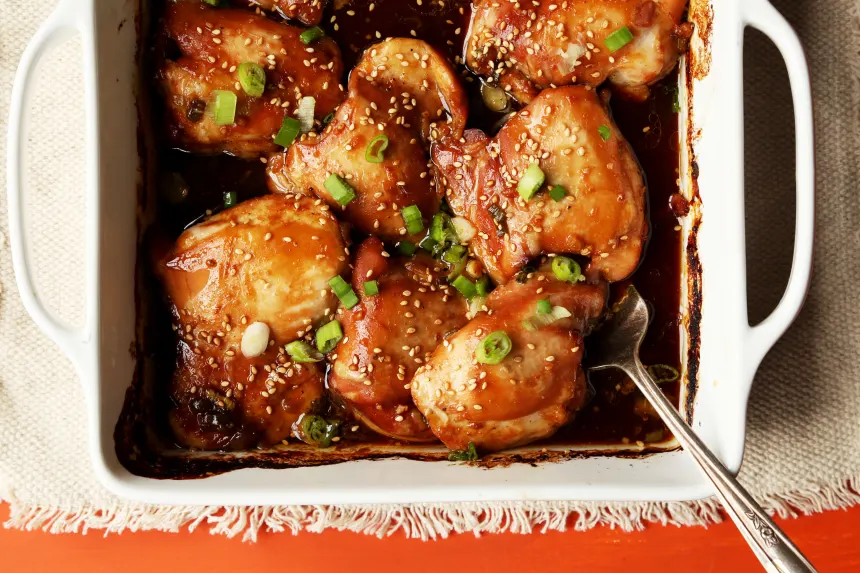 photo by Jonathan Melendez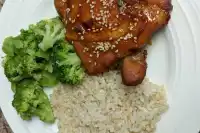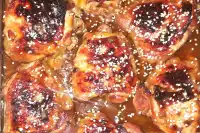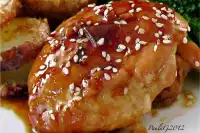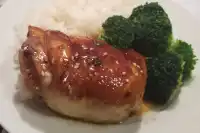 Ready In:

1hr 10mins

Ingredients:

8
directions
Preheat oven to 375 degrees.
Place chicken skin side down in a large baking dish.
Combine the remaining ingredients in a bowl and then pour on top of the chicken.
Bake uncovered for 45 minutes.
Turn the chicken over in the dish and bake for another 15 minutes.
Questions & Replies

Reviews
So simple, quick, and delicious. The green onion is not a must, chopped yellow or white onions work fine. After making this about 10 times, I now put all the ingredients in a gallon size plastic bag the day before and marinate it overnight. I increased the amounts of garlic and ginger. The first time I made it, some of the sauce burned a bit, so I cut back the oven temp to 325-350 and just cook it a bit longer. Delicious every time and never get tired of it. My 16 y.o. daughter's favorite.

 

I made this 2 times within 4 days. The 1st time I used bone in thighs with skin and it was good but the 2nd time I used boneless skinless thighs and marinated for 2 hours and it was PHENOMENAL!!!!! My husband was beside himself and made noises all throughout the meal :O) I was so proud because not only was it AWESOME, it looked just beautiful! I garnished with green onion and served over white rice with eggrolls. I have been telling anyone who will listen how fantastic this recipe is! My hubby said it was in the top 5 all time awesome meals I have cooked!

 

This was really good. I took out a package of bone-in, skin on chicken thighs out of the freezer, there were five pieces in the bag. I let them thaw over night, mixed up the sauce ingredients in the morning, with a few changes, didn't have honey, so I used brown sugar, sprinkled some hot pepper flakes for zing, and I did not use three tablespoons of sesame oil. I would NEVER use three tablespoons of sesame oil in anything. It would be totally overwhelming. I used just one tablespoon.I don't normally have such a strong opinion but I made the mistake once, in a marinade for grilled salmon. I couldn't go near sesame oil for two years. I poured the sauce ingredients into the bag with the chicken and left it all day in the fridge. Baked as directed, turning twice, once every twenty minutes, ending with skin side up, and turned the broiler on the last five minutes or so to crisp up the skin as another reviewer suggest. Served with white rice. They were excellent! Moist and tender and not too salty at all. Thanks so much! I love fast and simple, these were great!

 

oh WOW! i had been eyeing this recipe for nearly a week, as i had some frozen thighs, desperate to be prepared. after reading through all of the reviews numerous times, i tweeked only a few things. i did end up marinating the thighs, overnight. i used a ginger-infused soy sauce [i think fresh ginger would have definitely punched it up quite a few notches], a pinch and a half of brown sugar, and a shake of red pepper flakes. i scaled it down to two thighs, baked for thirty minutes before turning, and ten more afterwards. i have never roasted such moist chicken, EVER. the flavor was delicious, and everyone was quite pleased. thank you so much for unfreezing my chicken thighs!

 
Tweaks
This was very good. But..., do NOT substitute vegetable oil for sesame oil - there is just no comparison - it would be like substituting food coloring for Tabasco!!! Sesame oil has such a warm, rich distinct flavor, there is not substitute. That said, 3 Tbsp is way too much for such a strong flavor - 1 Tbsp worked very well...