Kittencal's Easy and Delicious Ranch-Parmesan Chicken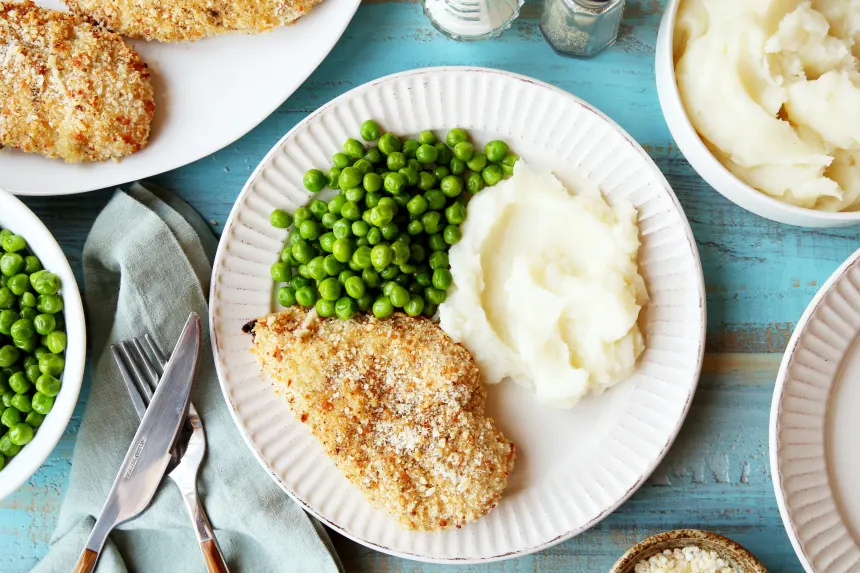 photo by Jonathan Melendez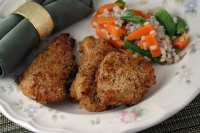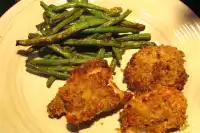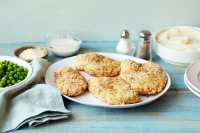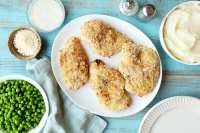 Ready In:

40mins

Ingredients:

8
directions
Set oven to 400° degrees (set oven rack to lowest position).
In a shallow bowl mix together the dry breadcrumbs with Parmesan cheese, seasoned salt, black pepper and garlic powder.
Dip the chicken into the ranch dressing to coat both sides (allow any excess to drip off).
Coat in the breadcrumb mixture.
Place in a single layer onto a greased baking sheet or line with non-stick foil (do NOT bake in a smaller baking dish or the bottom of the chicken will be soggy).
Lightly drizzle the melted butter over each breast (for low-fat option omit the butter or use a diet alternative).
If desired you can sprinkle black pepper over the chicken pieces .
Bake uncovered for about 30-35 minutes or until the chicken is cooked).
Reviews
I had chicken breasts to prepare for dinner and made this. I'm not afraid to rate a recipe appropriately. But, from experience Kittencal has always come through with terrific recipe results. I used panko (1 cup) and because I was getting bold with this adventure I added 1/4 cup of canned italian bread crumbs to the dry mixture. In response to those who have a "soggy" problem I would question the bread crumbs you are using. In the past I used bread crumbs I grated from sandwich bread and in doing so my breading never ever produced a crispy crust. Just a note Panko is sold at the grocery store in the canned bread crumb section or in the oriental food section and works GREAT. Kitten, the big test is always my husband. He is picky. And, I have him trained to tell me his honest opinion about my cooking. He raved about this chicken. He just kept saying "man this is good." And, I agree the taste is spectacular. During baking I turned each chicken piece a few times. They got cripsy and very moist and tasty. One more note, I added spray butter and I'm sure it was because of the Panko that still made it end up crispy. Thanks for another 10 star keeper recipe Kitten! Man it was good!

 

Wonderful and easy to make. Used Mrs. dash instead of seasoning salt because it's what I had on hand. Definitely recommend using Panko crumbs. Also pour out Ranch a little at a time so if you don't use it all you don't have to toss it because raw chicken was in it. Easy cleanup using foil too. My son who is 5 and is pretty much a vegetarian actually finished this off before his carnivorous 3 yr old brother. Will definitely make again!

 
Tweaks
We enjoyed this chicken very much! To cut out some fat, I added about 2 TBSP of Hidden Valley ranch dressing powder to the bread crumbs instead of dipping the chicken in ranch dressing. Then I used just a dab of olive oil to coat the chicken before dipping it into the crumbs. I did not add any additional butter on top. If I would have had plain low-fat greek yogurt on hand, I would have added the ranch mix to the yogurt, dipped the chicken, then coated it in the crumbs. This flavor was DELICIOUS!

 

Haven't made this, but I bet it's 5 stars as it's very similar to something I make with boneless skinless turkey breasts. Only difference is, I use a beaten egg & milk mixture instead of the ranch dressing, use italian seasoning plus salt instead of seasoning salt. I butterfly or smash the breasts to make them thin and then I fry the breaded breasts in a non-stick frying pan lightly seasoned with light extra virgin olive oil. No butter on afterwards either. My family loves it, especially my sons. Doing it this way makes them nice and crispy.