Kittencal's Creamy Greek-Style Pasta Salad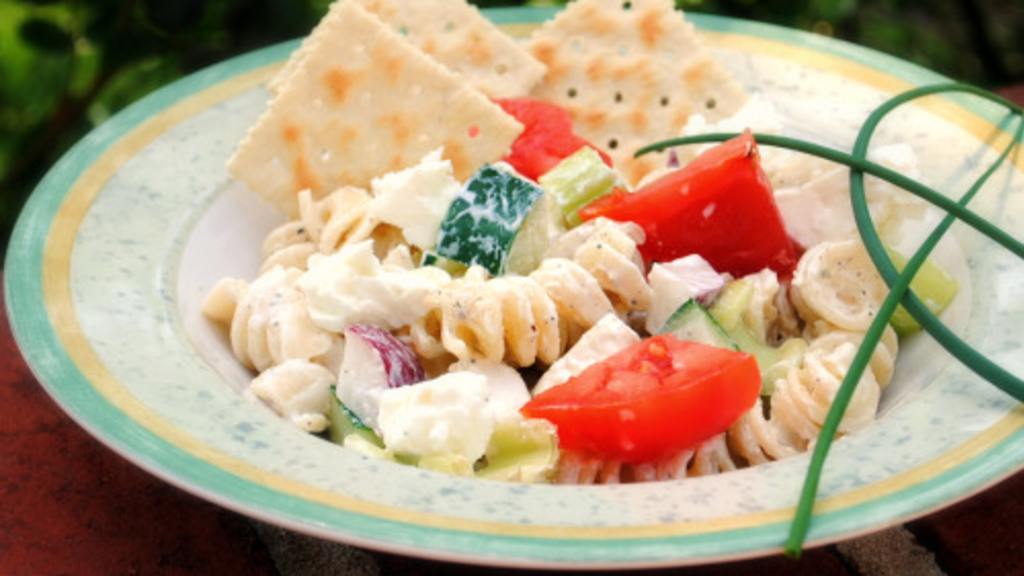 Ready In:

4hrs

Ingredients:

19
directions
Cool the pasta in boiling water until al dente; drain then rinse well under cold water.
Place the pasta in a large bowl.
Add in cucumber, tomatoes, bell pepper, onion, olives and cubed feta cheese; toss to combine.
For the dressing; in a processor place the garlic clove and process until minced.
Add in all the remaining ingredients except the mayonnaise;process until well blended (about 20-30 seconds) then add in the mayonnaise and process until combined.
Pour over the salad ingredients in the bowl; toss to combine (if you prefer a creamier salad then add in more mayonnaise to taste).
Cover and refrigerate for at least 4 hours.
Join The Conversation
Susan u r rite!!!! This was execellent!! Just got a Vitamix unit last week, used it to combine the dressing ingredients. Used only 2 tbsps of mayo thined with 3tbsps of pasta water. Also went back and made dressing again to marinate chicken breasts for me and the girls and salmon for my husband. Sent a "taste test" bowl to my mother she came over with her own bowl!! ( Kittencal I also make ur shortbreads, ur my best friend in my head)!

Oh my goodness! This was just the best recipe ever. I haven't been able to stop eating it. Someone dial 911!! The only things I did differently was to omit the olives, since I don't like them. Also I used a yellow pepper in place of the green, as green peppers don't like me. I used 1/2 cup of mayonnaise in the beginning with all the spices. I served mine with toasted and buttered ciabatta bread. Heaven! My husband thought it was a winner too. Try it, you'll like it!