Kittencal's Chocolate Frosting/Icing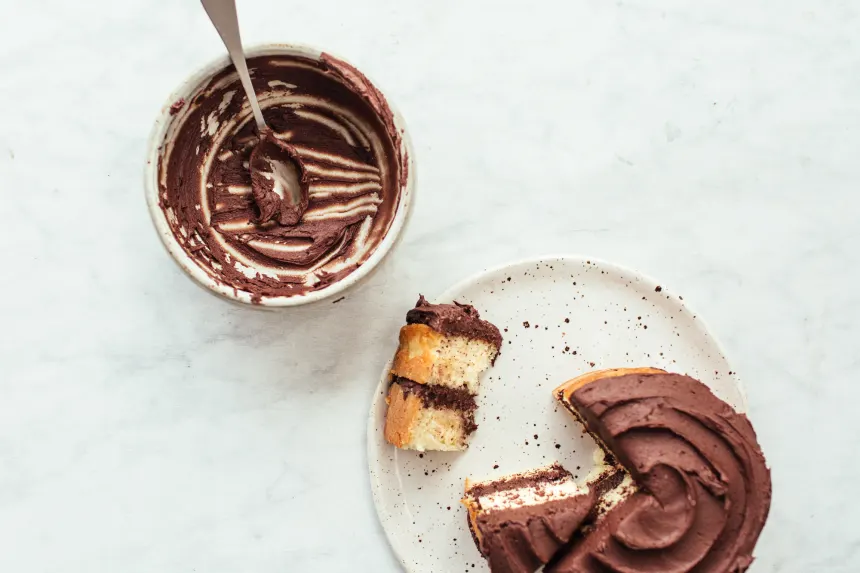 photo by Izy Hossack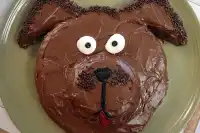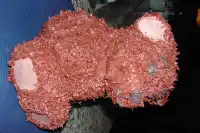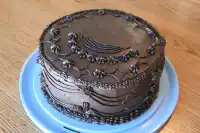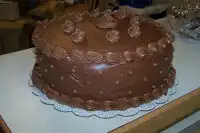 Ready In:

5mins

Ingredients:

7

Serves:

24
ingredients
1⁄2 cup butter, softened (you can use margarine but the flavor will not be the same)
2 2⁄3 cups confectioners' sugar, sifted
1⁄3 cup half-and-half cream (can use unwhipped whipping cream in place of half and half) or 1/3 cup milk (can use unwhipped whipping cream in place of half and half)
1 1⁄2 teaspoons vanilla

CHOOSE ONE OF THE FOLLOWING

1⁄3

cup unsweetened cocoa powder, sifted (for light)

1⁄2

cup unsweetened cocoa powder, sifted (for medium)

3⁄4

cup unsweetened cocoa powder, sifted (for dark rich)
directions
Cream the butter in a small bowl.
Blend in the cocoa powder (the amount desired for a light, medium or dark flavor), vanilla, confectioners sugar, alternately with the cream.
Beat with an electric mixer, until the desired texture is achieved.
**NOTE** because of the additional cocoa powder more cream may have to be added in to reach desired consistency.
Reviews
BEWARE!!! When you PRINT this recipe, it changes to say, "1/3-2 2/3 cup half-and-half cream (can use unwhipped whipping cream in place of half and half) or 1/3 cup milk (can use unwhipped whipping cream in place of half and half)"<br/><br/>OBVIOUSLY, when you compare this to what the original recipe says, it makes a HUGE difference! I will be making this again following the original recipe and then will come back to rate it for real, but seriously, 1/3 - 2 2/3 is NOT right.

 

This recipe is good but I felt it needed a couple of tweaks, which is why I am giving it 4 stars. Next time I make it (and there WILL be a next time!), I'll put the largest amount of cocoa in, but reduce the amount of confectioner's sugar to compensate, rather than increasing the cream. It think that should work better to increase the chocolate flavor. Second, the recipe doesn't make very much. I put it in my KitchenAid and whipped it up with the balloon whisk, which made it nice and fluffy, but it still just barely covered a 2-layer cake spread very thinly. Next time I will double the recipe to make sure I get plenty of frosting to spread around.

 

This is the simplest, yummiest recipe and makes for an awesome MOCHA BUTTERCREAM!!! Very smooth and I like the options given for increasing or decreasing the chocolate flavor. I've made this with just 2% milk and it still turns out great! When I make the mocha version, I use the "light chocolate" method and add 2-2.5 teaspoons of espresso powder (I used King Arthur Flour brand). The more espresso powder you add the stronger & more bitter the coffee flavor so if it's not sweet enough, compensate by adding more powdered sugar (in small moderations) till you get the taste you prefer. %u2665

 

Great frosting recipe! Thank you so much. :) I always know if it has your name on it its going to be fabulous. For those who said they didn't have a sifter for the powdered sugar or cocoa, just put them in a bowl and use a wire wisk on them. You don't need a sifter to do that. From now on just wisk the dry ingrediants well and you have sifted them. HTH :)

 
Tweaks
This frosting not only was delicious but very easy to make. I always double frosting recipes..Cause i would rather have extra then "just enough"! (you can freeze what ever you don't use and save for the next time for frosted brownies?) For a Fluffier Frosting.. Here is my suggestion. :) <<>> 1) In stand mixer add... 1 Cup=2 sticks (room temperatured softened Butter) mix on medium (4 speed) for 10 minutes or until light & fluffy. ....scrape down bowl...... 2) Add 1 1/4 cup (pre-sifted) Unsweetened Cocoa by hand. 3) On low (stir speed) slowly add.. 2/3 cup Half and Half Cream 2 tsp. Pure Vanilla Extract 1/2 tsp. Salt. .....scrape down bowl..... 4) Add 5 cups pre-sifted confectioners sugar One cup at a time on (lowest speed). *note. For sweeter frosting add more sugar and or salt a little at a time till desired taste. If looking to add more flavor add more vanilla extract and or butter extract (use small amounts of either, till desired taste) Have Fun!! ;)