Kittencal's Blasted Rapid Roast 2-Hour Whole Turkey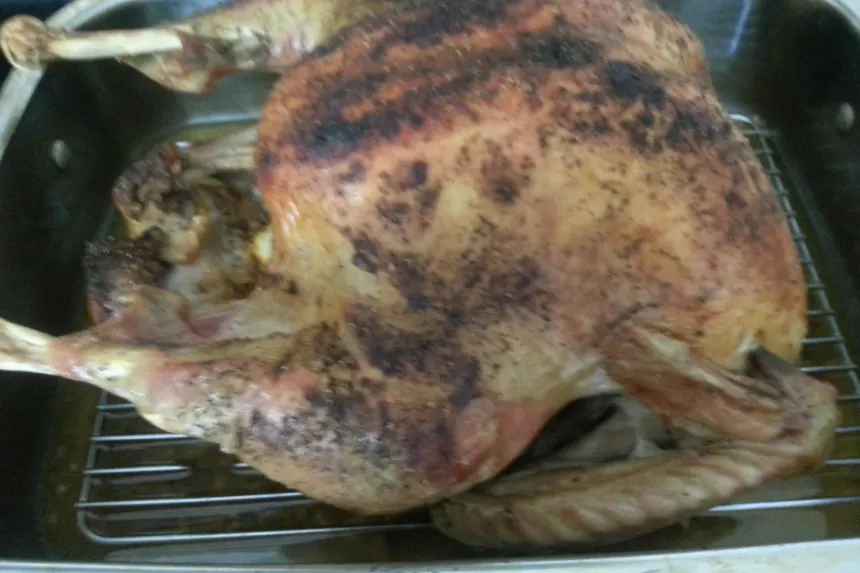 photo by NJN2MOM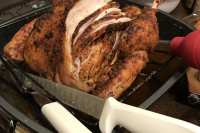 Ready In:

2hrs 20mins

Ingredients:

5
directions
Set oven rack to second-lowest position.
Set oven to 450°F and preheat for about 8 minutes.
Grease a large roasting pan and a flat rack to fit into the pan.
Pour about 2 cups water into the pan or enough to cover the bottom of the pan generously.
Rinse the turkey inside and out with cold water, then pat dry using paper towels.
In a bowl mix together the melted margarine with salt until well combined.
Slice off the hanging neck skin then tuck the wing tips under the breast.
Using cotton butcher's string tie the legs together (do not use nylon string for this).
Place the turkey on a flat rack breast-side down into the roasting pan.
Brush turkey with margarine/salt mixture then generously season with fresh ground black pepper.
Turn the turkey over with breast-side facing up, then brush the top of the turkey with remaining margarine mixture (you do not have to use the full amount of margarine) then season with lots black pepper.
Insert a meat thermometer into the fleshy part of the thigh but away and not touching the bone.
Roast turkey at 450°F rotating the pan 180°F about halfway through roasting (at this point you will most likely need to add in more water to your pan).
Roast at 450°F for 1-1/2 hours to 2-1/2 hours, cooking time will vary depending on the size of your turkey.
Cook/roast the turkey until the thermometer reads 170°F (the temperature will rise to 180°F when the turkey is removed from the oven).
For 14-pound turkey start checking the thermometer at around 75 minutes.
Do not allow the water in the pan to evaporate or your oven will start to smoke, add in more if needed during cooking time.
When the thermometer reads 170°F remove from oven then lift one side of the turkey to allow the juices from inside cavity to drain off in the pan.
Cover loosely with foil and allow to stand for 30 minutes (do not slice or stick with a fork or the juices will run out of the turkey).