Kimchi or Kimchee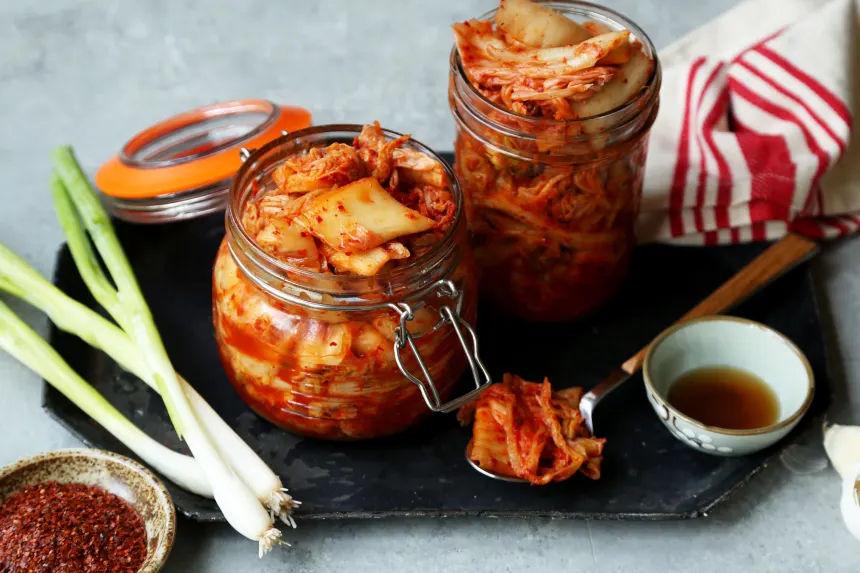 photo by Jonathan Melendez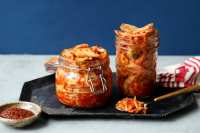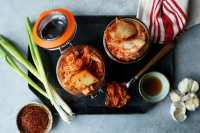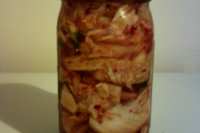 Ready In:

2hrs 45mins

Ingredients:

11

Serves:

50
directions
Cut cabbage into four sections through the core.
Starting at the end of the leaves, cut cabbage diagonally back and forth until you reach the core. (Cabbage will be in large square pieces).
Cut radish into large chunks (if you want to be able to use them independently) or into julienne strips.
Layer cabbage and radish in your sink with the salt. Put about 1/2 cup salt for every two inches of cabbage. Make sure you end with salt.
Add water to almost cover cabbage.
Let stand. After 1 1/2 hours start checking the cabbage by rubbing a piece between your fingers. If it's slippery, rinse it and taste it. If it's pleasantly salty then it's ready. Be sure not to let the cabbage stand too long or it will become too salty and will be inedible.
Fill the sink with water until it covers the cabbage then fish the cabbage out of the sink. Return the cabbage to the sink and rinse it this way two or three times until all the cabbage is thoroughly rinsed.
Drain cabbage by placing it in large colander or by letting it sit in your unstopped sink.
Make the pul by mixing the rice flour and water in a small sauce pan and heating to boiling, stirring constantly. Let cool. If you don't have rice flour you can add water to cooked rice and boil it until the water is very cloudy. Use one cup of this water.
Mix pul and remaining ingredients in very large bowl. The amount of red pepper you use should depend on how hot you want your kim chee. There are many kinds of fish sauce. The one cup measurement is for a thin sauce (consistency like soy sauce). For thicker sauces, use less sauce (1/4 to 1/2 cup).
Wearing plastic or rubber gloves, begin mixing the cabbage with the sauce. Use your hands and mix a little cabbage at a time then push it to the side of the bowl until you have mixed all the cabbage. This will help you mix the cabbage and sauce evenly.
Place kim chee in large containers that have tight fitting lids (otherwise it will smell up your fridge).
You can eat the kim chee immediately, but most Korean women recommend that you leave it outside of the fridge for one day, then store it in the fridge but wait one week after that before you eat it. I can't tell you what the difference is because my husband doesn't wait that long.
Enjoy.
Questions & Replies

Got a question?
Share it with the community!
Reviews
Great base recipe. I also cut the recipe in half. I didn't use the shrimp sauce and was a bit short of garlic. I also salted the cabbage directly for about 15 minutes, after doing the saltwater soak bc I like mine a little more wilted. It really is a very easy thing to make just takes a bit of time. I have gotten compliments from MIL and DH which is saying a lot! The only thing I will do next time is maybe add a bit of ginger to it. Will be putting this in my recipes for safe keeping.

 

I replaced the shrimp sauce with more shrimp sauce. Added more radish to my second batch. My exchange student from South Korea said it was better than her mom's! I make this on a regular basis. The longer it sits the better. I let mine ferment for at least 5 months before eating. Love adding it to soup!

 
RECIPE SUBMITTED BY
I've loved cooking all my life and had at least a bit of talent for it. As a child, the family diet consisted of items that came out of boxes and cans. Within that context, I excelled as far as I could. Later I moved to Korea and, separated from boxed mac and cheese and canned soup, I had to really learn. The experience delighted me. Who knew food could taste so good? Back within the borders of the U.S., I tend to create dishes that use time-saving packaged foods while adding fresh ingredients to capture the best of both worlds. My kids are my critics and I rely on them to provide feedback on the quality of my food. My favorite feedback is when they say nothing at all except, mmmmmm as they consume their meal. I first joined this site years ago when it was Recipezaar. Honestly, I still love that name, But regardless of what it's called, I love the site and love the cooking community it provides.
View Full Profile