Kids Love 'em South of the Border S'mores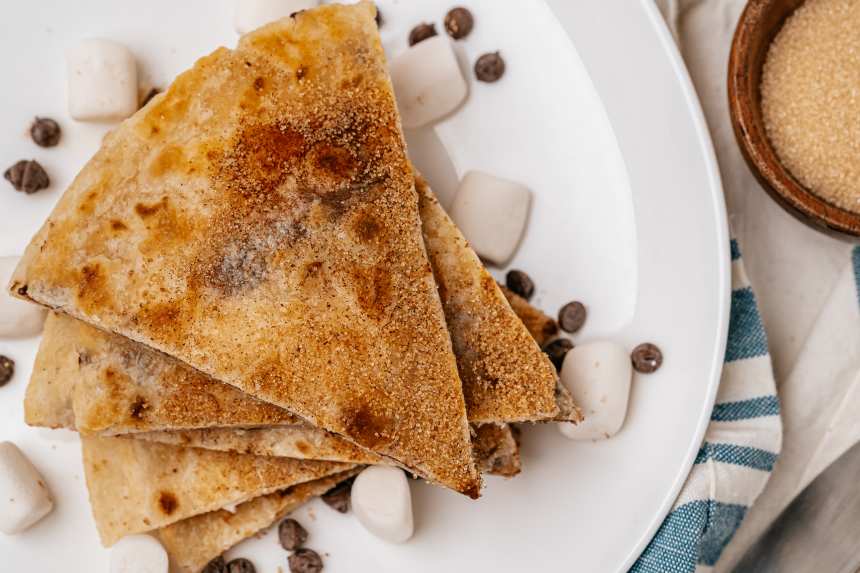 photo by hello.twobites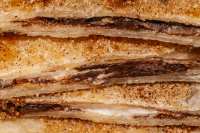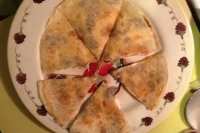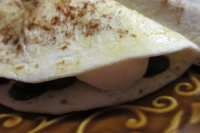 Ready In:

10mins

Ingredients:

4
ingredients
2

flour tortillas (8-10 inch)

3

large marshmallows, cut in half

2

tablespoons milk chocolate chips

1⁄2

teaspoon cinnamon sugar, mixture
directions
Generously coat a medium skillet with vegetable spray and heat it over medium heat.
Place a tortilla in the skillet, then sprinkle the marshmallow halves and the chocolate chips evenly over it.
Top with the second tortilla and spray it with vegetable spray as well.
Cook the tortilla stack for 1-2 minutes or until lightly browned, then carefully flip it and cook on the other side for an additional 1-2 minutes.
Remove the tortillas to a cutting board, sprinkle the cinnamon sugar over the top, then cut the s-more into quarters.
Makes 4 S'Mores.
Questions & Replies

Got a question?
Share it with the community!
Reviews
Oh my goodness, my 22 month old could not get enough of these! His face was covered in chocolate and he was all sticky, but it was worth it to see that smile and hear "mmm!!!" over and over. :) I also LOVED these -- so yummy and the addition of cinnamon makes them seem like a very sophisticated dessert! We had them as a dessert for Recipe #308987 and they were perfect. Thank you for sharing!

 

Made this for my two DGSs while they were visiting for the weekend and I've got to tell you they LOVED it and rated it 10 stars and even asked for a repeat. That's saying a lot for these 2 very picky eaters. I took the lazy way out and instead of cooking on the stove put one tortilla in a microwavable dish - topped with all the ingrediants and then the 2nd tortilla - zapped it for 1 minutes and then let it sit for 1 minute to cool before cutting. This was a quick, easy, and I must say very sweet treat that they truly injoyed. What a great idea, thanks for posting.

 
RECIPE SUBMITTED BY
<p style=color: #212121; font-family: alexandriaflfregular, AppleGothic, Arial, sans-serif; font-size: 14px; line-height: 22px; margin: 0px; padding: 0px 0px 15px;><span style=color: #000000;>Kristen Doyle is the creator of the award winning website, Dine &amp; Dish. Since early 2006, Kristen has been sharing her favorite recipes, photographs and life stories with an ever growing audience of engaged readers.</span></p> <p style=color: #212121; font-family: alexandriaflfregular, AppleGothic, Arial, sans-serif; font-size: 14px; line-height: 22px; margin: 0px; padding: 0px 0px 15px;><span style=color: #000000;>Kristen has expanded her reach to include working with major brands (<a style=color: #f5866c; text-decoration: none; href=http://dineanddish.net/?s=bushs beans target=_blank>Bush&rsquo;s Beans</a>,&nbsp;<a style=color: #f5866c; text-decoration: none; href=http://dineanddish.net/?s=Green Mountain Coffee target=_blank>Green Mountain Coffee</a>,&nbsp;<a style=color: #f5866c; text-decoration: none; href=http://dineanddish.net/?s=hallmark target=_blank>Hallmark</a>,<a style=color: #f5866c; text-decoration: none; href=http://dineanddish.net/?s=Zatarains target=_blank>Zatarain&rsquo;s</a>&hellip;just to name a few) as well as providing editorial content and direction for nationwide print publications and websites. Her freelance writing career spans working with magazines on a local and national level as well as creating valuable web content for a variety of sites across the web.</span></p> <p style=color: #212121; font-family: alexandriaflfregular, AppleGothic, Arial, sans-serif; font-size: 14px; line-height: 22px; margin: 0px; padding: 0px 0px 15px;><span style=color: #000000;>Kristen is a busy mom of 4 young kids, loves to entertain, has a passion for photography, and believes in keeping things simple. An avid reader, a kind of runner, a horrible gardener, and the wife of an outstanding man, Kristen&rsquo;s ultimate life goal is to connect and create meaningful relationships with others.</span></p> <p style=color: #212121; font-family: alexandriaflfregular, AppleGothic, Arial, sans-serif; font-size: 14px; line-height: 22px; margin: 0px; padding: 0px 0px 15px;><span style=color: #000000;>Kristen is available for editorial and photography projects, speaking engagements and ambassador partnerships with your brand. If you are local to Kansas City, give me a ring &amp; let&rsquo;s meet for coffee! I hope we get the chance to connect!</span></p>
View Full Profile