Kidd Kraddick's Famous Brown Bag Turkey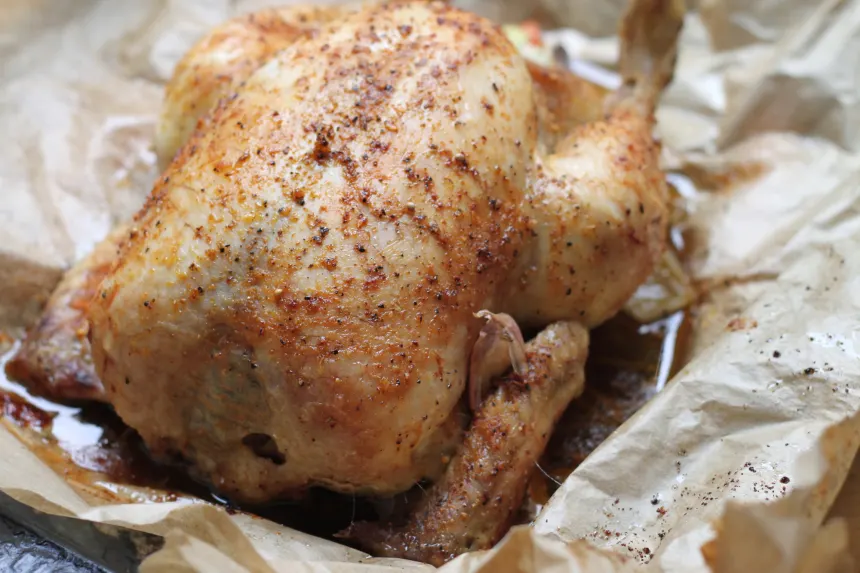 photo by Swirling F.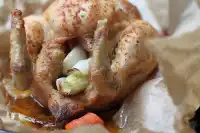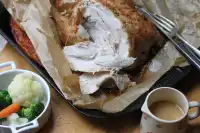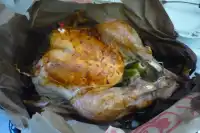 Ready In:

4hrs 30mins

Ingredients:

6
directions
Take everything out of the turkey. There will be a giblet bag and some other stuff.
Next add vegetables to the inside of the turkey. You dont even have to peel anything. This is easy because the veggies are just for flavor -- you are going to throw them away later.
Take the onion and cut it into quarters.
Chop a nice long carrot.
Do the same with a couple stalks of celery.
Add several cloves of garlic that you mash between a broad kitchen knife and the kitchen counter.
Throw it all inside the turkey.
Then rub the turkey all over with olive oil -- not butter because butter usually has salt in it and salt is the enemy of a moist turkey. Make sure the whole bird is covered in olive oil.
Put the turkey in a roasting pan and cover it with a large brown paper bag.
Staple shut. If you have a huge turkey use two paper bags at each end. It wont stick to the bird because of the olive oil.
Sprinkle the bag all over with water.
Place into pre-heated 375 F oven. ON THE MIDDLE RACK.
The bag wont burn because paper burns at 451 and we're at 375 degrees.
The advantage of the brown paper bag over the reynolds cooking bag is that the paper breathes so the turkey ROASTS. In the reynolds bag the turkey STEAMS, giving it a different taste.
Roast for 13-15 minutes per pound.
When you think it's ready, shove a meat thermometer through the bag and into the turkey and give it a minute to register. Make sure it doesnt touch the bone.
The thermometer should register between 163-170 degrees.
Remove from oven, cut away the bag and remove the basting pan.
Do not throw out the drippings!
To make the gravy, strain the pan juices into a really big pot. Any juices that accumulate on the turkey platter get poured into the pot.
Add six oz. of boiling chicken broth and 1/8 cup of corn starch to the gravy to thicken it up. Cook on low heat and stir and cook and stir.
If it seems it isnt going to be thick enough, add a little more corn starch.
What about the talk that brown paper bags are unsafe for cooking?.
If you mean unsafe because of fire, it is important that the bag doesnt make contact with the heating element of the oven. If you mean because of the recycled paper bag releasing toxins into the turkey, all we can say is that this recipe has been around for over 30 years. We,ve been postonmg this recipe for over 10 years and never had a single complaint that anyone got sick. We've had hundreds of emails that this is the best turkey they've ever tasted and the perfect recipe for first time chefs!
Questions & Replies

Hi there! I made this last year and it was PERFECTION! I can't believe how easy it was to get a deliciously crispy on the outside and moist on the inside turkey just by popping it in the oven once and not reopening until the timer goes off. I do have a quick question: I am going to a Friendsgiving and I am in charge of bringing the meat, which I have decided will be a set of whole split turkey breasts (the double breasts of two turkeys). I want to use the same brown bag roasting technique and was wondering if the 13-15 minute time still applies when it is just the breasts as opposed to the whole turkey. Any suggestions in terms of temp of oven and cooking time that you could throw my way would be greatly appreciated! Thanks again for sharing this technique. I will use it for years to come!

 

Making dinner for after dark (hunting season). I put turkey in bags at 1:30 into oven. It says 3 1/2 hrs for my size turkey. Couldn't find any staples and have one bag from 1 side tucked into 1 bag from other side. Now I'm starting to worry that it won't keep the steam inside and my turkey won't be moist or done in that amt of time if the steam is escaping! Is there something I should use instead like maybe some kind of tape?

 
Reviews
Just a comment about this recipe. While it is true that people used to cook turkeys, chickens, roasts, apple pies and even cakes inside brown paper bags 30, 40, 50 years ago, the practice is no longer recommended or considered safe unless you are using "food grade" brown paper bags (made for cooking). Today's bags are not manufactured by the same processes that were used even 20 years ago - although eating the turkey may not make you sick, the chemicals used to make the bags are carcinogenic. <br/>Perhaps a better alternative would be to "make a bag" out of cooking parchment.

 

This recipe was so AWESOME! We host Thanksgiving at our house most years but I'm usually NEVER in charge of the turkey because it always comes out dry. This year I decided to risk trying again with this recipe. Everyone (including me) was skeptical about the paper bag and, aside from the garlic, that I didn't add any seasonings, but it turned out AWESOME! This is BY FAR the best turkey I have ever had and all of my guests agreed! It was soooo moist and delicious! We will be making brown bag turkeys forever more!

 

Beautiful deep carmel color when I used this recipe. I made pockets between the skin and meat in the breast, thigh, and drumstick area and slipped pieces of carrots, celery, and garlic cloves. I cooked my turkey at 14 min per lb. and will reduce the time next time as I felt the breast could have been more moist. Overall, this is a wonderful recipe.

 
RECIPE SUBMITTED BY
My name is Natalie, and I live in Arlington, Texas. I work as a reservationist at a day spa. I love to cook, read, and travel. I enjoy browsing though cookbooks and recipezaar finding new things to cook for my family, I especially like it when they join me in the kitchen for some cooking lessons :)
View Full Profile