Khachapuri (Georgian Feast Bread)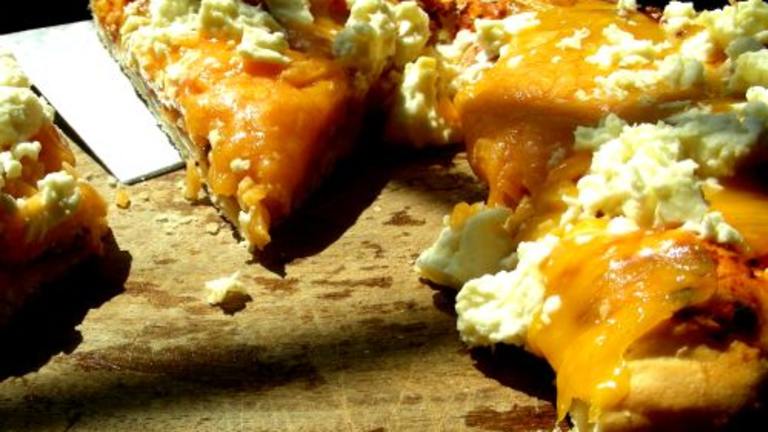 This is SO good! It's a project for a day when your feeling creative. Georgians make this bread into a large loaf for special occasions, but street vendors also sell it in smaller, tart-sized diamonds, or "beggars' purses".
Ready In:

3hrs 35mins

Yields:

Units:
directions
Dough: Heat the butter and milk in a small saucepan, or in the microwave, till the butter has melted. Put the sugar, coriander and salt in a medium-sized bowl, and pour the hot milk over them, stirring to combine and to dissolve the malt or sugar. Set aside to cool to lukewarm.
Add the instant yeast and flour to the milk mixture and stir to form a shaggy mass. Set this rough dough aside for 30 minutes.
Knead the dough until it's smooth -- in a bread machine set on the dough cycle, about 2 minutes in a food processor, 6 to 8 minutes by electric stand mixer, or 8 to 10 minutes by hand. Put the dough in a greased bowl, turn it over to coat the entire surface, and cover the bowl. Let the dough rise for 1 to 1 1/2 hours, or until it increases in size by at least one-third.
Filling: If you have a food processor, use it -- it's ideal for this filling. Cube the hard cheese, add the soft cheese, and process until well-mixed but some chunks remain. Add the eggs, flour and seasonings, and pulse just to mix thoroughly. Refrigerate until ready to use.
If you don't have a food processor, grate the hard cheese, and beat in the soft cheese and eggs. Continue beating, adding the flour and seasonings. Refrigerate until ready to use.
Shaping and Baking: After the dough has risen, turn it out onto a lightly floured surface. Divide the dough in half (you'll be making two loaves), and cut a small (1-ounce) piece of dough off of each half. Round all four pieces of dough into balls, and let them rest, covered, for 15 minutes.
Roll each large ball into a 10- to 12-inch circle. Place one circle into a lightly greased small pie tin, 8- or 9-inch round cake pan, or onto a lightly greased or parchment-lined baking sheet. Dollop half of the cheese mixture into the middle of the circle, and pull the dough up around the cheese, folding and pinching it, and "pleating" it into a topknot. Leave a small hole in the very center of the knot, and place the small ball in this hole. Repeat with the remaining dough and filling. Cover the loaves and let them rise for 45 minutes or longer -- they'll look puffy, but not doubled in size. If the pleats have opened, pinch them shut.
Bake the loaves in a preheated 375°F oven for 15 minutes, then lower the temperature to 350°F and bake for another 20 to 25 minutes. When finished, the loaves will be golden brown, and the middle should feel set. Tent the loaves with aluminum foil after 15 minutes if they seem to be browning too quickly. Remove the loaves from the oven, and allow them to cool for at least 15 minutes before slicing. Slice the bread into wedges, and serve it warm, or at room temperature.
*Heat milk until small bubbles form around the edge, and the occasional wisp of steam is evident.
**Cheese varies greatly in salt content, so taste before adding salt.
Submit a Recipe Correction
RECIPE MADE WITH LOVE BY
"This is SO good! It's a project for a day when your feeling creative. Georgians make this bread into a large loaf for special occasions, but street vendors also sell it in smaller, tart-sized diamonds, or "beggars' purses"."
While this recipe might be delicious, it has nothing to do with Georgian Cheese bread "khachapuri". Coriander or any spice is never used in dough in Georgia, any kind of dough. Also, Monterey jack(we don't have that) I use mixture of feta, mozzarella and ricotta to get the consistency. Many different sides of country khachapuri looks and tastes different, but ingredients almost never change and cheese is never melted om top or bread never looks like a large bun.

Wanted to try after seeing this featured on Socchi tv tour during Olympics. Only theirs had an egg baked on top which I think would be difficult to do. Frankly my dough was not easy to work with and ultimately came out on tough side. Think flour amount might need reducing. Also, wonder about waiting 30 minutes prior to kneading. The coriander is mild. I used cottage cheese and leftover shredded cheeses, seasonings were right on. Thank you for sharing, annacia.

This was wonderful bread. Absolutely loved this and served with a nice green salad. I followed this exactly (all ingredients were as suggested) using cottage cheese, Monterey Jack, and Sharp Cheddar. The only difference was that I forgot to fold the dough around the cheese. I just rolled out like a thick focaccia bread. I placed in the oven for the same length of time and the bread came out like heaven on a cookie sheet. Wonderful wonderful! Either way, this is terrific Annacia! Made for *ZWT4* June 2008.

This was really wonderful cheese bread. We used feta in place of the goat cheese, and the flavor went wonderfully with the sharp cheddar. The presentation was astounding and looks wonderful at the table. We omitted the coriander also. I can see making these into individual beggars purses by rolling the dough thinner. Definitely a keeper. Thanks Annacia.