Keto Turkey Sandwich With Cranberry Relish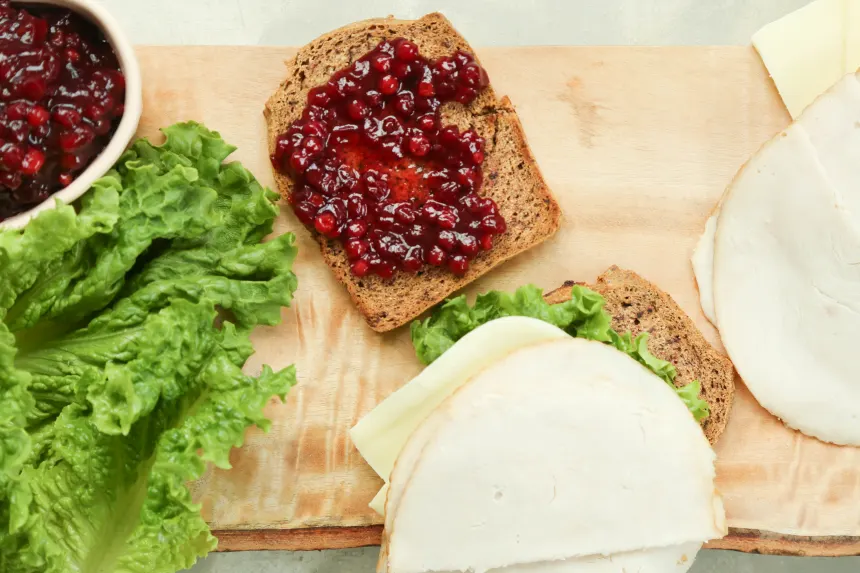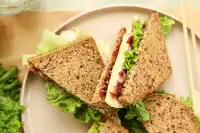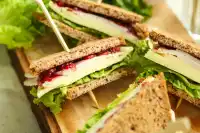 Ready In:

2hrs

Ingredients:

21

Serves:

1
directions
For the keto bread: Preheat the oven to 375 degrees F. Line a 9x5 inch nonstick loaf pan with parchment paper leaving a 2-inch overhang on the two longest sides of the pan.
In a large bowl whisk together the almond flour, baking powder, baking soda, kosher salt, 1 tablespoon poppy seeds and 1 tablespoon toasted sesame seeds. Set aside.
In the bowl of a stand mixer fitted with the whisk attachment add the egg whites and cream of tartar. Whisk the egg whites together until stiff peaks form.
In a small bowl whisk together the egg yolks, cooled coconut oil and lemon juice. Add the dry ingredients to the wet mixture, in small batches, and combine the two with a rubber spatula. The mixture will be a very thick paste. Make sure to break up any clumps of flour with the spatula to ensure that the liquid and dry ingredients are evenly incorporated.
Add a third of the whipped egg whites to the flour mixture and slowly fold the whites into the batter. Add another third of the egg whites and fold into combine. Finally, add the remaining egg whites and fold together; there should not be any chunks of batter left but the batter will never completely combine, white and yellow portions will remain.
Pour the batter into the prepared pan. Top the batter with the remaining 1/2 teaspoon each of poppy and sesame seeds as well as the flakey sea salt. Bake in the oven for 30-35 or until the top is golden brown and a toothpick inserted into the center comes out clean.
Let cool in the pan 10 minutes and then remove the bread to a sheet tray to cool completely, at least 30 minutes. Cut into slices and serve. (Makes 10 slices.).
For the keto cranberry relish: Add all the ingredients to a small food processor and process until the cranberries are broken down into small pieces but still has a coarse texture. Season the relish with salt to taste. Place in an airtight container and refrigerate. When ready to serve garnish with more fresh dill.
For the keto turkey sandwich: Toss the lettuce with a pinch of salt to taste. Toast the bread if desired. Spread the cranberry relish over one side of each slice of bread. On one slice of bread add the turkey slices, brie slices and seasoned lettuce. Top with the remaining bread, cranberry relish side down. Use two skewers to secure the sandwich and then slice down the middle on a bias. Serve immediately.
Nutrition Info Per Serving.
Calories: 711.
Total Fat: 54 grams.
Saturated Fat: 21 grams.
Total Carbohydrate: 14 grams.
Sugars: 3 grams.
Protein: 48 grams.
Sodium: 1,923 milligrams.
Cholesterol:378 milligrams.
Fiber: 6 grams.
Net Carbs: 8 grams.
Reviews
Have any thoughts about this recipe?
Share it with the community!