Keto Lasagna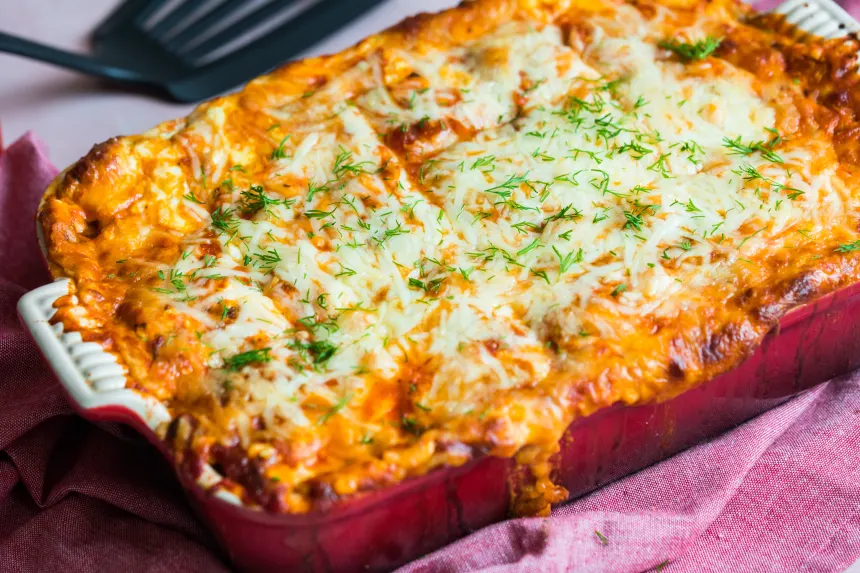 photo by alenafoodphoto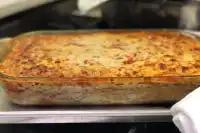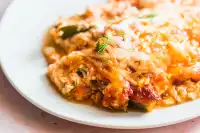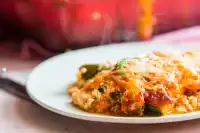 Ready In:

2hrs 30mins

Ingredients:

14
directions
Preheat oven to 350 degrees F and spray a 9x13 inch baking dish with nonstick spray.
Use a mandolin to cut the zucchini into strips, about 1 cm thick. Add the strips to a colander and toss with 1 teaspoon of salt. Let drain for 10 minutes. Layer the zucchini strips between layered sheets of paper towels on a baking sheet. Let dry while you make the filling.
Heat 1 tablespoon of olive oil in a skillet over medium heat. Add onions, garlic and Italian seasoning and cook until translucent, about 7-10 minutes.
Add ground beef and and cook until browned, breaking up with a wooden spoon. Drain any fat and season with salt and pepper. Stir in 2 cups of the marinara sauce and remove from heat.
Add cottage cheese, 2 cups mozzarella, eggs, garlic powder, 1/2 teaspoon salt, and 1/4 teaspoon pepper to a bowl and stir to combine.
Spread about 3/4 cup of meat sauce into the bottom of the baking dish. Add a layer of zucchini strips to cover the entire area, slightly overlapping. Spread over 3/4 cup of the cottage cheese mixture. Repeat four more times, ending with the cottage cheese layer.
Spread the remaining marina sauce over the top and sprinkle with remaining shredded mozzarella. Cover tightly with aluminum foil. Place the dish on top of a baking sheet and bake for 30 minutes.
Uncover and bake another 25-30 minutes, or until cheese is bubbly and browned.
Let cool 10 minutes. Garnish with chopped parsley before serving.
Reviews
I have made this lasagna several times and I have a tendency to never follow the recipe exactly and will actually check the reviews on similar recipes for hints. That saying, I have used ground turkey/hamburger or hamburger by itself and will usually add 1 1/2 pounds of meat which I also salt, pepper, and garlic salt while browning. I also have used zucchini, eggplant, and lasagna noodles (uncooked) mixed and matched to my veggies on hand and whim at the time of making this dish. I have used all three in the same casserole. Another hint is to use your favorite flavor of marina sauce (my favorite is tomato/basil). This dish has a tendency to get wet or soggy because it doesn't have the lasagna noodles to soak up the moisture (that is one of the reasons I put uncooked lasagna noodles in the bottom of the casserole dish). To help with the sogginess, slice zucchini and eggplant, sprinkle on salt, put on paper towels and let drain for a hour, more or less. Blend the cottage cheese till smooth. The only reason for the 4 stars instead of 5 is due to the sogginess which seems to be a hazard of using veggies instead of lasagna noodles for the recipes I researched. This makes a huge pan and I have split into 2 smaller casserole dishes and froze one for later use after cooking both halves. If you do this, thaw gradually at room temperature or in the refrigerator. Leftovers hold up well. I am a single person and always have leftovers.