Kentucky-Style Fried Chicken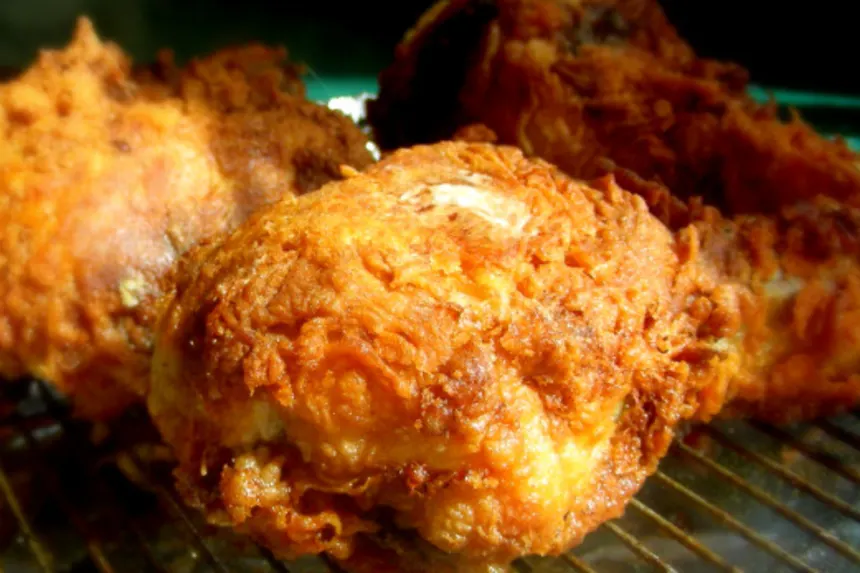 photo by Andi Longmeadow Farm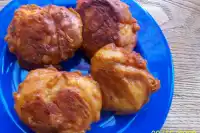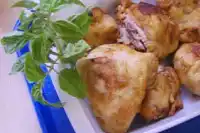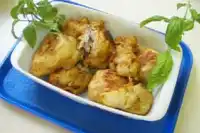 Ready In:

40mins

Ingredients:

8
directions
Steam or poach chicken until tender (I like to poach it in chicken stock); dry and keep cool until time to fry (it is convenient to do thes the day before if a large quantity is needed).
Just before frying, make a batter of the remaining ingredients.
Preheat fat or oil to 380°F.
Dip each piece of steamed chicken in batter and fry until a beautiful golden brown.
Questions & Replies

Got a question?
Share it with the community!
Reviews
I would have given it 5 stars, but the milk amount is just too far off. Everyone seems to be having a problem with the amount listed. I know it says "or more as needed for a smooth batter", but I had to at least double it not to end up with the consistency of a heavy muffin batter. Once I adjusted the milk, the results were very good. I have never had luck frying chicken before. Usually my coating is done way before the chicken is cooked through. This recipe solves that problem wonderfully. From that stand point this is the only recipe for fried chicken I will ever make again! The batter reminds me of Weaver brand batter dipped chicken. I also think that you could probably experiment by adding different seasonings to this batter to get Italian style or any other flavor combination you could come up with. I'm also thinking of taking your tip of steam cooking the chicken first, and trying it out leaving the baking powder out, to see how it works with a non batter type recipe. I'll bet it makes a crisp fried chicken that way, and continues to solve my problem of over done coating with underdone chicken. Thanks for sharing Molly, this recipe gives me plenty of ideas to play with. If you change the milk amount like most of the reviewers said, I'd change my rating to 5 stars.

 

Hello Molly; Made this chicken for dinner last night and was delighted with the finished product. The chicken was so tender and juicy and the coating was not heavy, but turned out a beautiful light golden brown. I also steam-cooked the chicken pieces in chicken broth, what a fantastic idea. I did have to add more milk as the batter was somewhat on the thick side. When adjusted, it turned out perfect. Otherwise, I followed the recipe as written. My DW who does not eat any red meat, only chicken breasts, was absolutely delighted with this chicken. She does not like a heavy, thick coating, so this pleased her to no end. Thank you Molly and I will be making this recipe more often as my DW will now demand it. Warmest Regards, "Uncle Bill"

 
Tweaks
Please, cooks, this is not meant to be take-away KFC!!! Molly, thanks, this was great. Instead of ordinary salt I used a local all-purpose seasoning salt containing ground herbs, dried lime zest and ground coriander seeds. I also used a plump organic chicken and cut it up. Please keep in mind that these days most commercial chickens are tasteless. If you want taste, choose your chicken accordingly. A great recipe -- otherwise you go out to the nearest KFC branch. Molly explained in her intro what this recipe was about, and it's NOT supposed to be the Colonel's chicken! READ it!

 

This must have been in the technique of frying, because I had to tweak this extensively. I substituted the flour for an oven-fry mixture, Added oregano, marjoram, corn starch, paprika, parsley, and dipped into the flour first THEN, the egg, back to flour and fried it till it was mildly brown, placed the pieces on a foiled cookie sheet, sprayed it with water and covered it with a sheet of foil, baked at 350 for about 50 minutes. Hah! Shocked myself. It was like KFC! Yayyyy!