Kentucky Roasted Turkey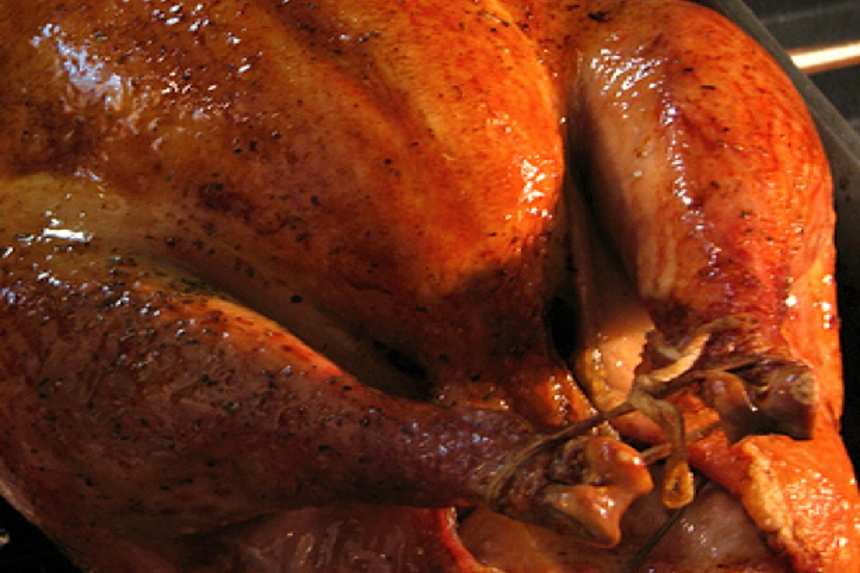 photo by The Spice Guru

Ready In:

28hrs 45mins

Ingredients:

13

Yields:

1

Kentucky Roasted Turkey

Serves:

16
directions
NOTE: FOR THIS RECIPE YOU MUST BEGIN WITH A VERY CLEAN OVEN! (STEP ONE): PLACE one fresh (or properly, completely thawed) 16 lb turkey in a large colander in sink; REMOVE neck and gizzards from one fresh (save neck and gizzards for stuffing and/or gravy if desired); RINSE turkey inside and out under cold running water above colander; ALLOW to drain; MEASURE the BRINE BASE ingredients into a sterilized 5 gallon bucket: 8 quarts (32 cups) water, 3/4 cup unseasoned meat tenderizer, 6 tablespoons Accent seasoning; SLOWLY lower turkey into the bucket with brine; COVER; ADJUST refrigerator racks to fit the 5 gallon bucket; PLACE bucket in refrigerator between 12 to 24 hours (if desired you may inject the brine solution into turkey evenly, using a poultry brine injector).
PREPARE the stuffing for Recipe #490665 refrigerate until chilled; REMOVE top rack from oven; PLACE bottom rack in the lowest position; PREHEAT oven to 450°F.
SOFTEN 1 stick unsalted butter to room temperature; FUNNEL 2 tablespoons Recipe #422315 (use seasoning mix only without added flour) into an empty spice shaker; SET aside.
REMOVE turkey from brine after marinating; SET turkey again in the large colander in sink; BRING a large pot of water to near-boiling; CAREFULLY pour scalding hot water over turkey skin and into cavities; ALLOW turkey to drain and cool in colander; LOOSEN skin from turkey from the neck end by sliding fingers under the skin to the end of the breast without tearing skin; APPLY the butter well under the beast skin and on every outer surface, followed by a sprinkle of the reserved seasoning in spice shaker; TURN turkey breast side down and sprinkle cavity of turkey well with the seasoning; FILL neck cavity with prepared stuffing without packing; CLOSE skin flap over and sew-fasten with toothpicks; TURN turkey over; TUCK the wing tips below turkey to secure in place. FILL the large cavity of turkey loosely with stuffing; TIE legs together securely using kitchen twine; SPRINKLE turkey liberally and evenly with the reserved seasoning in spice shaker (you don't have to use all of the seasoning, just season turkey well).
ADD the prepared onions, carrots and celery to the bottom of a large roasting pan; ARRANGE the sage sprigs and bay leaves over vegetables; POUR 2 cups water into roasting pan to cover herbs completely; PLACE a roasting rack over vegetables and herbs in pan; PLACE turkey onto rack; RUB the outer surfaces of turkey evenly and generously with the remaining RUB; PLACE turkey into preheated 450°F oven on low rack.
FIRST, set oven timer for 45 minutes; ROAST turkey at 450°F until timer sounds; REDUCE oven temperature to 325°F; SET oven timer for 1 hour and 15 minutes.
INSERT an instant-read thermometer without touching bone into the thickest part of the breast to read 165°F -- and in the thigh -- 180°F; OTHERWISE, continue roasting at 325°F and basting if desired) and reading temperature of turkey, until the temperatures are reached.
TRANSFER turkey to a serving platter; COVER turkey loosely with foil; ALLOW turkey to set between 20-30 minutes before carving.
CARVE properly for optimum enjoyment.
SERVE and enjoy!
Questions & Replies

Got a question?
Share it with the community!
Reviews
Have any thoughts about this recipe?
Share it with the community!