Kedgeree (Rice Cooker Assisted)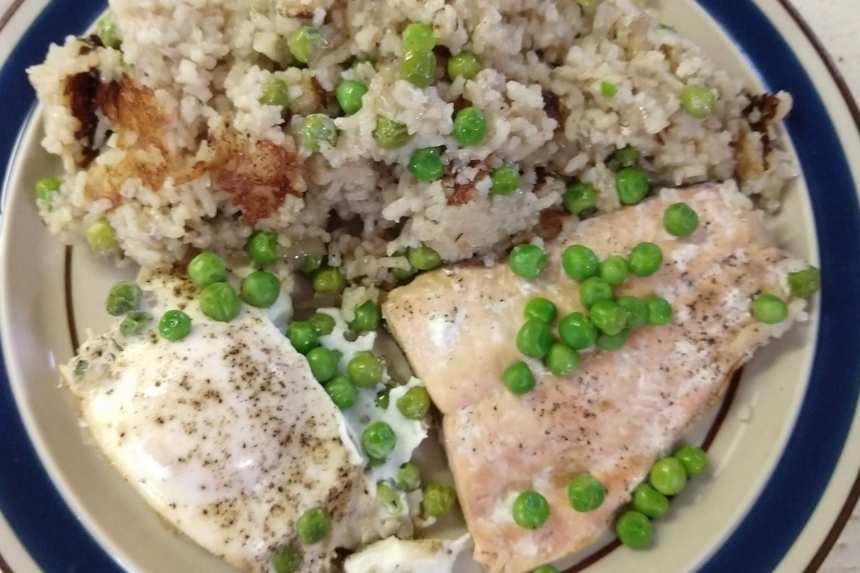 photo by christa.nice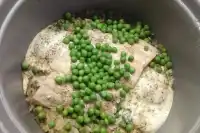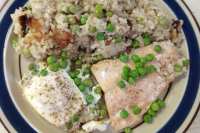 Ready In:

30mins

Ingredients:

9
directions
Put rice, salt and 2cups of water into rice cooker and turn on.
When steam starts to escape, put the fish in the steaming basket over the rice - it needs 8 or so minutes depending on thickness to cook. It should finish about the same time as the rice is ready.
Meanwhile, fry the onion in the oil in a skillet that has a lid and add the curry paste. Add the frozen peas after a few minutes to defrost and heat through.
Remove skin from fish and flake.
Tip the cooked rice into the skillet with the onion mixture and stir together well.
Gently fold in the flaked fish, top with the boiled eggs and put lid on to warm through the dish over a gentle heat for a couple of minutes.
Garnish with some chopped parsley and serve.
Questions & Replies

Got a question?
Share it with the community!
Tweaks
My tweak on the recipe: ONE POT rice cooker kedgeree NOTES: A) In my quest for more uses for my rice cooker, I made this recipe start to finish in the rice cooker, sort of biryani style, cutting down the dishes considerably! B) Also, during the process, you'll need to monitor the rice cooker and switch it back to cook whenever it switches to WARM, sometimes it takes a while to cool down after switching to warm before it'll let you switch back to COOK. Mine's just a basic one switch Panasonic, yours may be different and you might have a setting that doesn't require so much watching. C) I wrote out these tweaks as I was making the recipe for the first time, so no guarantees on the results, though I'll finish this post with my and my husband's opinions on how it turned out. What I did: 1.Rinse and drain rice (I used Jasmine rice), set aside. 2. Preheat rice cooker on COOK. 3. Dice onion finely 4. Add 1 Tbsp. Oil to rice cooker (I used roasted peanut oil). Add onion, stir to coat. Reset cooker to COOK if it's switched to WARM. Put the lid on, let cook a few minutes, stir, let cook some more, lidded, checking more frequently once it starts to brown. 5. Once the onions are browned, add seasoning, which for me was 1 tsp garam masala and 2 tsp niter kibbeh (Ethiopian spiced butter), then add 1 3/4 cups water and 1/2 tsp salt. I used less water because the rice had absorbed some water with rinsing) 6. After about 5 minutes, I noticed the rice seemed dry, so I added 1/2 cup more water. 7. I then added 1/2 cup frozen peas, then 2 thawed 4 Oz thin (tail portion) salmon fillets, seasoning with salt and pepper. 8. In about 5 minutes, I cracked 2 large eggs on the side, seasoning with salt and pepper. 9. I drizzled a bit of diluted liquid smoke over the salmon, then added the remaining 1/2 cup peas. 10. The eggs took a while to finish, so waiting for them was the last step as my mouth watered, it looked so good! 11. I placed the fish and eggs on warm plates, then stirred up the rice add served it too. It made a lovely browned crust on the bottom. The pan had hardly anything stuck to it too, so that's a plus! Taste and texture verdict: - we both agree it's delicious - the rice is sort of creamy like a risotto, not sticky, but nicely coated. The browned crust was a bit crispy - the salmon is moist - the eggs are perfectly cooked - we'll definitely make this again for a brunch!!!

 
RECIPE SUBMITTED BY
Male, mid 40s, who loves to eat and to cook. Obsessive reader of recipe books and food magazines. Going through a phase with muffins at the moment - they are only recently becoming popular here in the UK, thank you Otis Spunkmeyer. I'm alternating between healthy and naughty recipes, like to take them to work to share round - better than taking in boxes of doughnuts from Mr Krispy K (which have only lately been sold over here).
View Full Profile