Kartoffelpfannkuchen (Potato Pancakes)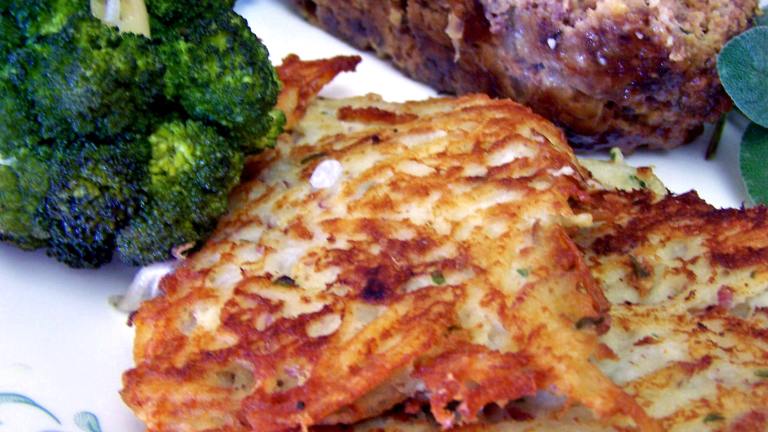 Ready In:

35mins

Serves:

Units:
directions
Grate raw potatoes into water to which lemon juice has been added.
Place potatoes in a strainer or cheese cloth and drain off liquid.
Drain well.
Beat raw and cooked potatoes with egg, milk, and salt to form a batter.
Using 3 T oil for each batch, drop batter for 3 or 4 pancakes at a time in hot oil in a large frypan.
When firm on the bottom side, loosen edges and turn.
Brown on other side.
Remove, drain on paper towel, and keep warm.
Continue until all batter is used.
Serve immediately.

NOTE:

If potato cakes are served with meat, sprinkle with salt.
Sprinkle with sugar if served with applesauce.
Submit a Recipe Correction
Loved this! I must say I did check this recipe out in a couple places and the recipe is a standard exactly the same everywhere I looked. But I must say I enjoyed my changes. I grated my potatoes in the food processor so they were a large grate. For the cooked potato I used leftover <a href="/193358">Parsley, Garlic, &amp; Scallion Mashed Potatoes</a>. I added 1 minced onion, a pinch of red pepper flakes and fresh parsley. When mixed it was not much like a batter so I blender about 1/3 of the potato in the vita mix then mixed it back to the main mixture. This gave me a nice creaminess and crisp texture. I sprinkled with coarse salt. I served these German potato pancakes with <a href="/160014">Apple Spiced Meatloaf</a> not German but good comfort food! We Really Enjoyed!!!! Thanks MG!