Kangaroo Burgers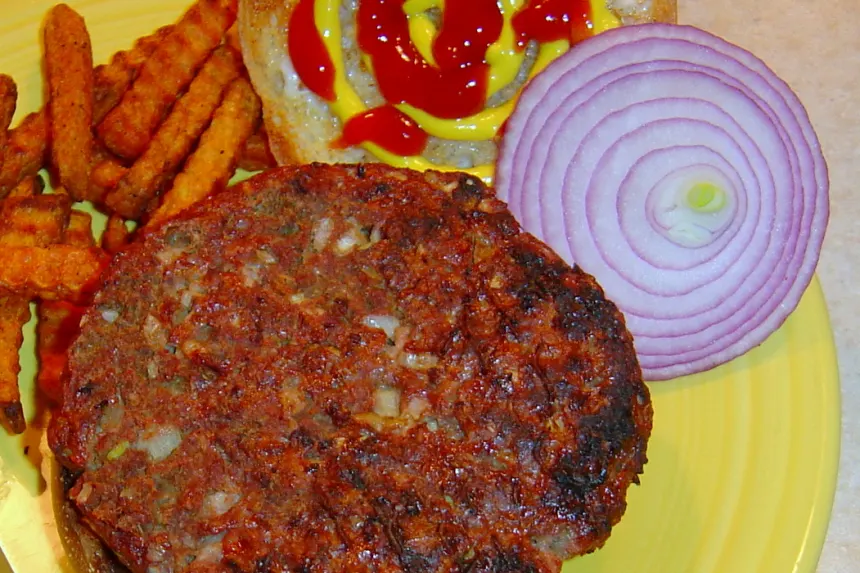 photo by PalatablePastime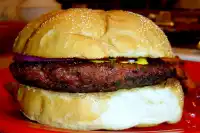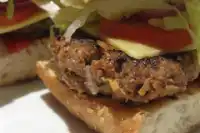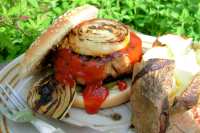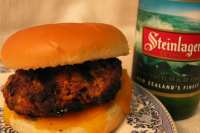 Ready In:

30mins

Ingredients:

12
directions
Thoroughly mix all ingredients together in large bowl.
Form into 8-12 burgers as desired and cook on medium well oiled BBQ plate until cooked through, turning several times. It is a fairly crumbly / low-fat burger so turn over carefully.
Serve on toast, in a hamburger bun or with a salad.
Reviews
Dont support this barbaric industry. Kangaroos are shot in the wild by unsupervised and under trained hunters, with many not being killed outright when they are shot. Some receive horrendous injuries, including jaws being blown off, or bullet wounds to the neck, or head, after which they disappear into the bush to die slow and painful deaths, or lay in agony awaiting the hunter to finish them off. Females are also slaughtered including those with joeys. These Joeys, which the kangaroo killing industry describe as "wastage", are ripped from their mothers pouch, then brutally killed fully conscious by swinging them by their tails, or feet to smash the joeys head into a bull bar, tow bar, or any hard object, or by having their throats cut - whilst fully conscious. Joeys that are too small to be killed this way have their heads squashed between the fingers of these "professional" hunters. The Joeys are then left in the dirt along side the intestinal remains of their mothers. Kangaroos have become extinct in may regions of Australia and are forced to compete with domestic livestock for diminishing food and water. Millions of kangaroos are now dieing from an unknown illness with no treatment available to stop it. Many countries have banned its importation because the meat can contain high levels of bacteria, parasites and disease.

 

This was the best rated recipe I could find for a first try at kangaroo. I grilled the burgers and they came out juicy and delicious. Rave reviews all around. I will be making them again. The only change I made was to saute the onions and garlic in a tablespoon of bacon grease before adding as the meat was so lean. If grilling I would suggest oiling the rack well as they wanted to stick a bit when turning.

 

This was my first time having Skippy for dinner and it did not disappoint. I was happy that I found the ground kangaroo meat at Jungle Jim's market in Cincinnati (he has everything there). The meat is not quite like beef- it is slightly sweet, but meaty. The burgers turned out moist (but not wet) and the flavor reminded me of some Persian meat patties I have eaten before, perhaps because of the thyme. Because of this tasty recipe, I'd be go for trying kangaroo meat again and give it an American twist, and already have a few ideas in mind. Thanks for sharing!

 
Tweaks
I made these burgers as part of the ZWT5 challenge. Kangaroo isn't kosher, so I used minced mutton instead. This cooks up as a tasty, moist burger! I don't use worcestershire sauce as a rule so subbed a light soy sauce instead. The burger had a lovely sweetish taste to it, I suppose thanks to the ketchup and the grated carrot. I felt bad about not using kangaroo meat for an Australian challenge so I spent the extra money on some imported cans of Foster's. They went well with the meal. Thanks, this was a great supper on a warm evening!

 
RECIPE SUBMITTED BY
<p>I live close Hobart in Tasmania, a wonderful part of Australia but a little chilly in winter so be sure to book your holiday for summer! I'm self-employed in the embedded electronics area and being at home most of the day gives me plenty of time to prepare those recipes with long preparation and cooking times. As most of my clients are either interstate or overseas I get to occasionally catch up with them and enjoy their local restaurants, always nice to have someone else paying the bills! <br /> <br />As well as food I'm partial to the odd beer &amp; wine, so often like to go to a local pub and catch some local bands. No need for an alarm clock in the morning, my cat Molly likes her breakfast at 8:00AM sharp and makes an effective alarm! Lately I've been starting to get into some digital photography so you might be seeing a few additional recipe shots on Zaar... <br /> <br /><a href=http://www.satsleuth.com/VisitorMap/stats.php?id=vUa1ya8Z> <br /><img src=http://www.satsleuth.com/VisitorMap/globes/Globe_vUa1ya8Z.gif alt= /></a></p>
View Full Profile