Kakeladi's Original Wasc (White Almond Sour Cream) Cake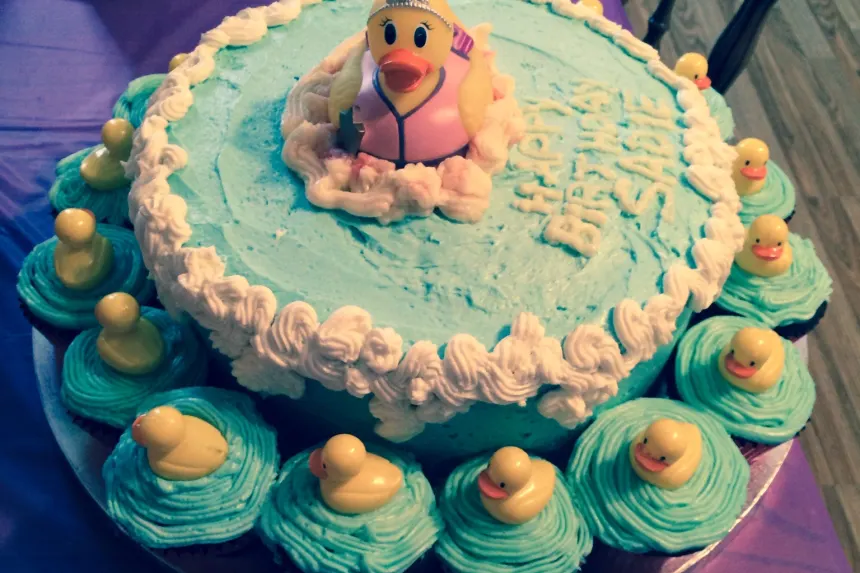 photo by Patricia B.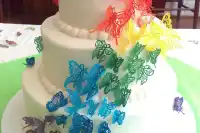 Ready In:

50mins

Ingredients:

7

Serves:

30
directions
In a bowl, mix 1st 3 ingredients. (see notes below) Set aside.
Place remaining ingredients in mixer bowl then add the dry.
Mix on low (I use a KA mixer) speed for 30 seconds, until dry ingredients are incorporated; mix at medium 2 minutes.
This makes 1 & 1/2 times the usual batter than a 'straight' cake mix. It will fill one of the following pans: 8" sq; 12" round; 9x13x2; OR one 10" and 6" round.
Pour into pan(s) and bake as you usually do. I prefere to bake at 300 degrees F. for 20 minutes, then turn oven up to 325 degrees F. for an equal time OR until you can smell cake If it has pulled away from the edges of the pan it is *over done*. You should have a flat cake that won't (usually) need leveling & is not sticky on the top when it cools.

Special NOTES:

That's right -- there is NO oil, butter or margarine in this recipe.
Use large eggs.
If almond extract (not emulsion) is used, add 2 teaspoons or to taste.
Can use ANY cake flavor.
Flavorings can change depending on cake flavor you use. Try a combination of 1 part vanilla, 1/2 part butter flavoring and 1/4 part almond.
It is important to mix the dry ingredients well especially if using a chocolate mix or you will have white spots in the finished cake. I use a wire wisk.
Reviews
This is the best... I like it much better than the White Almond Sour Cream that everyone is touting for wedding cakes. The whole eggs give the cake moistness... using just the egg whites, as in the "knock-off recipe", makes the cake, in my opinion, very dry. Try making both and you will see that this one stands far above the other. I use this for all of the wedding cakes I made (professional caterer). I used the other one and got some good reviews, but when I changed to this one... WOW!... I really got rave reviews! This one is truly the best! By the way... make sure you SIFT the cake mix before you add everything else to it. Makes a huge difference in texture.

 

This is the real thing! Accept no imitation!! Wedding cake, birthday cake, Thursday night having the neighbors over for dinner cake. It is just THAT good and it is just THAT easy!! I have used this cake for a wedding cakes, perfect texture and crumb. I have never had a dissatisfied bride with this recipe. My one variation is that I increase the eggs to 4. Also do not try to use the "fat free" sour cream. That would seem to be a no brainer since sour cream replaces any oil in this recipe, but one of my friends tried it when I shared this recipe with her.

 

I made my own wedding cake and grooms cake. I made the wedding cake using the white cake recipe and used a german chocolate cake mix for the groom's cake using this recipe. They were both so delicious! Everyone kept commenting on how good the cakes tasted. They were very moist and had a great flavor to them. I will only use this recipe anytime I make a cake with a cake mix.

 

I think that this recipe is good for a quick, tasty, moist cake. This was quick to throw together and has a nice consistancey to hold up to frosting (even when slightly warm still). It is not as involved (read: fewer ingredients) than the other White Almond Sour Cream Cake recipe on here (#69630), but it is definitely second place.