Julia Child's Roast Chicken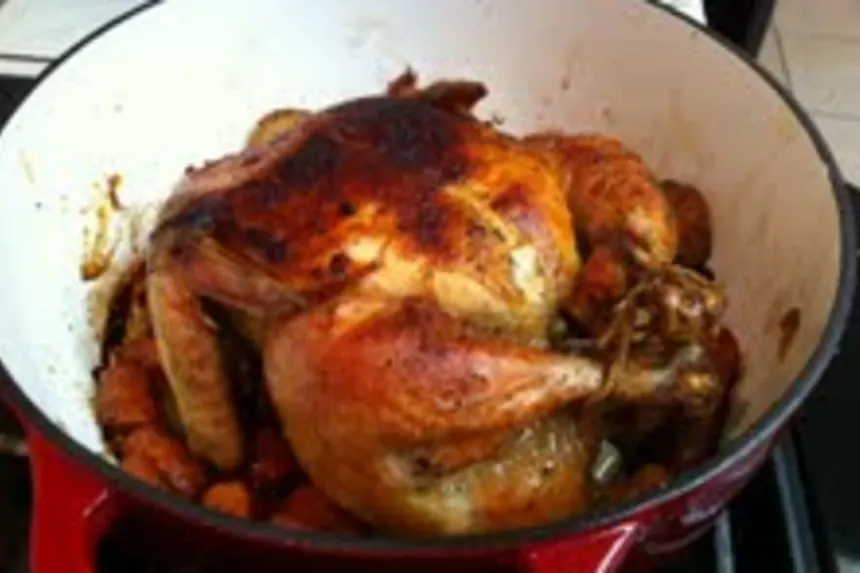 photo by chef amelia bedelia

Ready In:

1hr 35mins

Ingredients:

8

Serves:

4
directions
Preheat oven to 425 degrees.
Sprinkle the inside of the chicken with 1/4 teaspoons salt and 1 Tb. butter.
Truss the chicken and dry it thoroughly.
Rub the skin with 1 Tb. butter.
In a small saucepan melt 2 tb. butter, and 1 tb. cooking oil. Set aside for basting.
Place the chicken, breast up, in a shallow roasting pan. Strew the vegetables around it and set it on the rack in the middle of a preheated oven.
Allow the chicken to brown lightly for 15 minutes, turning it on the left side after 5 minutes, and the right side for the remaining 5 minutes. Baste after each turn with the butter and oil mixture.
Reduce oven to 350 degrees.
Leave the chicken on its side and baste every 8 to 10 minutes using the fat in the roasting pan when the butter and oil are exhausted.
Halfway through estimated roasting time (about 40 minutes in) salt the chicken with 1/4 teaspoons of salt and turn it on its other side. Continue basting.
Fifteen minutes before the end of estimated roasting time (about 1 hour and 5 minutes in) salt again and turn the chicken breast up. Continue basting.
When done, discard trussing strings and set on a hot platter. Chicken should sit at room temperature for 5 to 10 minutes before being carved so the juices are absorbed by the meat. Chicken is done when it registers between 175 and 190 degrees, depending on your preferred doneness.
While the chicken is sitting, remove all but two tablespoons of fat from the pan.
Stir in the minced shallot and cook slowly for 1 minute. Add the stock and boil rapidly over high heat, letting it reduce to about 1/2 cup.
Season with salt and pepper and swirl in the last 1-2 tablespoons butter.
Pour a spoonful over chicken and serve the rest at the table as gravy.
Questions & Replies

Got a question?
Share it with the community!
Reviews
Never thought to turn my chicken on it's side. Good idea Julia! My chicken did stick a little and when I turned it the skin stayed on the bottom of my pan. I will butter the bottom of my pan next time. I would have given this recipe 5 stars had the vegetables not started to burn. When they kept burning I decided to search the recipe again and found another that said "if vegetables start to burn add 1/2 cup of water to pan". Had I known this it would have been much better. Also, the other recipe had a little variation to it. Not sure which recipe is the correct one as I do not have a Julia child cookbook. But I was happy with the simplicity and flavor of this one. The other mentioned pouring a little lemon over chicken at some point during cooking and also had mentioned herbs. When chicken was done, I scraped out all burned vegetables and decided to go ahead with gravy anyhow. I added a couple dashes of thyme and a squeeze of lemon(similar to what the other recipe said) only because it did not have the proper flavor because of the burned vegetables and also I did not have Shallots. It was incredible! Had the vegetables not burned, the gravy would have been outstanding! Also, the roasting time is confusing. Chicken was very good but could have went a little longer. This is going to be my recipe for roasting chicken from now on. Now that I know better, it will be a 5-star dish next time!

 

Made this tonight - roasting a chicken for the first time ever (!) and it was delicious. I had a bigger bird at roughly around 5lbs, so I adjusted the time (and had a meat thermometer to help). It takes some tricky effort to maneuver the bird, but it's worth it. My chicken was beautiful, moist & crispy on the outside (on all sides)! My husband remarked, "this is like those rotisserie chickens you buy at the store!" which I thought was the ultimate compliment. I actually didnt try and make the sauce, but I most definitely will the next time. I'm so proud of myself & knocked my hubby's socks off. Woohoo!

 

I made this dish for my best friend and my husband. It was outstanding, one of the best dishes that's ever come out of my kitchen. The onion sauce pushes it over the top. My best friend called me the next day just to tell me how good it was and that she was still thinking about my chicken. Make this meal!