Jenny's Fabulous Beirocks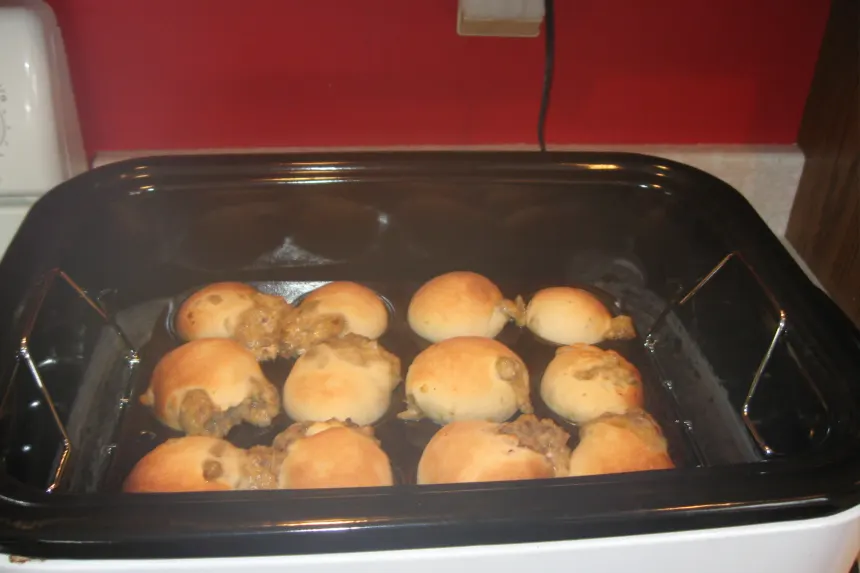 photo by Jennifer Bennifer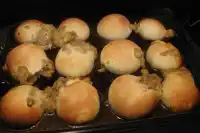 Ready In:

2hrs 45mins

Ingredients:

15

Serves:

8-12
directions
Dough directions.
Warm the milk in microwave safe dish for 1-1 ½ minutes. Then add all ingredients to your bread pan in this order. I cut up the butter and scatter it around the bottom of the pan. Be sure not to put your salt and yeast where they will not touch each other. It will deactivate the yeast if they touch. You can make a little whole in the top of your flour and pour the yeast into there.
Select the dough setting on your bread machine and turn it on. My machine took 1 ½ hours until the dough was done.
Work on your filling while bread is mixing and rising.
Filling.
Brown and scramble hamburger and sausage on low to medium heat, in a large skillet that has a lid. You will need to use the lid later when cooking the cabbage. You can use it now if you want.
Onions, peel and cut onions into a few pieces. Put in the food processor and chop until small but not mushy. Add to burger mixture, and cook until they are somewhat clear. Drain grease, saving it to use later.
Cabbage, cut up cabbage in chunks add about a ¼ of it in the food processor at a time. Chop until small, but not too small. Add it to hamburger mixture. Add a little of the grease to the pan (a tablespoon or so) so the cabbage won't stick. (You can use butter here if you want, but the grease will give it a little more flavor.).
Garlic, put garlic through a garlic press and add to hamburger/cabbage mixture. Stir and put lid on. Cook on med heat until cabbage is tender. Stir occasionally.
After cabbage is cooked, add cream of mushroom soup and stir. Add cheese. Stir until it is distributed evenly. It doesn't have to be melted completely. Salt and pepper to taste. *Sausage and cheese will add a lot of salt so you might not need any. Taste to be sure. Remove from heat.
Assembling your Bierocks.
Preheat your oven to 350 degrees.
Arrange your work space with a large plate right in front of you, 2-12 count greased cupcake pans, filling, dough and a small dish with the butter or margarine all within your reach.
After your dough is done,.
*if you want to be precise about how many bierocks you will have enough bread for, it may be easiest for you to divide your bread into 24 pieces before starting to fill them. You should start out by buttering your hands well, and divide your dough in half. Keep dividing pieces in half until you have 24 pieces.
* If you're not concerned about the exact number, butter your hands, and pull a small amount of dough off. It should be about an inch around maybe a little bigger. A little goes a long way! Put the dough ball on a buttered plate, and smash it down with the palm of your hand and fingers,working it into a circle. Make it into about a 4-5 inch circle. If you tear a large hole in the dough just fold it over so the hole is at the edge of the dough and try again. Use a ¼ cup measuring cup to scoop filling. Place 1/4 cup of the mixture in the middle of the dough circle. Grab the back side of the dough and gently/slowly stretch it out and then up and over the top of the filling. Grab the front side and slowly stretch it out and then up and fold it over the top, overlapping the dough from the back. Do the same with the sides trying to close the opening. Flip it over so the folded side is down as you put it into the cupcake pan. * You don't have to worry too much about pinching it closed. It will seal itself when it cooks.
Repeat until you have used all of your dough or filling. It will make 24 Bierocks muffins, if you are consistent and don't use too much dough.
Place in a 350 degree oven for approximately 15 minutes. Watch and adjust time as needed.
I cooked mine in a roaster over with the lid on. My oven was broken and this worked well.
ENJOY!
Update: If cooking in the oven they will take longer. Cook until top is slightly or golden brown depending on preference.
Questions & Replies

Got a question?
Share it with the community!
Reviews
Have any thoughts about this recipe?
Share it with the community!